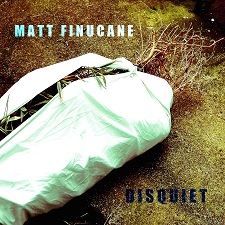 Matt Finucane Announces New EP
Brighton Based Singer-Songwriter Announces "Disquiet"
Brighton-based musician Matt Finucane is set to release his new EP "Disquiet" on October 19th via Crude Records!
Happy to be "an explorer and purveyor of the wonderfully unconventional and confrontational", as Ringmaster Reviews wrote.  He takes his influences from art rock, Krautrock and horrible electronic noise, and says: "All my heroes are safely dead, but it's not just playing at being Music's Bad Conscience – I can recall when music meant something, in these days of deadly sonic perfection and pretend grit."
Gigs are solo acoustic, in a duo, or full electric as the occasion demands. Albums are DIY-released and raw. "This Mucky Age" (2011) & "Glow in the Dark" (2012) – scored good reviews, followed by singles "In The Evil Empire" & "Lilith" in 2014 and 2015. After a writing binge, the first of a batch of new material emerged as an EP – "Threaten Me with Your Love" – in 2017.
Around this time Matt put together a live band (featuring Mik Hanscomb of Junkboy), gigged across the UK and kept working on songs. In May 2018, driven by the short-fused spirit of the times, he released an EP of abrasive, noise-heavy protest songs, appropriately called "Ugly Scene". This is to be followed in October with the opposite half of the picture, a mellow slab of grandeur and weirdness called "Disquiet".  Again, the clue's in the title…