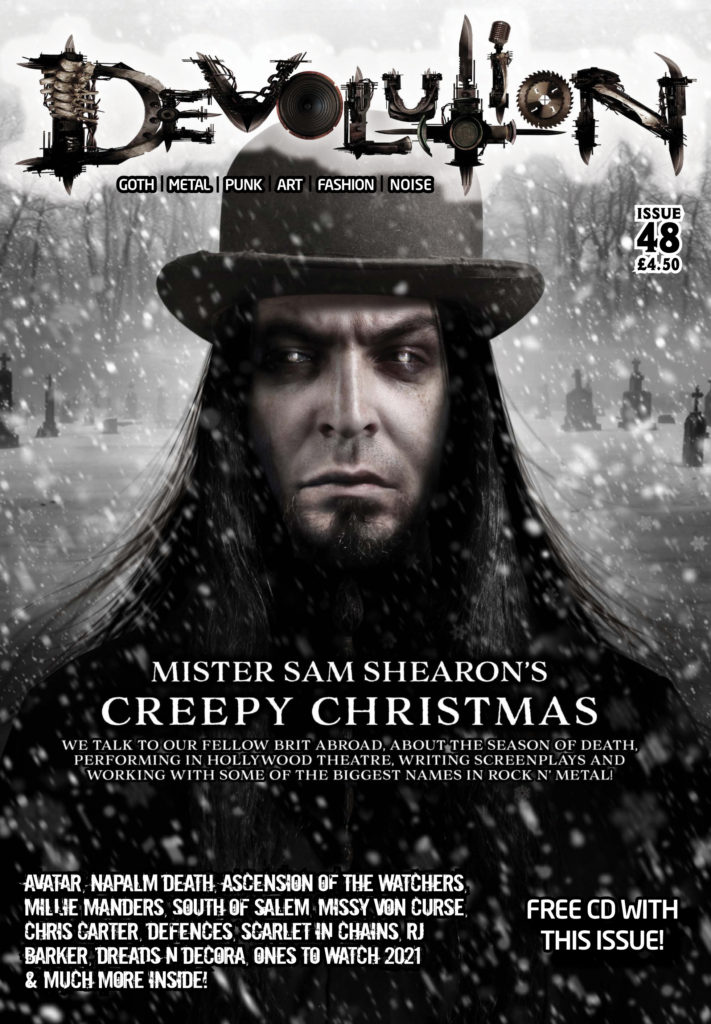 Featuring:
Avatar, Napalm Death, Defences, Ascension Of The Watchers, South Of Salem, Mister Sam Shearon, Chris Carter, RJ Barker, Missy Von Curse, Millie Manders and The Shutup, Dreads N Decora, Scarlet In Chains Jewellery, Road To Ruin Studios & FAB London, Sertraline, Blacktop Mojo, Novustory, Legba, Chvrches, Cucaracha, Dorothy, Mimi Barks, Syteria, Living With Eating Disorders, Wargasm (UK), Alice Bizarre, Nicole Willerton from Bloodcrush & so much more!
Plus Free 18 Track CD Covermount
Available to PRE-ORDER the print version from our webshop by 06th January 2021
http://www.devolutionmerch.com/
In the meantime don't forget to check out our digital back issues of the magazine too!
https://devolutionmagazine.co.uk/past-issues/
CLICK ON THIS LINK TO READ ISSUE 48
Complete With 18 Track Compilation Featuring:

FEATURED
LEGBA
CUCARACHA
SOUTH OF SALEM
ANALOGUE BLOOD
ELIMINATION
BROKEN CALLING
WARD XVI
EVESTUS
LIVING WITH EATING DISORDERS
ARIMEA
XENOBEAT
ETERNAL FEAR
DISMAL
ASHEN CROWN
INCINERY
MILLIE MANDERS AND THE SHUTUP
THE SOAPGIRLS
You can hear this in full by heading over to our Bandcamp page!
https://devolutionmagazine.bandcamp.com/releases