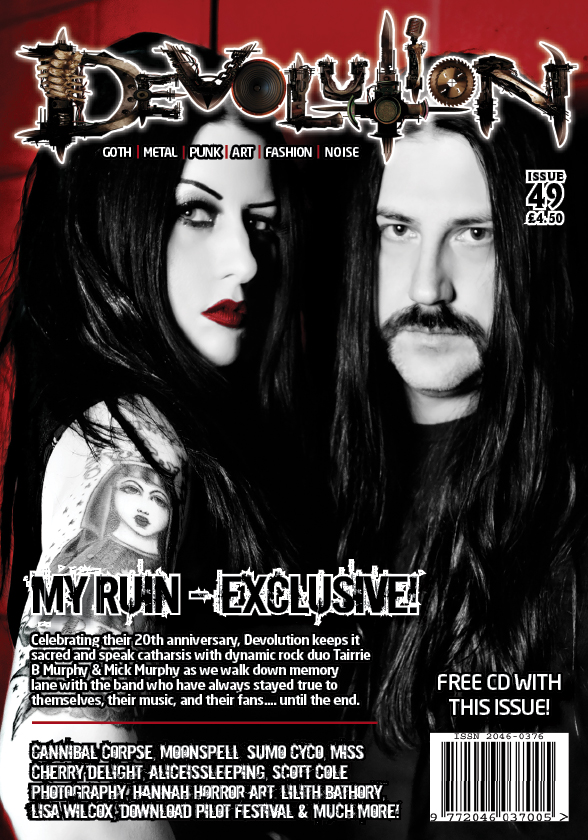 Featuring:
My Ruin – EXCLUSIVE!, Moonspell, Cannibal Corpse, Sumo Cyco, Aliceissleeping, Miss Cherry Delight, Lisa Wilcox (A Nightmare On Elm Street 4 & 5), Hannah Horror Art, Lilith Bathory, Oven Coven By Superstitchious, Alice Bizarre Make Up Tutorial, Scott Cole Photography, Alternative Homewares & Décor, Download Festival Pilot, Save Our Music Venues, Sofia Isabella & so much more!
Plus Free 16 Track CD Covermount
Available to PRE-ORDER the print version from our web shop From Friday 16th July 2021
http://www.devolutionmerch.com/
In the meantime don't forget to check out our digital back issues of the magazine too!
https://devolutionmagazine.co.uk/past-issues/
CLICK ON THIS LINK TO READ ISSUE 49
Complete With 16 Track Compilation Featuring:
MY RUIN
OVERSENSE
MISS CHERRY DELIGHT
GLOBAL CITIZEN
INTERNAL CONFLICT
LESBIAN BED DEATH
3DBS DOWN
TIRED RADIO
THE VENUS FLY TRAP
SIDE PROJECT
GNOSTIC GORILLA
BORN INFECTED
PRETTY ADDICTED
TORTURETEKK
NEANDERTHAL
TAIRRIE B
You can hear this in full by heading over to our Bandcamp page!
https://devolutionmagazine.bandcamp.com/releases