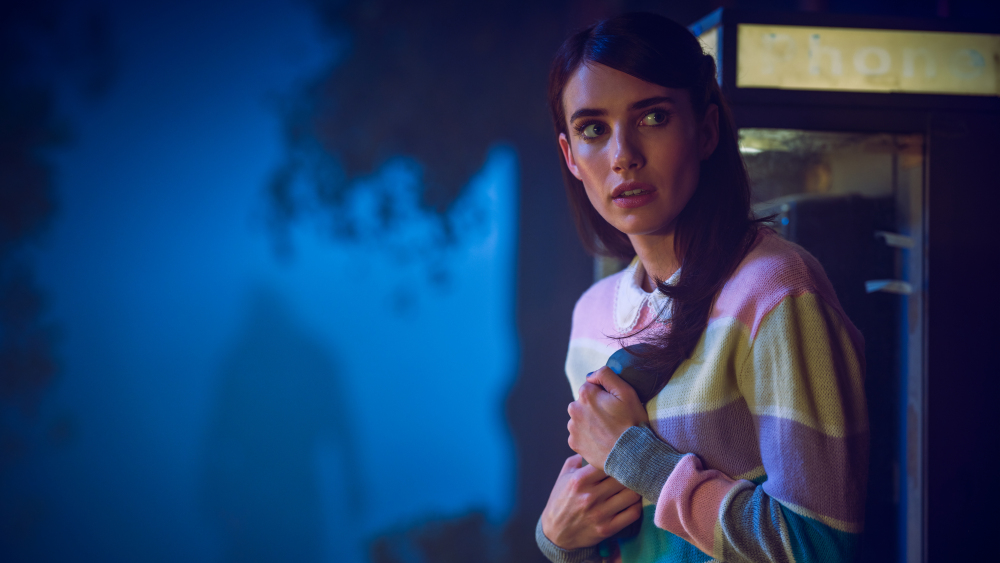 American Horror Story: 1984 – 01 Camp Redwood
Following the storming Apocalypse season addressing no less than the end of the world, it feels fitting that the ninth series of American Horror Story tackles the slightly less catastrophic setting of a slasher movie set in 1984. Rolled-up blazer sleeves, more hairspray than Twisted Sister and an age of sexual revolution will no doubt take to the screens through the coming episodes, however, basing a season on a realistic time-frame allows for a factual basis this series hasn't touched since Freak Show's Edward Mordrake.
Opening a 1980s-themed series with a saccharine aerobics class is one stereotype AHS: 1984 couldn't resist. The now-iconic AHS title sequence has been drowned in neon and smothered with legwarmers, yet for the first time since Roanoke, this opening feel like a hastily-composed afterthought. Needless to say the lack of series regulars Evan Peters, Sarah Paulson for the first time and recent addition Kathy Bates is keenly felt at first, but a fresh batch of newcomers including Glee's Matthew Morrison and Gus Kenworthy add an authentic edge to fill in the gaps. With Emma Roberts leading the charge flanked by Billie Lourd and Leslie Grossman, the female cast have morphed into their 1984 alter-egos perfectly and the speculative prospect of Sarah Paulson arriving later in the series should be enough to keep veterans watching.
Of course, every slasher movie needs its villain that lurks in the woods wielding sharp objects and for copyright purposes, we call this one Mr Jingles. An escaped lunatic from a nearby asylum, not as yet related to Asylum's Briarcliff Manor, this limping specimen with a penchant for ears fits the cookie cutter of all horror villains except one – Mr Jingles isn't the only worry on the counsellors' minds. There's a far more real threat at Camp Redwood in the shape of factual serial killer Richard Ramirez; bringing a true crime story into the fold might seem tongue-in-cheek but AHS have broached the subject as expertly as they know how. Whether viewers can expect a Freddy vs Jason showdown between the two ominous characters remains to be seen, but would be greatly appreciated.
Fans of last year's Apocalypse will be relieved to discover Cody Fern appears to play a benevolent character this series – "serious actor" Xavier Plympton should by rights be the antithesis of Michael Langdon in line with AHS' refusal to cast an antagonist twice in a row. However camp leader Margaret Booth, introduced as a survivor of Mr Jingles' last attack on Redwood, appears to have darker secrets we'll no doubt reveal over the coming weeks. 1984 is jam-packed with intrigue and mystery after only one episode – Crystal Lake who?
Review by Ali Cooper