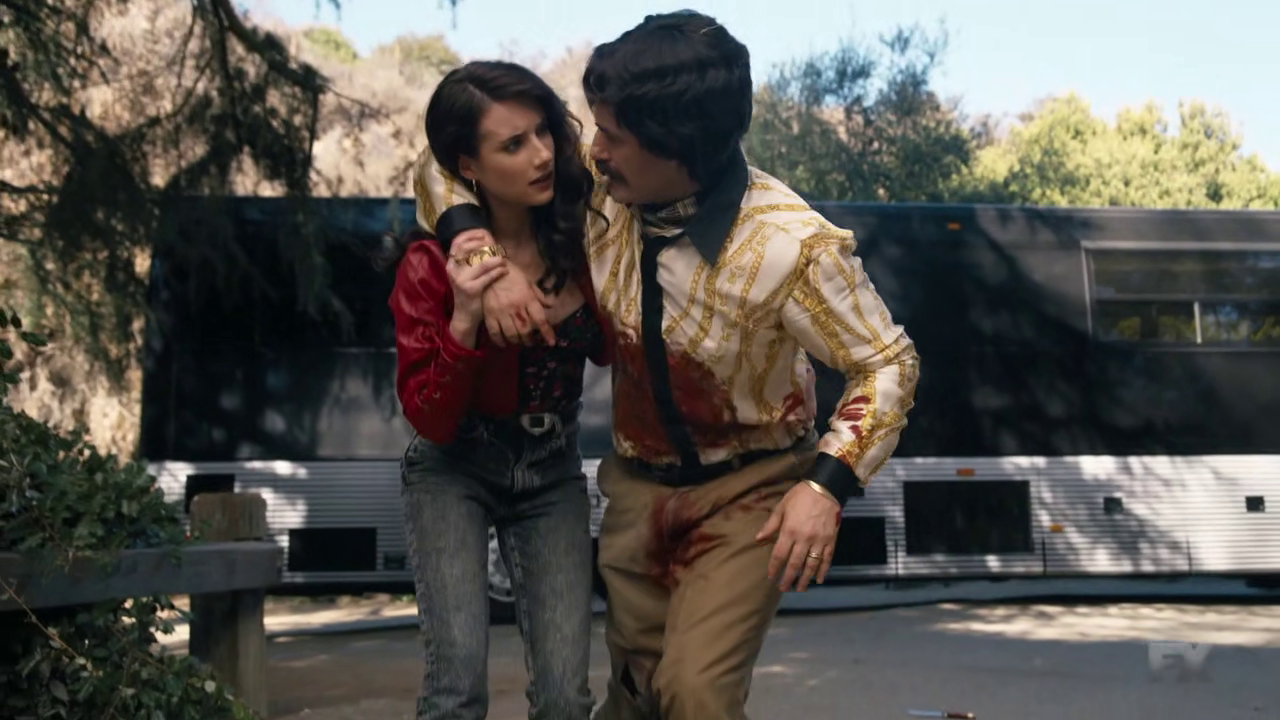 American Horror Story: 1984 – Episode 9: Final Girl
After nine divisive weeks, American Horror Story: 1984 concludes in the most poignant manner possible. Mr Jingles is finally exonerated, Finn Wittrock is finally back in the AHS fold and Trevor and Montana are finally together forever. Our first happy ending in a fair few seasons, this one was earned.
Of course, there are some glaring plotholes that the season finale tore open for itself. How the camp dynamic is going to work around the constant presence of Margaret Booth; how the counsellors can keep Ramirez away from Bobby Richter for the rest of his life; and how the Night Stalker reappears in the Hotel Cortez in 2015 while he's still under deathwatch in Camp Redwood. The justification, however, is that the AHS fandom have come to live and thrive on these untold endings – AHS has never pretended to tie up every single loose end to its stories and that's a large slice of this anthology's appeal: the unknown.
Our counsellors may have shown ruthless brutality in their stages of accepting their fates in the camp, but their revenge ends up landing on the shoulders of the deserving characters. Keeping Ramirez under constant supervision for 30 years is a feat in itself, but why exactly their characters made another 180 turn to defend Bobby for Jingles' sake is left unclear. Furthermore, the avoidance of a Bertie and Xavier reunion in favour of a kiss with Chet is a betrayal Cody Fern fans won't get over for some time.
Against all expectations, the series also gave us two final girls, turning the slasher trope on its axis with good reason – unpredictability. AHS has never been one for giving the fans what they want but this happy conclusion is a rare saving grace. With such a strong ending to a plot that kept everybody guessing ever since the first episode, loyal viewers found mercy in Ryan Murphy and Brad Falchuk's nostalgic edition. On top of that, there's a strong possibility we'll see survivors Donna Chambers and the evidently immortal Brooke Thompson grace the AHS universe again.
Bobby Richter escapes Camp Redwood alive in the most tearjerking conclusion since Hotel, set to the heartbreaking tones of Mike and the Mechanics' The Living Years. A stellar return to the cast from Finn Wittrock as our original antagonist's son in the present day emphasises that Murphy and co. didn't actually forget that this series was a special landmark, we were just too quick to judge.
For all its faults and missteps, the finale of AHS: 1984 truly picked itself up, dusted itself off and paid tribute to the slasher horror genre in its own inimitable, brilliant way – the 80s will never die at Camp Redwood.
Review by Ali Cooper