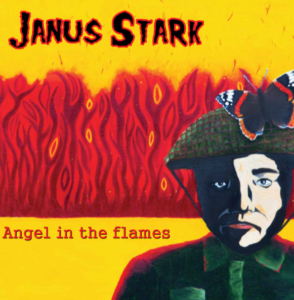 Janus Stark
Angel In The Flames – Time & Matter Records
Pre-order available Nov/Dec 2019
Every band is touted as the next "biggest band of the year", Janus Stark is no exception. It's a fair claim, guitarist and lead singer Gizz Butt has an impressive pedigree, from the early days with the English Dogs, to The Prodigy and the U.K. Subs. But with music it's all about the music, musicians can be gods one day and utter crap the next. So let's leave the hyperbole behind and focus on the music, Angel In The Flames.
Firstly, forget everything you think you know about Janus Stark. This is not punk from the 80s or 90s. This is C21st punk, refined and filtered into a C21st vintage. This is punk for the C21st music fan. This is not the C20th Janus Stark. This is 47 minutes of pure kick ass rock 'n' roll. The best way to describe it is to take all the best tracks ever written by The Wildhearts and blend them into a new creation. It's at once brilliant and heart breaking, written from the darkest corners of the human psyche but with a hope and cheerfulness for the future that makes it seem almost light hearted. From vocals, to drums, driving guitar riffs to bass, production is spot on. It's as near to a perfect album as you can get.
I can't tell you if it's the best album of the year, no one is truly qualified to make that assertation, but it is certainly one of the best albums of the year, and quite possibly the best punk album of the year.
Review by Mark Bestford