News: Devilskin Release Brave New Track With An Important Message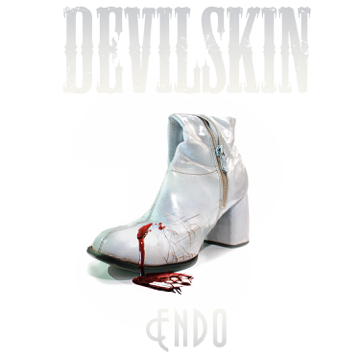 https://www.youtube.com/watch?v=xRph9EpviKM&feature=youtu.be
Devilskin's new song 'ENDO', is a powerfully crafted and visceral masterpiece. Not only does it showcase vocalist Jennie Skulander's incredible power, range and emotional depth but the lyrics are an honest and brutal narrative of her personal struggle with stage 4 endometriosis.
A poignant glimpse into the pain and distress that millions of women live with on a daily basis all over the world, the song ENDO is Jennie's cathartic exorcism of her own personal demons. "Endo is based on my surgery for Stage 4 Endometriosis, something I was unaware I had. The lyric "Break the mass up" is about having an 11 cm cyst (Endometrioma) on my ovary removed. This disease affects so many women worldwide, I really think it's time we talked openly about it."
The band explore dynamic new territory with this moody, rollercoaster of a song. Recorded at Roundhead Studios with producer Greg Haver (Bullet For My Valentine, Manic Street Preachers), engineered by Simon Gooding (Alien Weaponry, Neil Finn) and mixed in Los Angeles by Ben Grosse (Marilyn Manson, Disturbed, Stone Temple Pilots), the song was mastered in New York by Ryan Smith.
Devilskin display confidence and a mastery of their art with a delivery that's both beautiful and bombastic. The gorgeous close vocal intro gives way to a crushing, all-powerful riff and the song twists, turns and totally engulfs the listener, just like the condition itself. "We've been writing a lot and really digging deep into the songs and the emotions involved. We have definitely evolved again as songwriters. We love to write our own rules, push boundaries and kick down barriers. You need to in order to grow" says band spokesman Paul Martin.
"Deborah Bush CEO of ENZ, said that more than 120,000 girls and women have endometriosis in NZ and it can take 8+ years to get a diagnosis. The most important thing is to recognise the symptoms early and follow a recommended treatment plan to avoid symptoms interfering with schooling, career, relationships, quality of life or fertility downstream."
Director Shae Sterling has filmed a stunning and visually arresting video, which was creatively written with the band. "The subject matter demands attention, and we are confident this video does it real justice" says Paul Martin "It's not for the faint hearted."
ENDO will be available on all digital platform services Worldwide including Spotify, Apple music, iTunes, Google Play and will stream on the Devilskin YouTube page here. 
 DEVILSKIN'S NEW SINGLE 'ENDO' RELEASES SEPTEMBER 7th
Endo will be available World Wide on all digital platorms
Devilskin will join HALESTORM for an 18 date tour starting in the Netherlands 1st October and take in 11 countries, finishing in Madrid, Spain 25th October before heading to the UK for a further ten shows.
"The UK has been really supportive of Devilskin, we have a voracious fanbase there and we are totally amped to be heading back to play for them again!" comments bassist Paul Martin "We made a lot of friends last time we were there at Download festival so we've been hanging out to get back."
Devilskin UK Tour : 
31st October Boston Music Rooms  London
1st November Hobo's Bridgend
2nd November Think Tank Newcastle
3rd November Cathouse Glasgow
4th November The Live Rooms Chester
5th November 02 Academy 3 Birmigham
6th November Rebellion Manchester
7th November Craufurd Arms Milton Keynes
8th November Corporation Sheffield
11th November Old Fire Station Bournemouth
"We've been itching to get back to the UK, we had such an amazing tour with Sumo Cyco during Feb 2017 and can't wait to hit the road and re-connect with our UK fans" comments vocalist Jennie Skulander
Supporting Devilskin on the UK leg will be The Fallen State.
"The Fallen State have been putting in the hard yards and selling out venues," says Martin, "they're getting a great reputation as an exciting act. We seem to share the same work ethic and they're also friends with our mates in Halestorm so we're really looking forward to having some fun and putting on some killer shows with these guys."
Tickets on sale now through Live Nation here: https://www.livenation.co.uk/artist/devilskin-tickets
www.facebook.com/DevilskinNZ
www.Devilskin.co.nz 
For more information on Endometriosis please visit  https://www.endometriosis-uk.org/