We all know about the big bands, the ones with a reputation for pulling a crowd.  Download festival this year sports the likes of Rob Zombie, Motionless In White and Ministry to name but a few.  Many people say they have a lot of gaps to fill so here are our top tips of acts you might not be so familiar with.  Five of the best to help fill your weekend with great music.
Download Festival website here
Friday June9th
She Must Burn: Black metal that caresses rather than mutilates.  Those who have yet to fully immerse themselves in the darkest of genres would be well advised to check out She Must Burn, a band that stand as gatekeeper between the readily accessible and musical Hades itself.  You will find the band on the Dogtooth Stage.
Saturday June 10th
Drones: Punk rock was founded in the UK so it's appropriate that bands such as Drones should be the ones giving it a bit of a makeover.  Hardcore with an open door of accessibility doesn't mean compromise musically though.  If you thought punk was losing its youth appeal think again.  You can find Drones on the Dogtooth stage.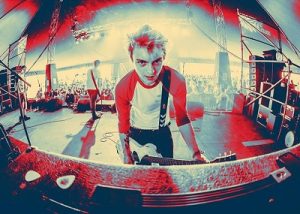 Kvelertak: Possibly the most established and best known of the bands here Kverlertak are still undiscovered for many.  Their typically twisted blend of punk and metal gives them a sound unlike any other.  Being Norwegian everything is tinged with a hint of darkness even if the tempo is upbeat.  Kvelertak play the Zippo Encore stage.
Sunday June 11th
Love Zombies: Described as a cross between the Ramones and Blondie it's a case of a welcome return to Donington Park for the London/LA jetsetters.  Strong melodies and catchy riffs mean you'll find it hard not to end up in dance mode.  With the punchy voice of Hollis in the driving seat prepare  for the ride of your life.  See Love Zombies on the Dogtooth stage.
Devilskin: Alt metal with a southern hemisphere twist is what Devilskin are all about.  The quartet who were formed in 2010 have taken their time to settle in and find their feet, now they are one of the hottest acts on the circuit.  Breaking out from their New Zealand base Devilskin are sure to light up the Dogtooth stage.