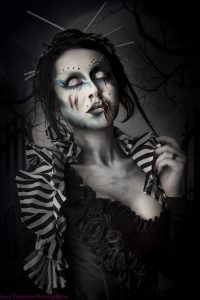 When we decided to run an extreme make up feature one person came to mind immediately, and that was Alice Bizarre.  Famed for her work in video and photo shoots particularly within the far reaching alternative and horror genres Bizarre's work extends out to less gore related work which includes her skills being seen on TV.  Gary Trueman teamed up with the queen of the colour pallet for a special Devolution shoot to show how she creates a look and hear her talk about some of the tips and equipment that she uses in her work. 
Extreme make up which includes prosthetics of various types isn't for the feint hearted but can open up a whole new world to people which is limited only by their imagination and willingness to practice.  For this shoot Alice decided to go for some basic scarring and an effective monochrome and blue colour scheme variations of which she can often be seen wearing at events such as Club Antichrist, where she has her own stall making up people who want to look just that little bit special.  Of course her own look and what may suit someone else or a theme are totally different.
"It depends on how I feel or what I'm wearing.  I don't like things that clash too much.  But at the same time if it's going to be a clown theme then I'll just have any colour under the sun.  Most of the time I go for monochrome and one other colour.  If it's for a model and they want something a bit different I always ask them what colours they hate because it's easier to avoid what they don't like than it is to pick from everything they do like."
Prosthetics are the ultimate part of extreme make up.  They can range from simple scarring such as in this feature right through to full face or even body modification that will make the wearer unrecognisable.  While most people are unlikely to use them outside of special events such as fancy dress there are still things you can do to avoid you face ending up looking like a smashed pasty instead of a menacing member of the undead.
"If you're ever going to apply prosthetics or silicon or even that cheap scar nose putty you get in fancy dress, or even latex make sure your face is really clean or it won't stick to it.  Even moisturiser, if you moisturise your face too much it won't stick.  Doing it first means  you can get comfy and stuff too.  Afterwards you can get started on foundation and all the base aspects of it.  In these photos I used a thing called 3D sculpt gel which is basically a form of silicon where you mix A and B and apply to the skin.  Prosthetic pieces can be made out of silicon, foam, latex or gelatine.  Here I used the silicone product.  The cheap version is nose or scar putty and the problem with that is that you can press it and it just flattens.  You can catch it with your finger and it rips.  With the 3D sculpt gel once it sets that's it.  It peels off really easily too so it's one of the cleaner things to use.  People do get put off by the price though because one small pack can cost about £30."
If you thought choosing a new colour to enhance your living room was a tough ask then the subjects of foundation and final application make up could be considered in the same light as redecorating Buckingham Palace, fortunately though at less cost.  For the shoot in this feature it was inevitable that some specialist products would be used but it's interesting to note just how much of what Alice uses is straight from the high street shelf and much of it very affordable.  Just like a good house though it's worth splashing out a bit to make sure the foundation is good quality.
"With foundation it really depends on your skin because you can get some really expensive make up but if it doesn't match your skin type then it's always going to be a bit of a hassle.  There are some really expensive foundations like Mac that are too thick for my face so when I put it on and put my make up on it can look so plastered on.  I really don't like that.  For me a thinner foundation does work a lot better because it means I have a lighter base.  So for someone who wears a lot when they wear a full face of make up it means I can wear more and not feel as clogged up.  You can't really go for the cheap cheap stuff though because it might make everything else look crap.  The foundation I used for this shoot was a clown white, so it's actually a theatre make up and you can use it really lightly or thick.  You can use it lightly to look vampish, or you can add it to foundation to make it paler.  It's really versatile.  Lighter make up is much better for your skin.  The more make up you use the worse it's going to be for your pores.  If you're on a night out dancing the sweat and make up is not a good mix."
We love the idea that people might be inspired by the photographs in this feature so it was important to find out the actual brands used and the effect they might have on your skin.
"My base was clown white by Kryolan, the blue was Ben Nye and they have colour pallets and it's one of the blues from that.  Some of the blacks were Illamasqua and the greys were from Sugar Pill, their dark pallet.  When you have different stages of colours you can have blue and then black it will just look blue and black but if you have dark blue, black tinted blue and then black it's more products but it makes it a more gradual thing than forcing it to be dark and light.  There are so many black liquid eyeliners out there that people are either too sensitive to or just don't look nice on their skin but I used Seventeen High Drama which is one of the cheaper ones, it's really nice.  I also used a L'Oreal eyeliner pen which is really good for all the detail.  For setting powder I used Ben Nye's neutral set which if you use it lightly you can use it on any skin tone."
Having all that make up isn't any good without an applicator or two.  If you're a make up artist by trade though the brush count can get into three figures although that doesn't mean everything has to cost an arm and a leg.  Again what works for one person may not work for someone else so experimentation is the name of the game.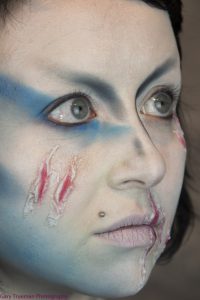 "My brushes are ridiculously varied.  I have artists brushes, powder brushes, one of my favourite brushes I got free with a magazine.  It's my favourite eye shadow brush in the whole world and I don't know what company it is which makes me sad.  My overall foundation brush is an Illamasqua one. With my contouring brush again I don't know the company which sucks because I'd love to buy it again.  The one I always use for the white make up is a Charles Fox body painting brush so that's really specialised.  There are some fantastic small powder contouring brushes from like Wilco's who brought out this new collection.  It shouldn't be nice but it is.  A lot of my brushes are either specialised or ridiculously cheap.  I bought a pound shop nail art brush kit for really fine stuff and it's perfect for little details.  I have dry skin but my sister has oily skin types so different brushes work better for her than me."
Nothing makes a statement better than a set of contact lenses if you're looking to go that extra mile.  They are an instant way to upgrade your look, take it to the next level and make you the stand out at almost any social event.  They are of course also notoriously hard to get in unless you wear them as part of your everyday life and may also leave you with limited vision while being worn.  Here Alice is given an otherworldly look with use of a matching pair of lenses while a single white lens still makes quite a statement.  A word of warning though…….
"Don't go for cheap contact lenses.  They can get quite expensive but at least you can trust them.  Vampfangs.com do some nice ones.  You can actually buy contact lenses from them that are the shape of your eye and your prescription but that does cost more so you can see through them.  I wear them all the time so I guess I'm just used to them now.  Always practice the night before you wear them.  I've been on shoots were we've tried contact lenses on an actor and we haven't been able to put them in.  They've been shooting a music video and they've had to add them in post (production) and it's a waste of time.  Don't be scared, the problem is that most people get scared about touching their eye when technically they're not touching their eye they're touching the contact lens.  Make sure your hands are really clean, take a deep breath and try.  If you can't get it the first time try again.  For this shoot I put them in afterwards because I'm used to it but normally I would say put them in first so your eyes can get used to them."
Hair and clothing obviously not only enhance make up but can often dictate how particular look feels and works.  You can also change the emphasis of where people focus on you and your face purely by how you arrange your hair and what you wear.  It can be a lot of fun trying out styles and even wigs, many of which are inexpensive to buy.
"I get annoyed if I don't have things that I can play with like hair because it's not just about it being about make up.  You might alter your make up, maybe contour it differently and one hair style might suit it in a different way.  I'd always recommend people playing with their hair, wearing it up or down, curling it or even wearing head pieces or hoods or scarves.  Or even wigs.  If you do use a wig the best thing to do is style your wig as well.  If you're wearing a long ass wig then put it up because it looks so nice and natural.  Hair, contact lenses and outfits can really change one particular look.  With outfits I could wear  a high collar thing and it would change the whole thing completely especially if I wore zombie contact lenses, the whole thing would look really stripped.  But when you wear a floaty dress like I did today and hair down it looks a lot more wispy.  My fringe was down in one look today too so you don't see my forehead so you don't see my eyebrows as much and the focus is more on the lips."
So this is the look Alice Bizarre created for Devolution magazine for a shoot, hopefully it may inspire people into trying out a new look or doing something special for an event.  What about everyday?  Is this something for the high street?  And is this a look you need to have as an MUA representing yourself or is it something that can be used by anyone who feels that something bolder is right for them?
"A lot of people worry about what other people might say but I don't.  I don't go out that much but when I do it's always the type of make up that's in these photos.  I guess if I'm going to go out then I might as well have some fun with it because I feel boring otherwise.  I never wear normal foundation because it's like my skin colour and I don't want to look like that, I want to look white and blue and green and black.  If you're going to have a play with it then don't be scared to go big.
It's like a hairdressers, you don't want to get your hair done by someone whose hair looks awful.  It's the same for me especially when I'm working at clubs, I'd hate someone to come to my stall and for my make up to be terrible.  When I go out in the evening it's not so much a case of me representing myself as I wouldn't feel like me any other way."
Model: Alice Bizarre
MUA and Hair Stylist: Alice Bizarre
Photography: Gary Trueman Photography
Dreadlocks by Lovebird Locks