One of the things that often sets alternative people apart is body art.  It follows then that the alternative fashion industry and indeed the tattoo industry needs its own models.  Regular magazine cover girl and tattoo convention favourite Mz Bones has risen to the top of her profession through dedication and sheer hard graft.  Here she talks to Gary Trueman following her exclusive shoot for Devolution about ink, punk rock and being a lady of metal
Let's talk tattoos as you have a great deal of ink.  What was your very first tattoo, when did you get it and why?
"My first tattoo was an anchor and some roses on my left foot and everyone was expecting it to be smaller than it was but it covers the entire top of my foot.  I just wanted something pretty, no reason for it I just fancied it.  That was about four or five years ago."
You weren't one of these people that turn eighteen and rush out to get a tattoo then, you were a little bit older?
"I was a little bit older and I'd quite fancied getting one for quite a time.  Once I'd settled on the idea that was that, I'd made my mind up and I still love it.  He did a really good job and I think it's really beautiful still, I'm really happy with it."
Do you use the same artist all the time or use different ones?
"Most of my work has been done by Miss Jo Black who's at Black Ink in Somerset although I had my back piece done by Toni Moore who works at Forever Bound in Bristol so I do have some really good quality work which I'm really proud of."
Do you have a favourite tattoo or do you have one that you're not so happy with?
"I genuinely love them all.  I did have a piece on the back of my neck reworked although there was nothing wrong with it, it was just a little bit plain compared to everything else I've got.  There's a lot of detail in my other pieces especially on my back which is right next to it.  I was happy enough with it before but now I just thing it fits better with everything else that I've got.  I can't have a favourite, it's against the rules but I think everybody else's favourite is my chest piece.  I will walk in to any tattoo shop and somebody will comment 'oh that's that chest piece' because it's been in so many magazines and it's been in a couple of art galleries and all over the internet.  I'm really proud to have it."
Do you find yourself checking out other people's ink?
"All the time.  I love tattoos so if I see them I will have a sneaky look although I do try not to stare because I get stared at constantly.  Most of the time it doesn't affect me but if people are really rude about it then I do get a little bit pissed off.  People will come and show me their tattoos all the time, when I'm queueing up at the supermarket, when I'm walking down the street with my headphones in someone will appear lifting up their shirt to show me their new tattoo.  I've had a lot of awkward conversations in Sainsburys."
Obviously you meet a lot of other heavily tattooed people.  Is there anyone in particular whose look you like or whose ink you really admire?
"I remember seeing Candice from Walls Of Jericho and I remember seeing her when I was younger and she had her chest tattooed and two full sleeves and I thought it was so cool to see a woman with sleeves.  I think it's still a bit of a surprise even now, you see a lot more heavily tattooed men than you do women.  Tairrie B from My Ruin too, she's not super heavily tattooed but she does have some really big, really striking pieces.  I remember loving her tattoos when I was really young.  There's nobody that I've based my look on though because I've never found anybody that had the sort of work I wanted.  I love traditional tattooing but I wanted something girlier and I always wanted custom pieces made to fit my body and to fit my style.  I very rarely get any flash tattoos I usually get things drawn up for me."
You're also a hair stylist and make up artist which is pretty handy for a model.  Do you think all models should aspire to be able to create a range of looks themselves?
"Yes because I know not everybody and every shoot has the budget to hire hair stylists and make up artists so I have actually taught some models how to do a few bits and bobs for themselves for shoots which I hope has been helpful.  A lot of people have become very good at doing their own make up which is awesome."
We've noticed you really like the colour pink.  Is that something you took to in childhood and it never left or is it something that arrived a bit later on?
"My mother would dress me a bit like herself when I was little and she was a bit eighties, she wore leggings and tops.  I actually used to have black hair because I was obsessed with a lot of women in music and fashion a s well that had this unnatural jet black hair.  I always loved Dita Von Teese and used to practice all the pin up styles on myself.  One day on a whim I decided to bleach it to go to red and had red hair for about a week and it crossed my mind that I could be pink and I'd always secretly wanted pink hair.  I could never change it now.  I love it too much but I do get tempted to have black hair again because I love the contrast."
You're also a lady of metal.  Can you explain a bit about it and how it came about?
"The agency I work for based in the US take on a lot of bands promo work and they're very popular online as well.  All their models get a lot of attention online.  I actually sent off an application to them and completely forgot I'd done it.  Out of nowhere I got an email a few months later asking if I'd still be interested in them representing me and working with me on a non-exclusive basis because I do have an agent in the UK and I said that would be great.  They send me band shirts to model which I do my best to get shots of."
So lady of metal, what are your favourite bands?
"I used to be really into metal bands when I was younger but I was always into punk music as well and a lot of my favourite bands are punk bands.  The Distillers are my official favourite band.  My tastes don't tend to move on, I'm quite happy listening to the same stuff again and again.  My Ruin were one of my favourite bands when I was younger.  I've always loved that American punk music like Rancid.  I like female fronted bands as well and have always made an effort to seek out female fronted bands.  Walls Of Jericho and Alkaline Trio too."
Back to modelling and the fact it's not all about glamour.  It can be hard work and often cold and wet.  What's been your best shoot and have you had any that were a bit of a disaster?
"I don't think people realise how hard it can be.  I work relentlessly and when you are self employed and running your own business you have to work constantly to make the money you need to keep yourself going.  A lot of shoots I've done aren't glamourous at all.  I did do a promo shoot for a tattoo convention once in the most amazing penthouse apartment in London and the balcony actually came out over the Thames.  I did go out there and thought fucking hell it's very high up so I was trying not to look down the whole time we were doing the set out on the balcony.  Shooting magazine covers is always a huge honour to be chosen to be put out there into the world on a shelf that everyone is going to walk past.  I did Skin Deep magazine cover right at the start of 2016 and was walking into petrol stations and seeing myself, and in W. H. Smiths and stuff, that was incredible."
What's the one piece of advice you would give to a young person wanting to get into modelling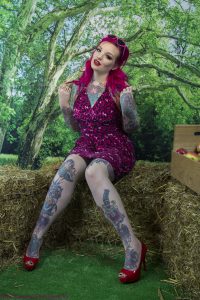 "Be safe because you hear a lot of terrible stories about the modelling industry.  Just make sure you can be a safe as you can, if you're working with someone that doesn't have a lot of references or a big portfolio then go to a studio where there's going to be other people around.  You should never be so desperate that you're having to take any job.  I get a lot of emails and messages on my Facebook page from girls wanting advice and I do say have the best quality portfolio to start with.  You want quality rather than quantity.  Make sure everything you're doing especially if you're paying your own expenses, that it's going to benefit your portfolio.  Be picky and try to maintain a good attitude because if you're easy to work with you'll get booked again and again and again."
Model: Mz Bones
Hair: Mz Bones
MUA: Mz Bones
Photographer: Gary Trueman