It had been well over a decade since we previously had the honour of sitting down with the incredibly enigmatic, deliciously macabre and absurdly talented Mister Sam Shearon and upon the release of his 'Creepy Christmas' designs we just knew he had to be our cover story for this winter edition. Nickie Hobbs organised a meeting of minds to talk to our fellow brit abroad about the season of death, performing in Hollywood theatre, writing screenplays and working with some of the biggest names in rock n' metal.
Hey Sam, great to finally be able to sit down with you after many years since our last discussion and delve back into your wonderfully weird artistic world and to discuss Mister Sam Shearon's 'Creepy Christmas'. As that is your latest body of work let's start there….tell us about this unique project.
"Greetings Nickie! Great to connect again, I can't believe we've been friends now for what, ten or eleven years or more…? I forget, time really is flying! My 'Creepy Christmas' project actually started a good number of years ago after I discovered an old book of Christmas ghost stories, which then led me down a dark rabbit hole of folklore and ancient pre-Christian, pagan gods and winter legends full of strange characters and monsters! I've always had a fascination with mythology and the old world fairy tales, most of those are filled with morals and tales of disturbing horror… After doing a deep-dive on what I've come to call 'Merry Macabre, Winter Warnings', I just had to start writing and illustrating my own collection of creepy creatures to celebrate the season of death."
With your characters immortalised onto Christmas cards and a colouring book – is this now an annual effort? And will you be creating any other annual holiday packages? What's the inspiration for your characters? And how do they differ from other 'creepy' festive characters?
"Well, this project has grown and continues to grow by the day… I have an amazing team working with my manager on some as yet to be announced products and other releases related to this project, so stay tuned for that, I'm pretty sure you'll be among the first to know! I'm currently working on some Halloween releases for 2021 along the same lines as my Christmas release. That project is taking a little longer as there's just SO much to illustrate in the way of different characters, hence starting so early. Everything I create has to be different from the usual commercial releases that every Joe and Jane release each year. My creatures all have their own little twist which sets my work apart from others, but are always based on a more traditional origin. I prefer to remain as loyal and as accurate as possible to the old myths and legends, unlike the majority of films and television shows that depict 'Krampus' as one entity for example… He's not, the Krampus are considered as 'many', it's plural really if you like, there's no single 'Krampus'. Hence the hordes of different styles seen parading through the Krampuslauf each year on December 5th like an army of winter demons! So to be distinct and different, I created 'The King Krampus'… a sort of ruler of them all. There's a lot of commercial crap out there and so I try to be as loyal to traditional folklore and legends as possible, but at the same time I strive to add that consistent signature vibe of difference and surprise to all of my work, in the hopes that ultimately it all feels like the same world created by me."
Born in the North of the UK you relocated to Los Angeles in 2007 – how has life changed for you since making the bold move to elope to the states and have the last lucky 13 years been good for you both personally and professionally?
"It's been a journey that's for sure, though a real pleasure of an adventure looking back… I've experienced and achieved so much over the past thirteen amazing years and yet I feel I have so much more to experience and produce! I've met some really amazing characters and of course some professional weirdos out in LA, weirdos that I can call upon for a coffee in the middle of the night… These are people whom I never thought I'd even meet that I now call friends, writers, actors, rock stars and fellow artists… LA is a giant circus-city of strange ones. Creating for bands and authors has been a wealthy source of inspiration and education in regards to continuing to build my own career. As for the change of scenery, moving from the North West of England, a rainy cold and windy part of the world, to a dry heat desert, full of smog and dust in Los Angeles, hasn't been the most pleasant swap… and I don't plan on spending the rest of my years here in LA. I have my sights on a mansion in Europe with my own forest at some point! But for now, LA is still where I need to be to keep making those millions and to fully flesh out the current career into that 'Empire of the Sam' I've been building all these years."
Your impressive portfolio boasts original artwork, portraits of musicians, novel covers and that work even extends to comic book designs. On the back of the latter that means you have also been a regular signing your work at San Diego's comic con events. Quite the achievement – how did all of this happen and what has been some of your biggest achievement to date?
"I've actually sat and signed books and drawn 'live' at San Diego Comic-Con for eleven years in a row until the Covid-19 crisis shut it all down this year… I was hoping to keep that run going – but I guess a little break is healthy once in a while. I've been all over the states at various conventions over the years, Long Beach is always a fun convention, Monsterpalooza, the NAMM show. Stan Lee's LA Comic-Con and New York comic-con are also favourites of mine. I absolutely LOVE New York, the people, the accent, there's just something classic, nostalgic and other-worldly about Manhattan at night. I have many fond memories of Brooklyn and the whole subway system too. It is such a richly inspiring part of the world! If I could pin it all on one comic-book gig I landed that kicked off that whole area of my career, it would have to be the 'Angel' comic-book series, (the 'Buffy The Vampire Slayer' spin-off), released via IDW Publishing back in 2009. I did three cover artworks for the 'ANGEL' series, after being introduced to actress Juliette Landau, (Drusilla from the 'Buffy' & 'Angel' TV show)… Juliette had appeared in a music video with my close friend Jason Charles Miller (front man of the band Godhead) and so really it can be pinned on him! After my first signing and panel at comic-con San Diego that year alongside Juliette, I would be hired again and again by IDW over the years to create covers for other titles such as 30 Days of Night, Judge Dredd, KISS, Mars Attacks, H.P. Lovecraft and The X-Files among others. The rest is history!"
Many Devolution readers will recognise your distinctive statement work appearing on album covers and merchandise over the years for Godhead, Slayer, Rob Zombie, Ministry, Rammstein, Filter, HIM, Powerman 5000, American Head Charge, Orgy, Fear Factory, Doyle, and Iron Maiden among many others. Quite the roster boast! Have you got any releases lined up with rock and metal artists for this year or early next?
"I've been creating a lot of artwork for Richard Patrick and his band 'Filter' for the new album 'MURICA' and I recently created a few cover artworks for the single releases from Filter: 'Thoughts & Prayers' and the song itself 'Murica'. I also appeared in the music video for 'Murica' shot by director Vicente Cordero… (An amazing director, he's done music videos for my friends '3teeth' and for 'Skold' among many others). Aside from 'Filter', I've been creating a number of pieces for 'Fear Factory's new album, which is the final album to have vocalist and frontman Burton C. Bell on vocals, so that's quite the end of an era there, so who knows what's next for FF after this… But I know both Dino and Burton have other bands of their own of course, so the world will keep turning! I've created a number of pieces for the band '8MM' which consists of Juliette Beavan and Sean Beavan, (Sean was the producer on many albums for 'Marilyn Manson', 'Slayer', '3Teeth', 'A Perfect Circle', 'Nine Inch Nails' and 'Programmable Animal' among many others). I've actually just created the new logo and album cover artwork for 'Programmable Animal' so watch out for those rising stars. 'Programmable Animal' have this wonderful nostalgic industrial Goth vibe and yet still have an edge over most well-oiled bands! They sound like a mix between 'Stabbing Westward', 'Orgy/Deadsy', 'KoRn' and 'Nine Inch Nails' all mashed up into their own signature sound. I've been creating some new cover artworks for my old friend 'Jason Charles Miller' (formerly of industrial outfit 'Godhead'). He's releasing two mini albums in the New Year. I think I've created around ten or more of his record covers over the years, albums, singles, Eps. LOVE that guy! I'm also working on the new album from 'Kill Devil Hill' with Johnny Kelly ('Type O Negative') on drums, so that's all pretty exciting. I've also created a bunch of artwork for my friends the mighty '3TEETH' which is yet to be revealed… aaaaaaaand of course there's always a bunch I can't mention! Ha!"
Do you have any artist that you have dreamt of creating an album cover for? Who is it and why?
"Oh there's so many, some sadly no longer in existence like Motorhead, though I did create for a film project via Cleopatra Records some years ago featuring Lemmy. It was his last movie, a vampire film called 'Sunset Society' and I was hired to create the illustrations and direct the animation for the 'live action' scenes that were never filmed, to fill in the gaps so to speak with my animated artwork. That film is out there now somewhere on demand… check it out if you love 'B' movie horror! I'd love to create a 'Marilyn Manson' record, I have some big ideas for that, I've been sitting on them for years… I've done merchandise for 'Rammstein' in the past but I'd love to do a full album package for them and then of course there's 'TOOL' and 'A Perfect Circle'… I'd also love to wrestle down some artwork for 'Monster Magnet', 'Mastodon', 'Faith No More' and 'Nine Inch Nails' at some point… Perhaps some 'Ozzy' or 'Alice Cooper'… I could really just list a million people… who knows what the future holds?"
Let's get back to the non-musical relationships you have worked with – Clive Barker was one, with you illustrating and directing motion-graphic-novel versions of his Books of Blood… and impressively creating Hellraiser artwork, both cover art and interior panel artwork for his graphic novels. How did that collaboration happen? And how did it feel to be applauded for work in this prestigious partnership?
"I first met Clive Barker back in 2013 during Halloween, what better a time to meet such an icon!?). We got talking and once he'd found out I was originally from Liverpool, England (as he and Doug 'Pinhead' Bradley are also from Liverpool), we hit it off! After reminiscing about England and yet how he prefers the LA climate, asking if I was mad to miss the rain (which I do!) he then hired me to create artwork for him on a variety of projects. I did a great number of works for Clive over a number of years and have some fond memories working up at his 'museum-house' in the hills with his team of like-minded creators. Sadly a chunk of artwork was put on hold due certain publishing deals here n' there so to speak and so unfortunately a lot is still in the can  and yet to be released… perhaps one day off in the future it'll all come out! These things happen from time to time, a similar 'wall of pause' happened with the 'Ministry' comic-book which is still in limbo at this stage, though I did create the last full album package for 'Amerikkkant'. In the meantime I did manage to create a number of cover artworks for Clive and most notably 'issue one' of the 'Hellraiser: Bestiary' cover featuring the Hell Priest 'Pinhead' himself!"
And I believe Stan Lee can be added to this mightily impressive work list you have?
"Who doesn't love Stan Lee!? I illustrated and directed over 300 storyboards for the animated episodes of 'Stan Lee's Lucky Man'. This involved converting the script into sectioned imagery and writing directors notes, so that the final artists and animators knew what they had to deliver – the rest was in the hands of a few trusted editors. I had the pleasure of working with some familiar friends from Clive Barker's team on this and would often sit and work in Stan Lee's very own personal office… I even sat in his chair behind his desk once, which was a surreal time for sure!"
So let's talk about studio painting to live painting – didn't you perform a live painting ritual at the largest Satanic gathering in history, for the Satanic Temple of Los Angeles?, with other artists performing that same night including 3TEETH, Author & Punisher and Coven of Ashes? Now that sounds like a wild experience – were you approached specifically for this opportunity and how did the event go? Any stories you would like to divulge?
"That was a strange event back in 2016… Though nothing too out of the ordinary to be absolutely honest. There wasn't anything I wasn't already familiar with in terms of 'magick' so to speak. I was quite comfortable performing in my own area, slapping black ink onto a large canvas with an audience of metal-heads and gothic types surrounding me watching me work… I was introduced to 'The Satanic Temple' via a close friend and was invited to perform at the event which became a notable event in history due to its impressive turn-out. Several news stations and online journalists covered the event which included 'live' blood-letting rituals and tension-hooking through human throats and various body parts (not mine I should point out!). All this in one night with several friends on stage in various bands performing some rituals of their own. Of course the industrial juggernauts '3Teeth' blew the roof off as usual! There were of course 'Christian' groups outside with picket-signs protesting the event… Talk of death threats and shutting the whole event down didn't halt it. Everyone involved was careful not to fan the flames and it was agreed that common sense was the best tactic, to not retaliate or instigate any 'conflict' of any kind. We didn't light those flames and we weren't going to fan them. Thankfully there was no trouble and everything went off without a hitch… so much for dangerous devil worshippers! That is NOT what 'The Satanic Temple' represents, they're more about equal rights, challenging authority that holds law over the human body, women's rights, gay rights and help for the homeless and less fortunate."
Being a jack of all artistic trades you really have done it all – album voiceovers for Fear Factory, creating artwork and merchandise, live painting, paid for commissions and a spot of acting! Performing on stage in Hollywood as part of Bram Stoker's 'Dracula' amongst a cast of thirteen, you played Dracula himself…Was this a triumph for your acting debut? As an artist did it inspire you in other ways? Perhaps to bring your own creepy concepts to life and the chance to write your own screenplay?
"Acting is something I've done on the side to my visual artwork over the years, appearing in a couple of short films here n' there, guesting in music videos for various bands and a little theatre now and then. But the role of 'Dracula' came up in 2015 after I had recently moved into a new apartment in Hollywood, California and I just went for it! I remember sitting in the audition room in a North Hollywood theatre, with a bunch of other dudes with long hair and beards… One by one we went in and said our lines for the audition. We had to prepare something, some two minute spoken word piece. So I thought it would be fun to recite the lyrics from the band 'Type O Negative's 'Black No.1' single, minus the chorus, as a sort of poem… I gave it a Christopher Lee style delivery, an extra British and ominous spin. Then before I knew it, I was the chosen one… After I got the call from the director, that he wanted me to play the role of Dracula for twenty shows, each show being two hours long with a cast of thirteen… I thought to myself "Oh shit, I guess I'm doing that now!" I learned a lot, made some lifer friends and had an absolute blast… Murdering and drinking blood every night, kissing the girl and dying at the hands of Van Helsing… over and over.
It was a surreal real life dream and an inspiring two month blast of rehearsals and shows! …and 'bloody' laundry. It certainly inspired me to delve deeper into my writing, creating worlds and roles as an extension of my artwork. With my fascination of classic legend, myth and folklore, fleshing out old stories in new ways has been something of a few passion projects for the past few years… So watch this space for something special in regards to my own productions, storytelling and screen-based projects."
Is there anything else that you are working on that you'd like to spill the beans about and offer an exclusive to Devolution? With so many fingers in so many pies there must be something you're working on?
"I'm always hesitant to spill too many beans because the universe changes on a whim when you least expect it and the designers of this giant video-game we're all in called 'reality' can often switch things up for fun by the minute… they're always listening… watching… then changing things. But in all seriousness, I've been toying with my own podcast for a little while. I used to co-host a show back in 2015 for a year or so and after appearing on several other shows over the years as a guest, everyone has always commented on my voice and suggested that I should do my own. I have wanted to branch off into my own show for some time, the only thing stopping me is time itself… and of course also the amount of irons I have in other pies and hands in fires. It all gets a little mixed up and things cross pollinate into new projects quite often. So things either evolve or are shelved for another time when there's 'more' time to allocate to them. SO much going on isn't a bad thing, but I don't like just churning cheap or rushed projects out, I'm a little bit of a perfectionist, so this always affects every project, including the long-burning musical projects… and tying down exactly what I want it all to be about. But there's always something new coming in the New Year. So keep your ears open as well as eyes!"
Let's talk about 2020 and the unmissable unavoidable worldwide pandemic – how did the new world of chaos affect you both personally and professionally? How have you spent your time?
"I'm actually pretty sure I had Covid-19 back in February. Five weeks of bone-rattling dry cough, like no cold I'd ever had before and I still ache, so who knows what the long term effects will be. But as for work, like a lot of my fellow creators, artists and writers, the lockdowns and solitude hasn't really been anything new to me. I spend a great deal of time indoors out of the sun, illustrating, writing, editing and so on anyway. So really not much has changed. The only real downside has been the cancellation of shows and conventions y'know, the actual celebration moments to show off and see the art in action. I usually head back to the UK for the Download Festival every June, it's a sort of annual pilgrimage that I've soaked up every year since 1996. A lot of fond memories from those years. Many of my friends have performed there and I've even had the pleasure of being back stage and on stage with some of them at times, (a big perk for creating album artwork!).
So I have deffo missed that aspect of freedom and celebration! I remember one year, I was with American Head Charge on stage with my artwork as their backdrop, I'd just done the package art for their latest release and so it was a proud moment to be there with them and see it enlarged on stage as the back-drop. That same year I'd created the new 'Powerman 5000' album artwork and 'Kill Devil Hill's album artwork and they both also performed… my artwork was everywhere that year, even 'Ministry' posters for the album I'd also just done… people walking around with various band t-shirts I'd created… it was surreal! Every year has those special moments that make it all worthwhile… this year, nothing. There's always plenty of fond memories of 'Comic-Con San Diego' too but of course that was also cancelled. There really haven't been any memories to record of anything since March… as there haven't been any actual events to celebrate them. The last band I saw was '3Teeth' at the start of the year which seems like forever ago and at the same time, the year seems to have flown by! So I've kept myself busy creating and planning for 2021 as much as possible behind the scenes."
Do you have plans to try and get back to the UK anytime soon?
"I always aim to head back to England for Christmas to see family and friends each winter for a month. This year will of course be a tough one… I'll have to self-isolate for a period of time when I get to the UK before I can see anyone or even hit the shops really, so that'll be interesting. I do love England and as I said, I aim to live out my days there at some point in my own 'Samson-Mansion'. You can't beat a good brisk English morning with actual weather! Fog, rain, frost, snow!"
As an artist how do you keep ahead of the game? How do you consider yourself to evolve and to maintain thinking outside of the box?
"I never really plan to get ahead of anything in terms of any sort of career game or race. I think it's damaging to the creative process to compare yourself to others, or to try and out-achieve someone who may see themselves as your competition, who might actively try and steer you into a different direction to benefit themselves… 'Art vampires'. There are SO many creators out there I think the only sure way to keep ahead of your own goals is to not focus on anyone else's'. Competition and copycats can continue in their own realities but there's only one 'me' and nobody can ever take that away. I think all artists, writers and musicians should keep that practice and perspective in mind. I think it's healthy and important to have some level of ego, provided you can back it up with solid, valid and verifiable 'work' of your own of course! Listening to others and considering criticism is of course key to personal growth, through reflection and self-assessment, but you have to keep your eye on your own prize and initial goal, so many great things get lost or fade if you don't hold onto those dreams. But I do like to keep things fresh in my own creative world by delving into the past and seeking deeper meanings in visual detail rather than fast-food style, cheap-sell artworks that people knock out every day for a quick buck! I see a LOT of artists who create their own versions or just straight up copies of existing properties like 'Jason Vorhees' from the 'Friday 13th' franchise or Tim Burton's 'The Nightmare Before Christmas' or 'Aliens' and 'Predator'… and they don't have a license to sell those 'creations', they don't own those characters and THAT pisses me off!
Art theft is a HUGE pet-hate of mine, with my own work being stolen or re-used on several book covers and posters, film covers etc. from time to time, some even ending up on 'Amazon'. Luckily my manager and legal team handle those moments very swiftly. I have become more driven to showcase 'my' work, so that people know who I am. Stepping out from behind the canvas and tipping my hat so to speak, has become a more regular practice these days, so that people can put a face to my artwork. SO the point there is, there's far more value in creating your own monsters rather than trying to make a quick and easy buck from someone else's' 'property', anyone can do that. I'd rather be hired officially and stand out on my own, with my own creations!"
You tend to draw a lot of demonic goats and bio mechanical animals that lean towards the hare family – are you an animal lover and do you consider these animals to be 'dark' and perhaps symbolic? Do elaborate for us…
"I do love animals, natural history is a huge interest of mine and of course cryptozoology and mythology all tie into those things. I'm fascinated with pagan and old-world religions and beliefs. The meaning and values bestowed upon specific animals is something that I believe should be taught in schools. I think 'The Brothers Grimm' fairy tales should be taught at an early age – they're so rich in morals and 'life' lessons… But it is the animals and their values and relationships to the natural world that fascinate me, the very magick of nature itself. The rabbit has for me personally become a symbol of the underworld, but also of the aspect of resurrection, life beyond death… rising from the soil, the return of spring after winter if you like, cheating the season of death and so on. But also their connection to old world esoteric and occult based magick! Of course goats play a huge part in nature worship, the god 'Pan' and the obvious pop-culture tie-in of 'Baphomet' which has become something of a viral buzz-beast of late are regular themes in modern commercial art these days, it's hard not to see it more and more, being thinned down or twisted with their meanings lost or warped.
It irritates me how people are slapping sigils of 'Lucifer' and 'Leviathan' all over t-shirts with pentagrams and pentacles alike, mixing it all up with ram heads and 'Lilith'-logos and 'Baphomet' iconography – and then all in the same breath advertising 'Satan' as a one-stop-shop of 'all the same thing', which of course is far from correct. It's cringe worthy. It's hard not to get frustrated with the overly commercial 'witchy', 'craft' things being mixed up and combined with an arcane attraction of rebellion, hence the popularity of 'The Satanic Temple' concept, using 'Lucifer' as the first example of someone challenging authority and being cast out of heaven and so on. That whole 'rebel' idea is the typical teen mascot rebranded as a dark and mysterious, parent-worrying, devil-danger, a modern 'Satanic-Panic' wannabe nonsense. It is of course all entirely and utterly ridiculous, when in reality, there just aren't hordes of 'Satanists' running around sacrificing babies, that just doesn't happen as a general rule, most 'PEOPLE' don't do that, but once in a blue moon 'bad people', not 'Satanists' do. That's like saying all dogs bite. So really it's just a shock tactic to sell product and make a profit on the uneducated, as usual.
There's no harm in people delving into the historical occult origins of various symbols, studying it, practicing esoteric magick etc… But few do and for good reason… It's not something that's a quick sell and it shouldn't be, it should be valued and respected. I think it cheapens the whole power of it all when it's slapped on a back-pack and sold in a 'Hot-Topic' type store, again for 'satanic-Panic' shock value and the current fad dressed  up as the hottest 'style' of rebellion. SO my own use of animals and symbols, in all honesty, is a celebration of the old world stories with care and respect and careful consideration and delivery. I aim to attract people to look a little deeper for the hidden values, to really take a moment and understand the meaning in the seeming-madness. You have to look within and dig a little deeper to find the message of those magickal rabbits! It's not a gimmick."
Is there an unchartered theme that you have yet to try within your work and would like to explore more of?
"I've long wanted to release my own Tarot deck and many have asked when I'm going to do so. The problem is, as I mentioned earlier, is that I'm a little bit of a perfectionist and I would have to make them highly detailed and full of meaning, symbols, messages and more. So that in itself is a huge amount of time to allocate and devote and currently I have about six thousand other projects on the go! I would love to put an encyclopaedia or several together, a catalogue of monsters… Greek myths, cryptozoology… I have too many goals I wish I could clone myself!"
How do you personally define your work? And do you willingly go about trying to provoke or challenge the viewer to think and to make up some sort of conclusion?

"I'm not really sure how to box or label my work other than perhaps 'Dark Surrealism', but then again not all of my work falls into that category. I like to entertain the viewer in a sense of creating something that makes people feel a certain vibe or essence of another time or world. Nostalgia is a huge part of my work which is why I love to incorporate archaic symbols and concepts from bygone eras, reimagined and given new life. I like to add aspects of high realism to otherwise impossible creatures or characters that only really exist in mythology or folklore. There's something very rewarding to excite someone or give someone a visual pleasure with a piece of art that's really a window into a world that is seldom ever seen. So my work strives to not necessarily challenge people, but more so convince them that monsters DO exist."
Musically who is inspiring you at the moment?
"I'm loving the new material from 'Filter', 'Programmable Animal' and of course '3Teeth' and that's not me just being biased as they're friends and clients of mine, I genuinely LOVE the new offerings from these guys and they certainly fuel my studio while I create. I've also been listening to 'Igorrr', 'Author & Punisher' and 'Polar Moon' which is the musical project from Jonny Radtke who you'll know as the guitarist from 'Filter'! I also listen to a lot of synth based or electronic dark-wave stuff while I work, that's often my background music if I'm building cyberpunk prop-guns and outfits… I have a huge love of the 1980's nostalgic dark-future-dystopia style. So 'Perturbator', 'Lazerhawk', 'Actrazor', 'Bourgeoisie', 'Powerglove' or 'Megadrive' are often on the play list along with darker hook-outfits like 'Nightclub' and the powerful '8MM'."
What's next for Mister Sam Shearon as we plunge forward to 2021?
"Right now I'm wrapping up some new artwork for my 'Spring Collection' so to speak, in the way of new artwork prints and wrapping up my Dark Zodiac 'Horrorscope' series which will become a calendar at some point featuring fourteen star signs, rather than the usual familiar twelve. I'll also be laying the foundations for my own podcast later in the year, which is really exciting. I'm making inroads to more book releases and graphic novels of my own creation and expanding on my script-work and screenplay projects for some of my biggest projects to date. I'm hoping to expand my own merchandise in the New Year also and so I'll probably be releasing more t-shirts, stickers and sew-on patches for my own army of darkness, so to speak. Aside from all that, the usual monthly releases via my Patreon and a variety of album covers and book jackets for a number of different clients… There's already so much on the table that I'm already making plans for 2022!"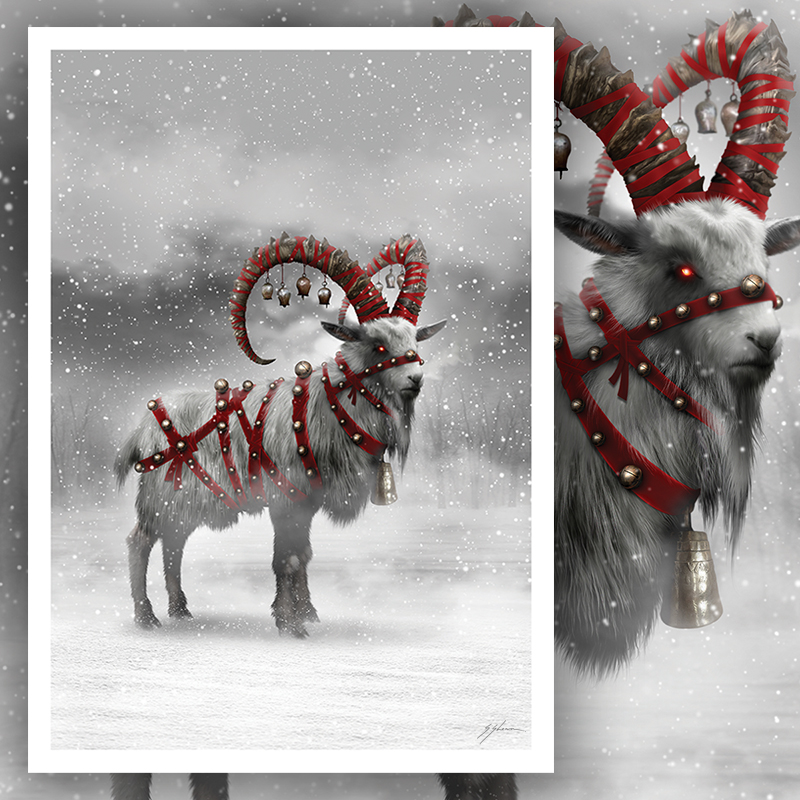 And as this is our festive edition – what do you think your new year's resolution may be? If you believe in setting them of course?
"I think if anything my only real resolution is to keep my focus on the bigger picture. It's so easy to get side tracked and distracted in my line of work. With so many projects and different people to work with… having a manager has been a blessing, but at the end of the day it's down to me to organise my goals. I'm already pretty healthy, I don't drink or smoke or do drugs and I eat healthy and exercise… SO really, I think my organisation and goal checking is my only resolution! …and perhaps to finish some long-shelved projects!"
MisterSamShearon.BigCartel.com
Instagram.com/MisterSamShearon