Worlds of Darkness: An interview with Danielle Serra
From creepy children stories to the horror erotic world of Hellraiser, Italian artist Danielle Serra talks to us about passions and influences, achievements in the industry and how his unique style has progressed over the years.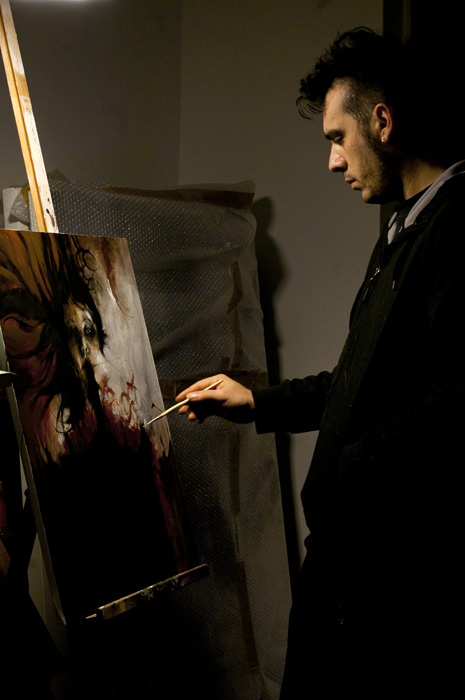 Where will you be writing from today?
I'm writing from Sardinia, an island in the Mediterranean, located in Italy.
Was there a specific moment you realised you wanted to be an artist or has it always been a passion? 
It has always been a passion, I have been drawing since I can remember., but let's say I started wishing it could become my job around 15-16 years old. So there was not just a specific moment, but some important moments of inspiration, such as when I discovered in the library of my father the art books of the great masters that have influenced me a lot and attracted to the road of art. Another important moment was when I discovered Giger, a strong influence for me. Also I've always been fond of comics and so that was also a very strong constant input.
What is your material/medium of choice?
I started working with oil painting, but in the past 4 years I am almost exclusively using watercolour, both because it's a medium with which I feel very good, and because compared to oil painting it allows me to be much quicker. This factor helps in meeting deadlines. Sometimes, however, for personal work I like to use charcoal, but when I work for some types of comics I use the ink. In principle, thanks to my wife that a Christmas gave me a box of watercolours, now they are the mediums I love most.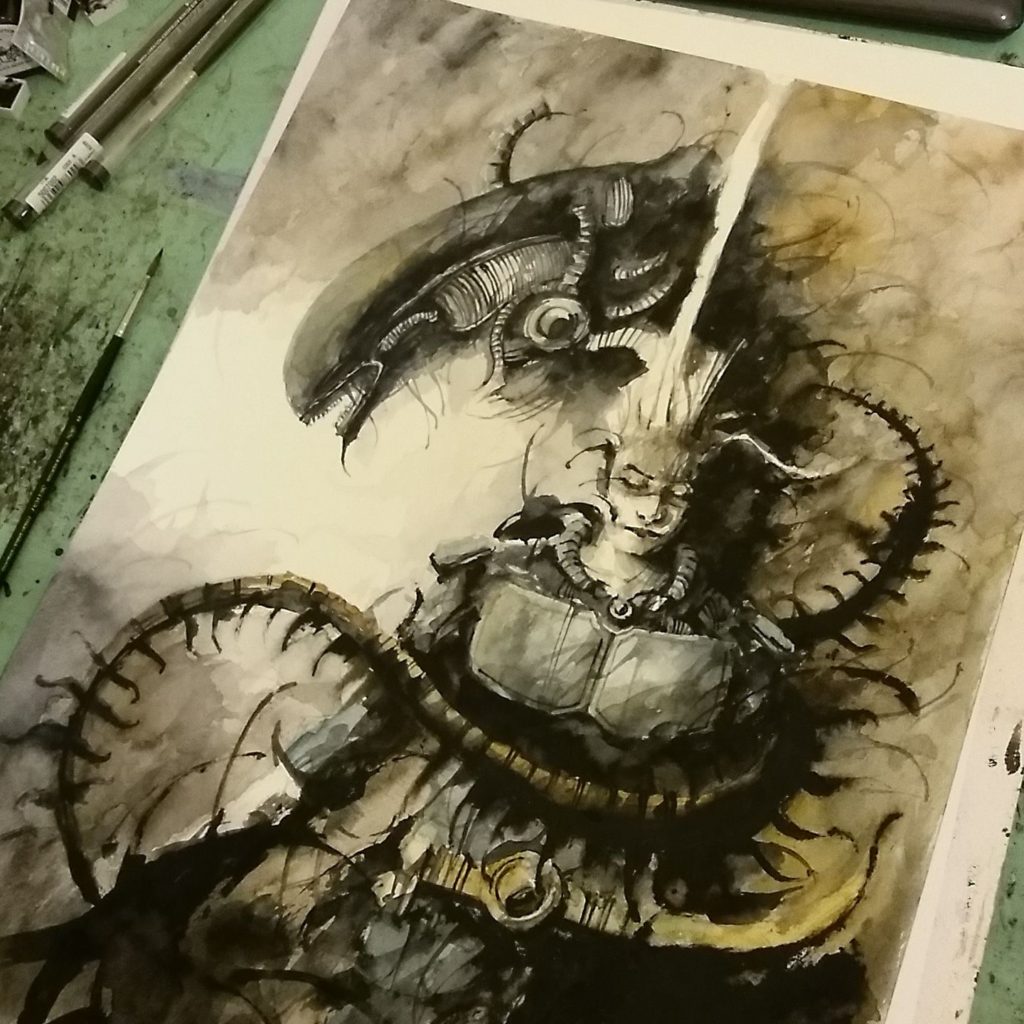 Your paintings have a wonderfully cohesive look, like they are all part of the same nightmarish world. How did you develop such a hauntingly beautiful style?
It was a long but completely natural process. I started as a self-taught, as a result, not having done schools or studies related to art, I made a solitary path that gradually led me to this kind of style. Probably my use of watercolour is not very classic, I use many black backgrounds and often decisive colours, not the classic glazes that are often used with this medium. Over the years I have experimented with approaches until I got to this and it seemed to me quite spontaneous and interesting, so I focused on this way of painting. I still feel quite far from what I would like to achieve but at the moment this is what I feel and I can get. In any case it is an ongoing process that I do not know where it will take me in the next few years.
Your work has been on the cover of many books including publications with DC Comics, Bad Moon Books, Dark Regions Press, PS Publishing, Titan Comics. How did you get into working on book and comic covers?
For a period of time I worked in the daytime as an advertising graphic designer and draw at night, until one day I decided to prepare a portfolio with my works and started sending it around the world. I immediately had some answers that gave me self-confidence, until I signed a contract with DC Comics, so I decided to leave my day job to devote myself full time to being an illustrator. After that, things happened little by little, once I managed to enter the publishing world, especially in horror, fantasy and science fiction genres, it was easier because they started contacting me, it spread a little the voice and my curriculum has been enriched. I've been collaborating with many publishers for almost ten years and I've made over 250 covers, as well as comics. Illustrated books and art books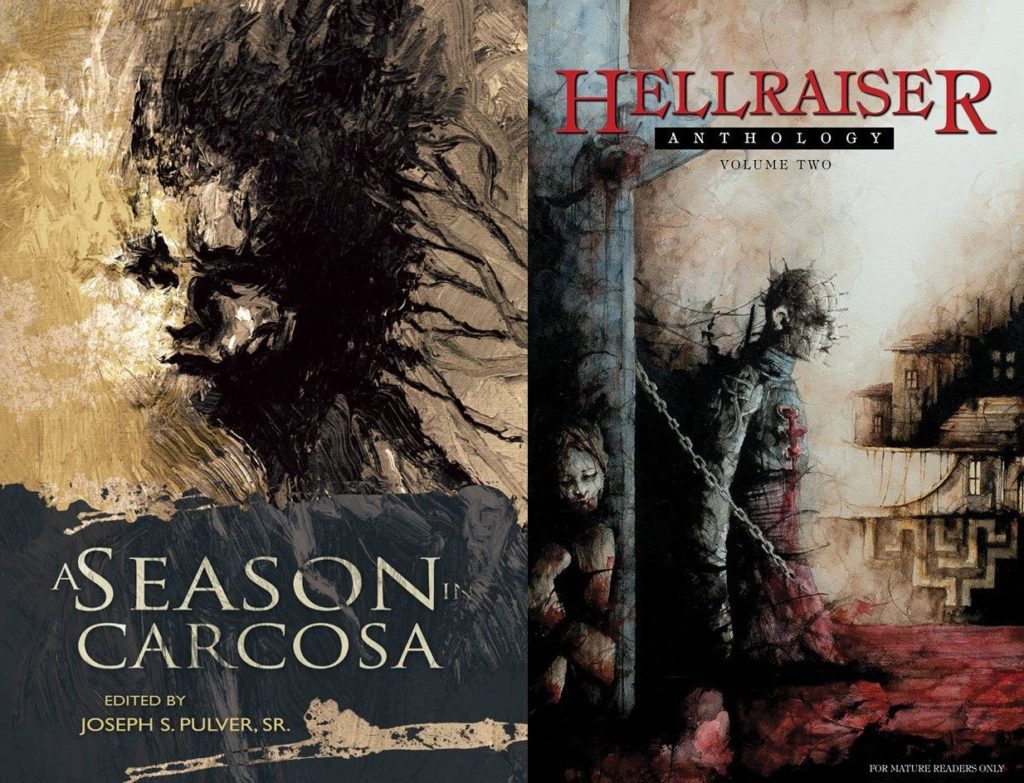 Your work ranges from erotic horror to spooky children's illustrations. Is there anything you like to draw or paint in particular?
I try to find interest in everything that happens to me to draw. If I can choose, dark atmospheres are my favourite, especially natural environments. I really like drawing spooky woods. Despite my taste, working on commission, I happen to work on various subjects. Lately I have enjoyed explaining abandoned homes of the Victorian period. One thing I struggle to draw is cars!
Your work was used in the film adaptation of Stephen King 's "Cell", how did this come about? 
I was contacted by the production of the film because the production designer wanted to use my illustrations as a set dressing during some scenes of the film, the protagonist John Cusack played a drafts-man and so it was necessary that in the walls of his house there were some hanging illustrations. Thus the collaboration was born. It was a great personal satisfaction also because I'm a big fan of Stephen King and Samuel Jackson, so working in a project where they were there was very nice and interesting.
You have also worked on a number of album covers. Is there a particular band you'd like to work with in future?
There are many groups I would like to work with because I really love music. Probably the ones for which I would be particularly happy are the Einsturzende Neubauten and the Motorpsycho.
How did it feel to get recognition for your work winning the British Fantasy Awards? 
It was a great satisfaction, also because having won it twice probably was not a coincidence (laughs). It was also an opportunity to meet new publishers, artists and writers, who also allowed me to start new projects. In addition to a great satisfaction, it turned out to be a nice business card for my work.
You've released an art book called VEINS AND SKULLS. What is the main concept behind it? 
The main concept is that of Eros and Thanatos. The title expresses it already: the veins are the channels of the flow of life, the skulls represent death. They are all scenes with female figures and skulls that recall the idea of life and death.
Do you think you will create your own comic/graphic novel in the future? What's next for you?
I'm working on several projects with both Italian and American authors, I'm also preparing a new artbook. I do not write comics, so I think there will never be my own graphic novel, because I'm not a writer, but who knows that in the coming years I do not get an interesting idea and decide to work on it alone.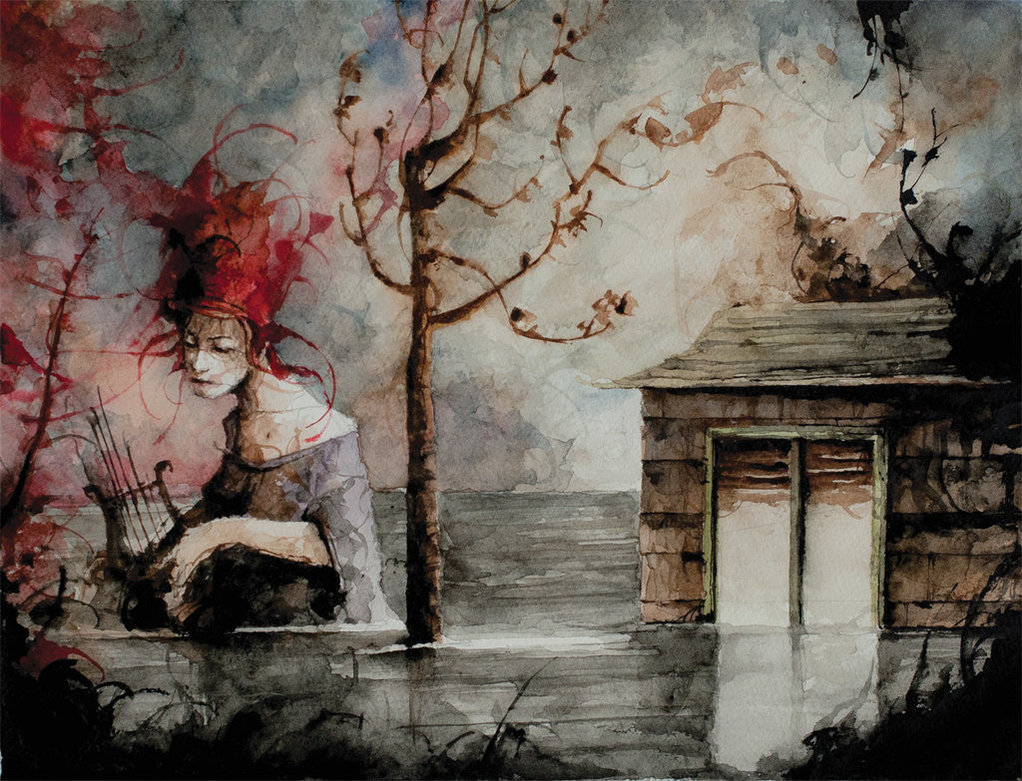 Figure of 8 Quick fire questions
1. In your home you will always find… a book.
2. Your best quality is… self irony
3. As a child, you wanted to be… a painter.
4. The last thing to make you laugh was… My wife
5. Your pet peeves are… cats.
6. Something that may surprise us about you… I play table tennis.
7. Your favourite movies are… Suspiria, Cold fish, Alien, Il settimo sigillo.
8. Dinner with the dead! Who is invited? Pieter Bruegel.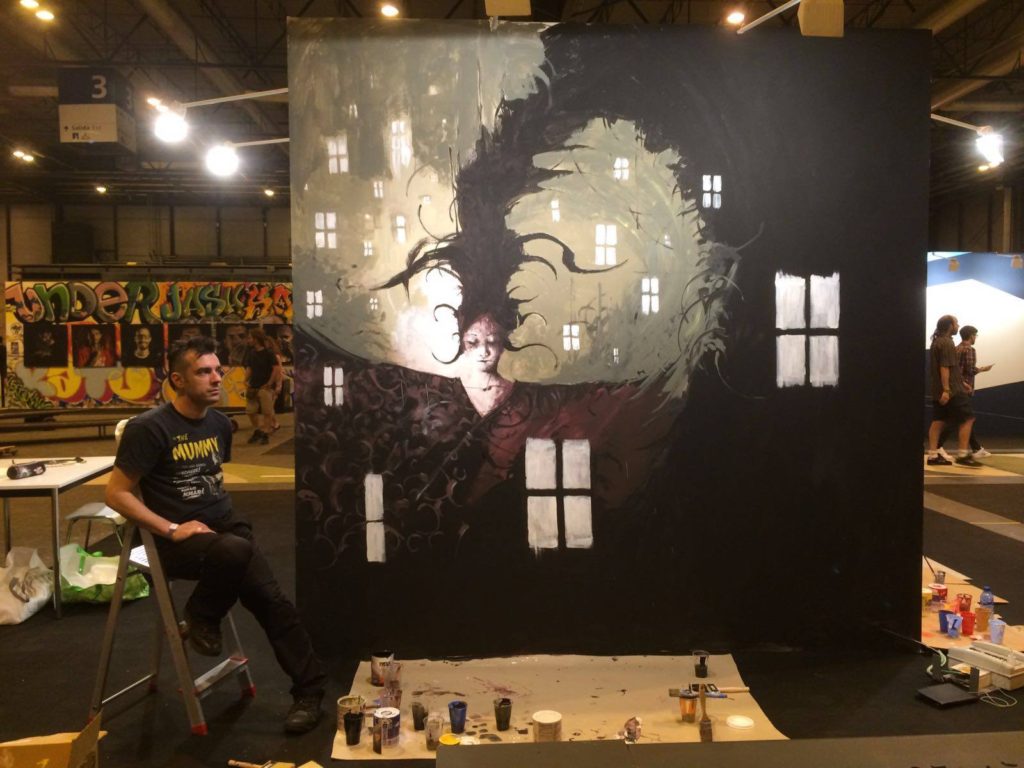 By Alice Bizarre
https://www.facebook.com/alicebizarremakeup/
Alice Bizarre is an SFX make-up artist and film writer, a prop maker and prosthetic sculptor based north of London.Wife of a wolfman and mummy of a baby bat.