ISSUE 47 IS NOW AVAILABLE TO READ DIGITALLY – FOR FREE!
It is with great pleasure we present to you Issue 47 of Devolution Magazine.
This is the first time in 17 years that we are able to offer the title as a free of charge digital publication upon its release which gives you full access to the 100 pages of the magazine and to the 18 track compilation of incredible bands!
Follow the link to read this edition and please like, comment, follow & share share share!
Read Issue 47 >>> https://devolutionmagazine.co.uk/current-issue/
We hope you enjoy it!
Revolution   |   Absolution   |   Devolution
Nickie & The Devolution Team
—————————————————————————————-
FEATURING:
Band Interviews:
Lacuna Coil
Red Method
Mushroomhead
Blood Crush
Idealistics
C L Raven
Desert Storm
Tetrarch
Wendy James
Actor/Actress Interviews:
Troy James
Patricia Quinn
My Hometown:
Tatiana Shmailiuk – Jinjer
Artist Spotlight:
Fashion:
Superstitchious
Ravenna Loveless Designs
LondonEdge
Record Label Spotlight:
APF Records
Rebco Records
Business Spotlght:
Make Up Tutorial:
Photograph Spotlight:
Plus the usual album, demo, live and book reviews!
Huge Thank You to This Issues Advertisers:
Golden Steampunk
South Of Salem
Bleading Marvelous
Lena Quist
Miss Leanne Designs
Rockswell Music Festival
Jawline Jewellery
Alternative Finch
APF Records
The Pole Vault Studio
C L Raven
Paul Kearns Author
Carrie Ball Pet Bereavement
Rebco Records / Auger
Rabidfest
And So Much More Inside!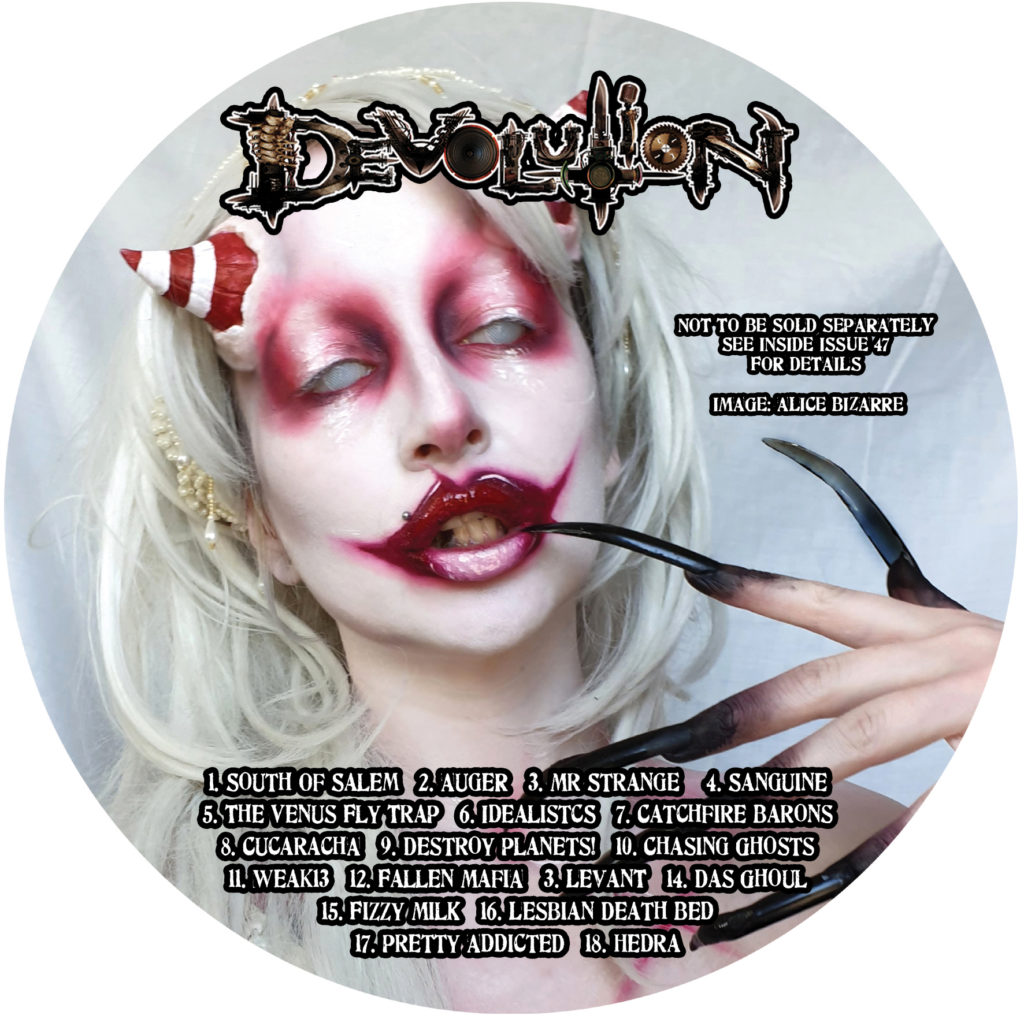 Complete With 18 Track Compilation Featuring:
South Of Salem
Auger
Mr Strange
Sanguine
The Venus Fly Trap
Idealistics
Catchfire Barons
Cucaracha
Destroy Planets!
Chasing Ghosts
Weak13
Fallen Mafia
Levant
Das Ghoul
Fizzy Milk
Lesbian Bed Death
Pretty Addicted
Hedra
You can hear this in full by heading over to our brand new Bandcamp page!
https://devolutionmagazine.bandcamp.com/releases
Give us a follow and feel free to share the album EVERYWHERE!