Peter And The Test Tube Babies Release Top Of The Pops Inspired Official Video For 'Queen Of F***ing Everything' 
UK punk legends PETER AND THE TEST TUBE BABIES are back with their latest and greatest album Fuctifano, which will be released on the 6th of March in 2020 via Arising Empire. Remember the 70's, and glam rock? Well it's back, on the right track and in yer face. Today the band share their love of 70's glam rock with a homage to SWEET, SLADE and T. REX, combining all the colourful glittery pomp of glam with the darker edge of punk rock. Watch the official video for their second single 'Queen Of F***ing Everything' here: https://youtu.be/tEnSpTJHGL4
PATTTB: "Queen of Fucking Everything is our homage to the much loved glam rock period of the 70's,  When we were teenagers we loved T Rex, Slade and The Sweet, so we couldn't wait to squeeze into our leotards and compare lipsticks for the outrageous new video directed by 'Mark Richards', which combines the colourful glittery fashion of Glam with the darker edge of Punk Rock. This track is taken from our new album Fuctifano. Available to order now…We hope you like it!"
Pre-order the upcoming record Fuctifano on CD or exclusive and limited vinyl, here: https://PeterAndTheTestTubeBabies.lnk.to/Fuctifano
Watch the music video for 'Facebook Loser' here: https://youtu.be/SZ9ihlD6m6Y
PETER AND THE TEST TUBE BABIES will play a record release show in Berlin in March:
06.03.2020 D – Berlin – Quasimodo
Fuctifano tracklist:
01. Liver's Lament
02. Facebook Loser
03. Hell To Pay
04. Cydrated
05. Saturday Dad
06. Gravy Train
07. I Ain't Missing Her Yet
08. Wanker
09. Small Victories
10. Punched Awake
11. Tales Of The Bleedin' Obvious
12. Screwed Down
13. Queen Of Fucking Everything
14. Liver's Lament (Reprise)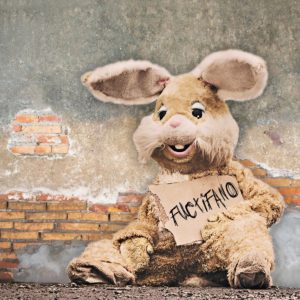 In 1978, seventeen year old punk rockers  Peter Bywaters and Del Strangefish decided to form a punk band and PETER AND THE TEST TUBE BABIES are born. After a couple of rehearsals they made their first recording Elvis Is Dead, which appeared on the Vaultage '78 compilation of Brighton new wave bands. Radio 1 DJ John Peel loved the song instantly and offered the band a live session. The success was breathtaking and PETER AND THE TEST TUBE BABIES became one of the hottest unsigned bands in the UK overnight.
Their first single 'Banned From The Pubs' followed fast, and fans and press freaked out in equal measure. From that moment everything went crazy; sold out concert halls in England and Europe and their big success in the media pushed their debut album Pissed And Proud to #1 in the U.K. independent charts. Directly after that, their 2nd album The Mating Sounds Of South American Frogs was released in 1983 – a must-have for every record collection – and sold more than 100,000 copies, resulting in invitations to perform from far and wide. THE TEST TUBES BABIES have continued to play shows all over the world and cemented their status as one of the most brilliant and funniest live bands in punk rock culture. A few bass players and drummers have served their time in the band, but the songwriters Peter and Del have always remained the foundation and together they wrote and recorded a long list of classic albums like Soberphobia (1986), and the brilliant Supermodels (1995).
In 2018 PETER AND THE TEST TUBE BABIES signed with Arising Empire Records recruiting Nick Abnett and Sam Fuller on bass and drums respectively resulting in their now critically-acclaimed album »That Shallot« which went on to receive 4 and 5 Star reviews worldwide.
Fast forward to the present day…. Against all odds the band have pulled the rabbit out of the hat and come up trumps again with their best record to date the 14-track »FUCTIFANO« (a phrase you may hear from a Scotsman whilst asking for directions 'F***ed If I Know'). The first single is the high-energy track 'Facebook Loser' – a sad tale of the insane world of a Facebook addict (we all know one). While the second single is accompanied by an amazing video for 'Queen of F***ing Everything' filmed by Mark Richards who directed the 'Crap Californian Punk Band' video, which is currently at 80,000 hits on YouTube.
On the 6th March 2020 punk rock legends PETER AND THE TEST TUBE BABIES are proud to present to you their latest and greatest set of recordings FUCTIFANO released on Arising Empire.
PETER AND THE TEST TUBE BABIES are:
Peter Bywaters | Vocals
Derek 'Del' Greening | Guitar
Nick Abnett | Bass
Sam Fuller | Drums
—
More info:
testtubebabies.co.uk
facebook.com/PeterAndTheTestTubeBabies
twitter.com/testtubes