Jim Davies (Former The Prodigy / Pitchshifter Guitarist) Launches Video For "Ticking Timebomb"
New Album "Headwars" Out On 10th April 2020
Following the announcement of his new album 'Headwars', JIM DAVIES has launched an animated video for the first single, 'Ticking Timebomb'. Watch it HERE.
"Very excited to be releasing my first new music for 10 years!" comments Davies. 'Ticking Timebomb' was one of the first tracks I wrote when I was playing with the idea of getting back into writing my own music again last year, it came out really strong so it inspired me to crack on and do a full album. The track is about dealing with having a self destructive personality, being your own worst enemy and having to fight those inner demons on a daily basis but ultimately winning.
The video was produced by the amazing Belgrade-based animators Linnch. It took over 4 months to create, I've been really involved in the whole process, from seeing the initial hand-drawn ideas all the way through to the end, so it's been great and fascinating watching it all come together. I think it represents the track perfectly."
'Headwars' is due out via Extreme Music on 10 April 2020. The long-awaited new 12 track album is the result of years of experience, a phenomenal record that features guest appearances from vocalists Milly Rodda, Abbie Aisleen (Davies' wife), along with renowned electronic artist Tut Tut Child, and Davies' former Pitchshifter band mates Mark Clayden and Jason Bowld. Darkly eclectic and catchy, it takes in everything from trip hop and electronica to punk rock, and easily ranks as Davies' best work to date.
"A lot of the album is pretty dark," says Davies. "Lyrically a lot of the album is about dealing with that black cloud of regrets hanging over your head! I called the album 'Headwars' as it felt pretty apt! I'm guilty of overthinking everything, which is a bad head-space to get into. I ended up in quite a dark place last summer which lead me to reconnecting with a lot of my old band mates which was really helpful, and it was some of them that persuaded me to get back into writing my own music again."
"It took quite a lot of persuasion from friends and family for me to decide to release this commercially," Davies admits, "but I can honestly say I think it's the best I can do at this moment in time."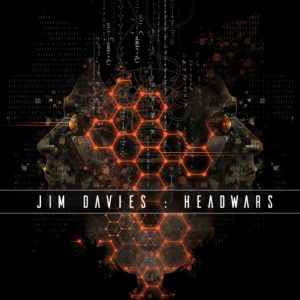 'Headwars' Track Listing:
1. HEADWARS
2. CONTROL+Z (Feat. MD Clayden, Jason Bowld)
3. TICKING TIMEBOMB
4. SHADOWS
5. TRIGGER FINGER (Feat. Tut Tut Child)
6. GAME OF FACES (Feat. Abbie Aisleen)
7. ZOMBIES
8. CAGED (Feat. Jason Bowld)
9. NOW YOU KNOW (Feat. Milly Rodda)
10. DEFECTOR
11. WE SET THE PACE (Feat. Tut Tut Child)
12. MODIFY ME (Feat. Abbie Aisleen)
Throughout its rich history, there are many musicians who can lay claim to having influenced rock music, each of them adding their own unique sound to the genre, each of them endlessly imitated. One name that you probably won't find on any list, however, is Jim Davies. And you probably should.
Among the many classic songs he's contributed to are The Prodigy's 'Firestarter' and 'Breathe', both international hits that reached Number One in numerous countries, along with co-writing several albums with cult UK crossover band Pitchshifter, and collaborating with many other electronic rock acts and DJ's. Jim Davies may just be the best known guitarist you've never heard of. Until now…
Bio by Morat
Morat.Rocks
Jim Davies online: