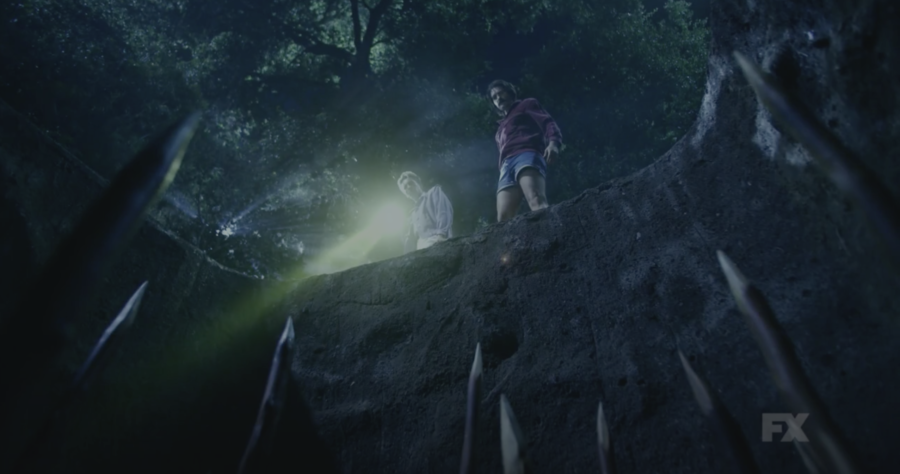 American Horror Story: 1984 – Episode 3: Slashdance
True to AHS form, episode 3 provides an emotional rollercoaster of Six Flags proportions. As all character expectations are thrown into disarray throughout Slashdance, it becomes increasingly obvious that our group of counsellors unwittingly headed to Camp Redwood to counsel each other, with varying degrees of success.
The previously harmless counsellor Ray unleashes his tragic backstory with a shady frat boy past that initially demands sympathy, as a suspected death on his conscience that wasn't necessarily his fault ends up entangled in an unsettling cover-up. Sadly that's no end to his deception, abandoning his friend Chet in the hope his secrets would die with him. If there's no serious precedence for legendary headless bikers, this could work.
The lovable jock Chet swiftly morphs into an admirable character with actual tears and heartfelt pleas such as, "I'm dying, what does it look like I'm doing?", there's far more depth of character to the gym bunny than first imagined. Meanwhile, Xavier, Montana and Trevor somewhat easily sit back and watch Jingles claim another victim in Nurse Rita – if it's his knife versus Trevor's guns, they should've left their holsters much sooner.
Of course, the tongue-in-cheek introduction of masked pranksters pretending to be Mr Jingles adds a corny, overdone aspect of which Scooby Doo would be proud. However, Jingles is finally introduced as a genuine, urgent threat with the addition of Nurse Rita/Donna Chambers' unfolding backstory. The kind-natured nurse act seemed too good to be true, instead becoming a pre-Tumblr true crime investigator. However, exclaiming that her motives are to learn from Jingles' actions for the benefit of social development aren't convincing enough to assuage the uneasy feeling that she orchestrates deaths a little too comfortably.
Clearly quaalude-focused Montana's been in on the act all along, but Billie Lourd is well overdue a shot at playing a villain in the AHS family, so her character development will be an interesting one. Exactly what Montana has against the so-far innocent girl Brooke remains to be seen — perhaps a relative in the wedding massacre already screened. Provocation or not, a simple study of 80s slashers suggests the innocent girl survives until the bitter end; while we're a long way off that, it gives food for thought when assessing exactly what danger Chambers has left her in.
The numerous developments appear to leave only Trevor, Chet and our 'serious actor' Xavier as innocent parties, while camp employees Margaret Booth and Chef Bertie stay unnervingly silent for an entire episode as all hell breaks loose around the camp. The theory that there will be no nice guys in this series intensifies but as AHS devotees know – theories mean nothing.
Review by Ali Cooper