Janus Stark Releases New Music Video For "Rollin' With The Punches"
Along with the announcement of a new Janus Stark song the band have shared with their fans some news from their Lockdown. Here's the message in full:
Hello you lovely Peeps!!!
These are uncertain times we currently find ourselves in and we hope everyone is staying safe and keeping sane! We desperately miss being able to get together as a band, and we're looking forward to a time when we're able to be back out gigging, doing what we do best.
At the time of writing, we're approaching the end of week 3 of lockdown and there doesn't yet appear to be an end in sight to social distancing measures. Of course, we all miss gigs, but once we're through the other side, what will gigs look like? Festivals? Playing overseas? Will it be a case of 'back to normal' or will there be an entirely new normal to adjust to? Lots of questions and even more speculation but nobody has the answers at the moment, all of which adds to that growing sense of unease. Quite simply, the future is more unwritten than ever!
Gizz wrote a New Song 'Rollin' With The Punches', which was Recorded, filmed and edited April 1 – 8 2020 during the UK Coronavirus lockdown in his 'very cosy' home studio!
For all of you. The first song to summarise the feelings going around. We should be doing this and that, but we're not. Instead people are dying!
Please like and share the fuck out of it on your social media channels and subscribe to our youtube channel (if you haven't already) HERE before you watch it.
If you check out our Facebook page you will find several vids from Gizz giving a run down on various Janus Stark tracks..so get yer guitars & pics out and head on over there if you haven't already and TURN UP THE VOLUME!
Our Manager Chris has been busy working on the new website which has now launched www.janusstark.com ..we've made it easy for you to like and share content by adding social buttons so get clicking!!!
He's also been busy with Gizz contacting promoters & venues to re-arrange those dates that had to be postponed. We are going to review the situation on 1st May when we will know what the government restrictions on lockdown & gatherings will be, we are hopeful that most of the gigs already booked from July onwards won't have to be postponed or rescheduled. We are currently looking for a promoter for Grimsby & Doncaster as we won't be working with Solid Entertainments again….let's just say that things didn't pan out as we expected!!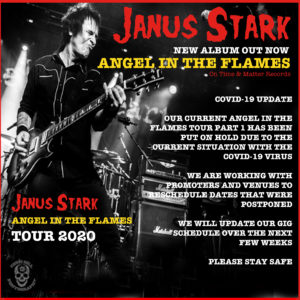 Gizz has been making the most of his 'lockdown' time by teaching his students online  AND going through the archives to bring you some very special rarities, demos, private videos and other exclusive content never seen or heard publicly. These include Janus Stark, English Dogs, The Prodigy & other stuff.
To access this, Gizz has setup a Patreon Backstage Access area where you can sign up and subscribe for just £3 a month…which is not alot when you think of all the time and money Gizz has spent over the years! SIGN UP HERE FOR EXCLUSIVE ACCESS
Message from Gizz
As you know, all of our gigs in April have been cancelled and just like everyone else we are waiting with baited breath. As soon as it is possible and responsible to do so we will be back out there performing live. We've lost a ton of money due to the cancellations, literally thousands so if you are able to, please considering buying the new album or even just a song from the new album from Bandcamp, iTunes or one of the other sites because as you know……
EVERY LITTLE THING COUNTS.
Cheers everyone X Love you guys , Gizz
Message from Richard
Many of us have unexpected time on our hands so we need to use that time and seize opportunities to make the best of the situation. It may be an opportunity to learn new things, perhaps to reconnect with people we've lost touch with, or just to slow down and appreciate the smaller things. As a band I'm currently listening to succinctly puts it: there's nothing bigger than the little things.
Stay safe, keep positive.
Richard X
This month we want to say a huge thanks to Daral Brennan from Drum Skin Graphics, he has been supporting the band by providing graphics, our new tshirt design, Fozzy's bass drum skin with Janus Stark logo and other stuff.
Drum Skin Graphics have been supplying the music industry with custom printed merchandise and other imaging for 10 years. Based in Peterborough, Cambridgeshire, it's a business that's passionate about delivering high quality, affordable products, with everything designed, printed and finished in-house. So if you want posters, stickers, banners, pin badges or anything else print and design related give him a shout daral@drumskingraphics.co.uk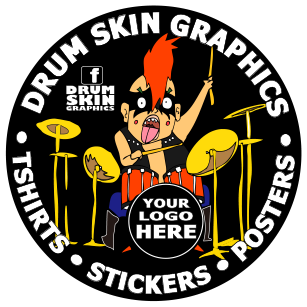 If you haven't already brought the new album 'Angel In The Flames'
You can buy here online:-
Bandcamp https://janusstark.bandcamp.com/
Time & Matter Records http://timematterrecordings.bigcartel.com/artist/janus-stark
You can visit www.janusstark.com for latest info & tour dates. Please follow, like & share us on social media by clicking below.
Facebook    JanusStarkBand
Twitter         @JanusStark1
Instagram    JanusStarkBand
YouTube      Janus Stark
Finally, I know we said we would give away a signed promo pic every month to a lucky subscriber but the bottom line is that the band haven't been able to get together for several weeks due to the lockdown, but we will be sending out in the near future!
STAY SAFE & BE LUCKY X