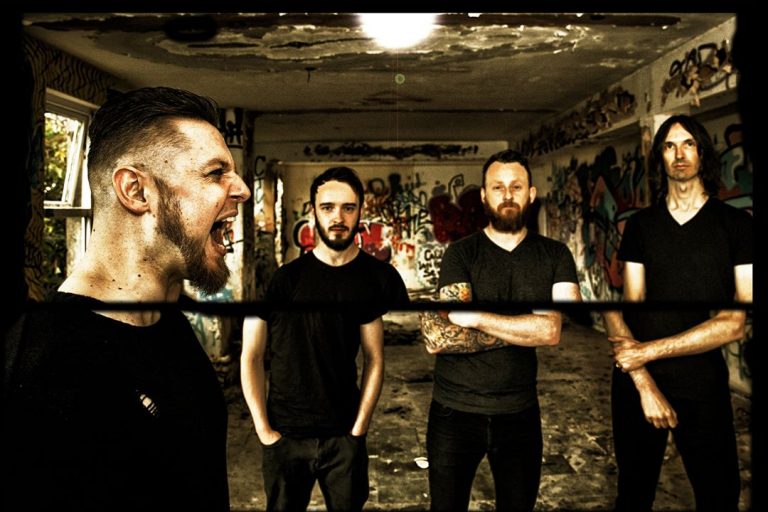 Irish Metallers Words That Burn Release New Video
Quartet Unveil Clip For When We're Forgotten
Irish metallers Words That Burn recently released their latest video for the track, Words That Burn, via Overdrive! Taken from their latest album of the same name, vocalist Roni MacRuairi recently told Oran O'Beirne how they came up with the video concept:
"It started with the usual "I like this video and that video" which ultimately ends up with having an idea that isn't very original. But it just so happens that Carl from Empty Horoscope Medias was in the studio when we were tracking the vocals for When We're Forgotten. He loved the track and said he'd love to do the video. So he came back with the storyboard and concept and we loved it. He is an amazingly focused guy and the end product was exactly the concept he pitched to us. It was a big production with actors and pyro guys and took months to shoot but we are so happy with it."
The video can be found here: https://www.youtube.com/watch?v=9n8VjsJIB6s&feature=youtu.be
Hailing from Dundalk, Ireland, Words That Burn have been fusing elements of melodic metal, and alternative rock that come loaded with crushing riffs and soaring choruses since 2010. Their debut EP, 'Praey' (June 2013), introduced them as one of Ireland's most intense alt-metal bands. Late 2014, saw Words That Burn sign an international record, distribution and publishing deal with Wormholedeath / Aural Records / Warner Chappell Holland (BV), before heading off to Tuscany, Italy to record their full-length debut studio album 'Regret is for the Dead'.
Taking musical & sonic influence from bands such as Deftones, Bring me the Horizon, Slipknot, Northlane, Killswitch Engage, Architects and Parkway Drive, Words That Burn compiled an album of hook laden tracks which saw the album chart at Number 1 in the Irish Metal, Irish Rock and Irish Mainstream iTunes download charts.
Between 2016 & 2018, Words That Burn haven been on the road quote extensively with a plethora of shows the length and breadth of the Republic of Ireland and Northern Ireland, followed by the video release of 'Mirror Perfect Mannequin', which led to a slew of European dates in Hungary, Romania, Slovenia, Poland and the Czech Republic, including a mainstage performance at the Exit Festival in Serbia alongside Destruction, Discharge and Black Dahlia Murder.
May 2018 saw the first offering from the sophomore album "When We're Forgotten", go straight to number one in the Irish metal & rock iTunes charts, supported by two further tours of Europe including shows at Revolution festival in Romania and Aggressive Festival in Czech Republic.
The band are currently writing their follow up to "Regret…" which will be a heavier, more explosive experience than the first record.
https://www.facebook.com/wordsthatburn/
https://wordsthatburn.bandcamp.com/