31 Days of Halloween – Day 4, Trypophobia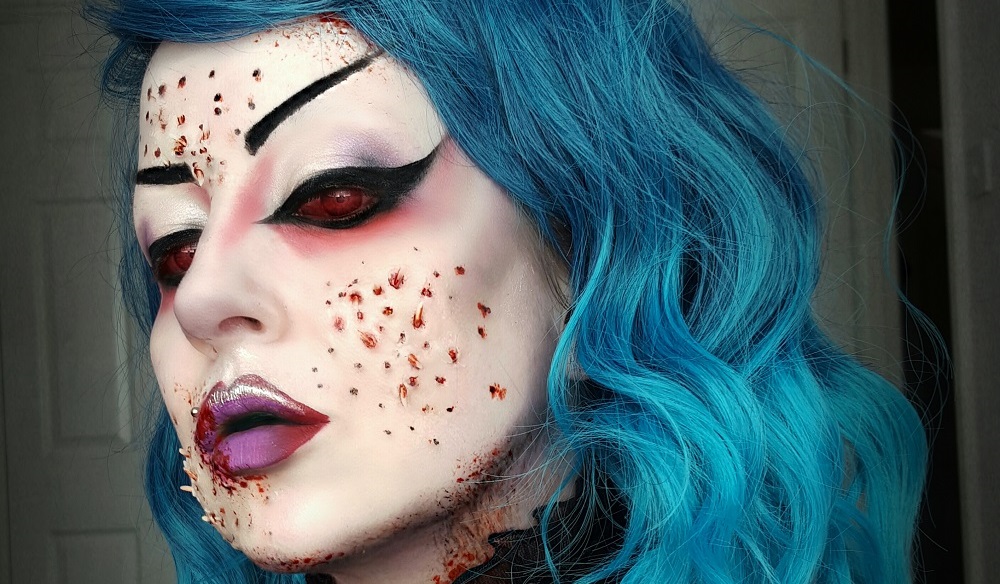 Currently a popular phobia theme so I thought I'd tell you a few tips on doing a Trypophobia look! Beauty products used Ve cosmetics :
Witchcraft liquid foundation 01
Frankly a rainbow palette for eyes
Book of Power palette for highlight  colours
Pocket Rocket eyeliner
Griffin tears liquid highlighter
Violet and Blood Moon lipsticks
Holes/ SFX products :
neillsmaterials skin imitator
kryolanuk fake blood
And some Grains of rice!
0. I used Skin imitator for my skin holes, you can use skin wax/nose putty for this too. You must always do this part first!  These products stick and apply to clean skin far far better than makeup.
1. Next step is foundation base and contouring. Using colours like light browns, greys and Black give a more spooky vibe
2. Next do your eyes and shadows. Using a red liner/lipliner on the water line can give your eyes  a blood shot look.
3. Dark sharp brows can give a villainous look
4. Blending lipstick colours can give depth and glamour to a otherwise spooky look. Here I've used purple and red lipsticks finished off with Griffin tears liquid highlighter on the cupid bow.
5. Using a mix of black and Red liners or shadows in your holes for depth, a little fake blood. Not too much otherwise it looks a bit too messy and hide your holes!
Use a STIPPLE SPONGE  for blood application for a realistic and scratch effect.
Lastly add dry grains of rice to give a magotty,  growth and grosser feel to the holes!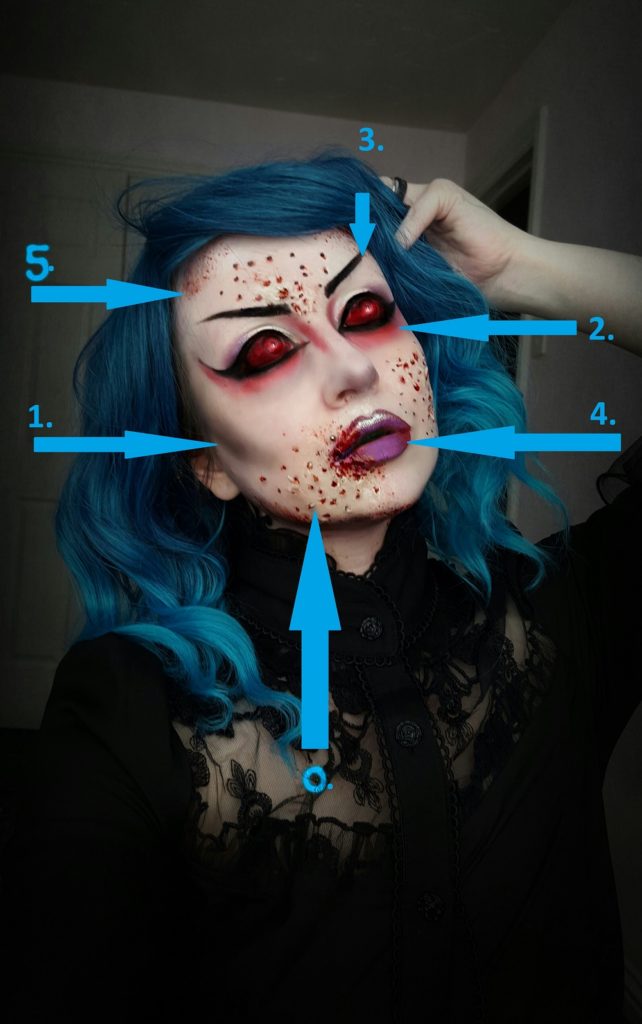 By Alice Bizarre
https://www.facebook.com/alicebizarremakeup/
Alice Bizarre is an SFX make-up artist and film writer, a prop maker and prosthetic sculptor based north of London.Wife of a wolfman and mummy of a baby bat.