Avatar Announce 2019 Europe Headline Tour
World Tour Continues
"Avatar Country" Out Now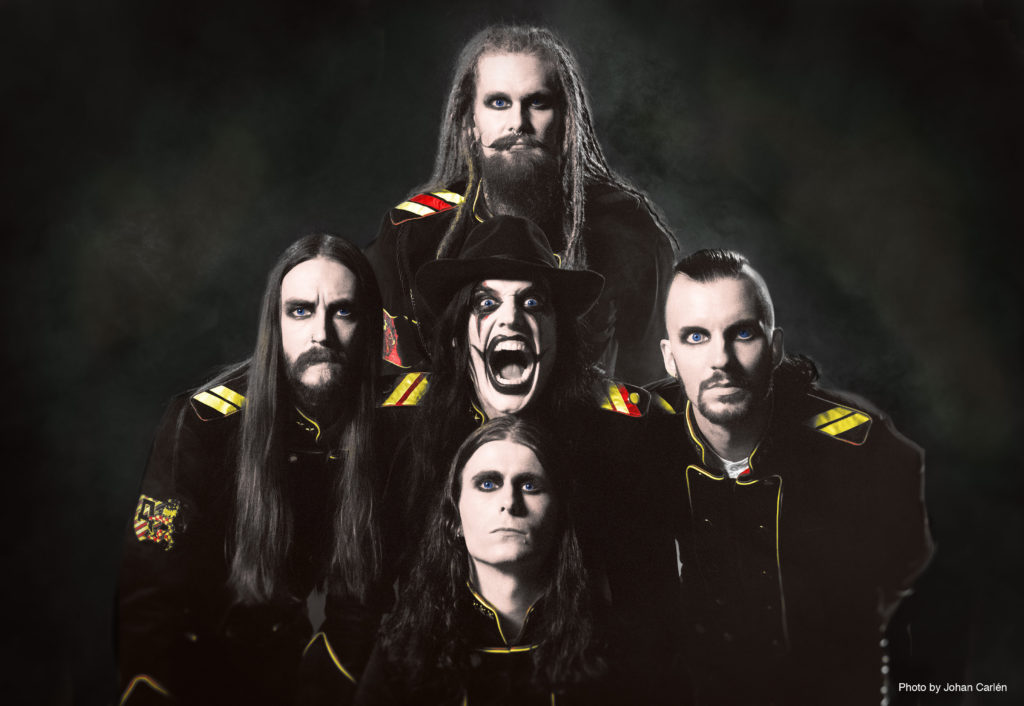 From: The Royal Department of Government Approved Freedom of Press
To: Whomever it may concern
03 October in the year of the King (2018): Citizens! It is yet another great day for Avatar Country and therefore the world. As the King's Harvest is growing richer, the coming year of the King is bound to be the greatest on record!
The Department of Informing the Citizens of the Kingdom (D.I.C.K.) is thrilled and intimately tickled as they get to be bearer of the good news that AVATAR ARE HITTING EUROPE FOR A HEADLINE TOUR IN 2019!
Directly from the Royal Mouth of the Horse Spreading Gossip, we have the following tidbit:
"The King is eternal. Avatar Country is endless. But album cycles come and go. Even though legends never die, sagas sometimes must end. We are not there quite yet, but we're closer than ever. As dark forces slowly cloud our minds, we urge you to join us in the celebration of Avatar Country before the door closes to the kingdom and we wander on to new unexplored territories. Join us and let's make this one for the ages!"
AVATAR will return to Europe in continued support of their newest LP, "Avatar Country". This will be the band's second full scale European run for this album cycle, which also has taken them on multiple trips to North America during the spring of 2018 and across all of Europe for extremely successful festival dates over the summer.
Tickets will be on sale 05 October.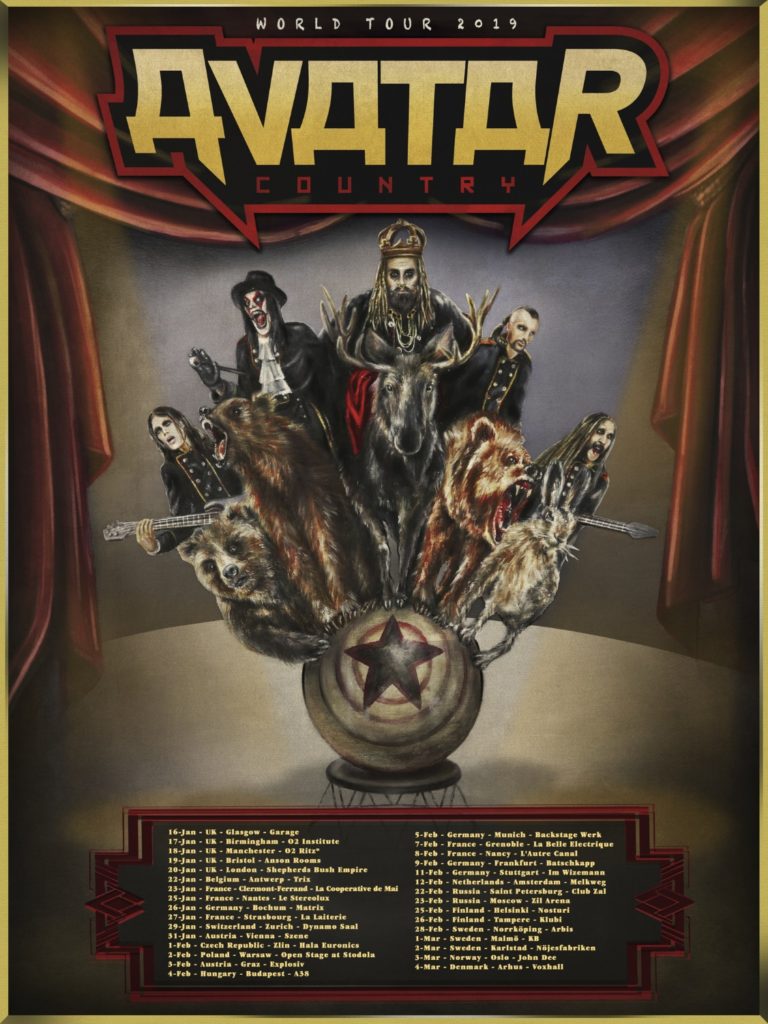 AVATAR 2019 EUROPE HEADLINE TOUR
JANUARY
16 Jan Glasgow (UK) Garage
17 Jan Birmingham (UK) O2 Institute
18 Jan Manchester (UK) O2 Ritz*
19 Jan Bristol (UK) Anson Rooms
20 Jan London (UK) Shepherds Bush Empire
22 Jan Antwerp (BE) Trix
23 Jan Clermont-Ferrand (FR) La Cooperative de Mai
25 Jan Nantes (FR) Le Stereolux
26 Jan Bochum (DE) Matrix
27 Jan Strasbourg (FR) La Laiterie
29 Jan Zurich (CH) Dynamo Saal
31 Jan Vienna (AT) Szene
FEBRUARY
01 Feb Zlin (CZ) Hala Euronics
02 Feb Warsaw (PL) Open Stage at Stodola
03 Feb Graz (AT) Explosiv
04 Feb Budapest (HU) A38
05 Feb Munich (DE) Backstage Werk
07 Feb Grenoble (FR) La Belle Electrique
08 Feb Nancy (FR) L'Autre Canal
09 Feb Frankfurt (DE) Batschkapp
11 Feb Stuttgart (DE) Im Wizemann
12 Feb Amsterdam (NL) Melkweg
22 Feb Saint Petersburg (RU) Club Zal
23 Feb Moscow (RU) Zil Arena
25 Feb Helsinki (FI) Nosturi
26 Feb Tampere (FI) Klubi
28 Feb Norrköping (SE) Arbis
MARCH
01 Mar Malmö (SE) KB
02 Mar Karlstad (SE) Nöjesfabriken
03 Mar Oslo (NO) John Dee
04 Mar Arhus (DK) Voxhall
View all of AVATAR's upcoming shows here: http://avatarmetal.com/tour/
Watch AVATAR's previous royal broadcasts below.
'The King Welcomes You to Avatar Country': https://www.youtube.com/watch?v=zfqdCXz8Yww
'A Statue Of the King': https://www.youtube.com/watch?v=FrvmURFvacc
'The King Wants You': https://www.youtube.com/watch?v=b_cHOXYkC3U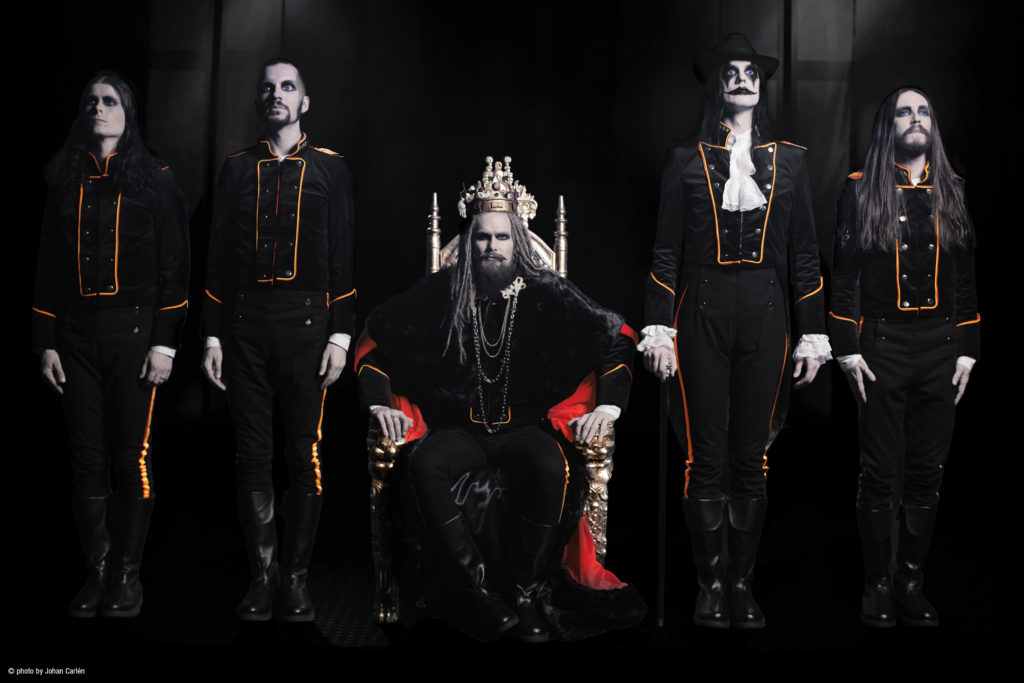 "Avatar Country" was released via Century Media Records in January 2018 and is available here: https://avatarband.lnk.to/AvatarCountry