Cradle Of Filth Member Lindsay Schoolcraft Announces First Ever Australian Solo Tour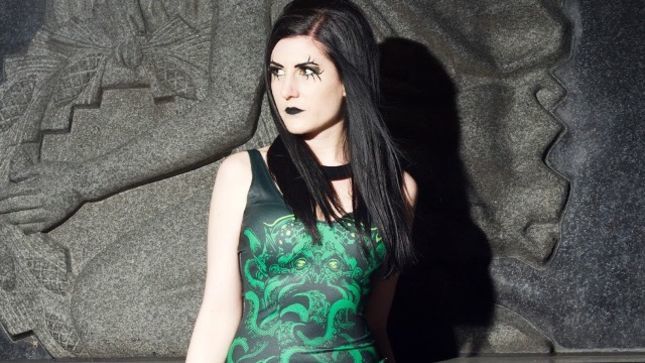 Cradle of Filth keyboardist and female vocalist LINDSAY SCHOOLCRAFT is embarking on her first ever solo tour, and has chosen the far-flung and haunted shores of Australia for a round of DJ sets in Sydney, Perth and a world-first solo headline show in Melbourne.
Brought to you by INCURSION ALTERNATIVE PARTIES and OVERDRIVE TOURING, Schoolcraft's tour will hit Sydney, Melbourne and Perth, beginning with a very special New Year's Eve performance! Next she hits Melbourne for a show at the renowned Evelyn Hotel, before finally making her way West to throw down with her Perth fans.
Best known for her beguiling keyboard and vocal performances with Cradle of Filth, taking on classics such as Nymphetamine and Her Ghost in the Fog live, as well as performing on latest studio albums 'Hammer of the Witches' and 'Cryptoriana: The Seductiveness of Decay,' Schoolcraft breaks away from the Filthy mould (and spores, mildew and fungus) to perform her own decadent works. With deft hands flying as gracefully over her electric harp as her keys, Lindsay Schoolcraft brings a sonic spectacle of Gothic rock, Nu Metal and subtle electronics not to be missed.
This is a rare opportunity for Australian fans to be among the first to witness such a momentous event! Schoolcraft's new band, featuring former Evanescence drummer ROCKY GRAY, are ready to tour with their debut EP 'Martyr' to be released very soon.
After a rousing reception for Cradle of Filth in May, Schoolcraft and her band will be expecting a very warm welcome Down Under!
Tickets for Schoolcraft's headline show in Melbourne available now!
Limited VIP meet and greets available in Melbourne! VIP Meet and Greet package to include:
– One(1) General Admission ticket to see Schoolcraft.
– Pre-Show Signing & Photo Session with Lindsay Schoolcraft.
– One(1) A3 Schoolcraft Tour Poster
TOUR DATES:
SYDNEY: December 31 – Incursion Alternative Parties New Year's Eve
Tickets: TBA
MELBOURNE: January 4 – Evelyn Hotel
Tickets: https://bit.ly/2OfwDLn
PERTH: January 5 – TBA
Tickets: TBA