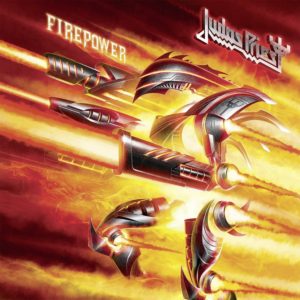 Judas Priest
Firepower
(Sony)
It's safe to say that The Metal Gods are well and truly back!
'Firepower' is the 18th studio album by Judas Priest, who will be the crowning jewel to headline Bloodstock 2018. Kudos to Andy Sneap and Tom Allom (who produced Ram It Down; the similarities are there) for their faultless production on this one, the entire outing from start to finish is smooth and seamless yet doesn't deter from the rough and ready sound of Priest. Andy Sneap will be replacing the mighty Glenn Tipton on lead guitar for the up-coming live performances, due to his recent Parkinson's revelation.
The title track Firepower was the obvious choice for the first single for good reason, no doubt they'll use it as the opening song on their next tour.  Lightning Strike encompasses majestic lyrics with chugging guitars and hard hitting drums, just what the doctor ordered! Evil Never Dies is an easy sing along with a plodding pace, accompanied by just the right amount of face melting guitar! Never The Heroes sounds like it's straight off of Angel Of Retribution with shades of Defenders Of The Faith peppered through it; you can't complain about that!
Necromancer is a great example of Priest returning to their 90's Painkiller sound, this one's hard not to bang your head to! Children Of The Sun is by far the easiest to sing along with, returning back to the plodding pentameter. Priest need a damn good excuse for this not being a staple live performance on their next tour!
Guardians and Rising From Ruins shift gears with that much needed regal ballad that every good Metal album needs! What a fucking ear worm! Flame Thrower is a testament to the fact that front man Rob Halford still sounds as great as ever, displaying his impressive vocal range for all to revere. Spectre slows the pace down from the previous track, bringing you back down to Earth in a similar way to Lone Wolf, which is a slinking, lurking, creeper of a tune.
No Surrender is a clear hit in my opinion, absolute textbook Priest at its best! I can see them making a music video for this one and releasing it as a single. Sea Of Red is the perfect way to put this fantastic outing to rest. Peppered with shades of Beyond the Realms of Death; its proof that Judas Priest is (and always will be) a multi-layered outing; it's a beautiful Rock 'n' Roll ballad through-and-though.
After listening to and thoroughly enjoying this much awaited album, it honestly begs the question "Why on Earth aren't these guys in the Rock 'n' Roll Hall Of Fame?!" Ritchie Faulkner's wild and bounding guitar solos gorgeously complement the old school catchy Priest sound, but with a perfect modern day Metal heavy influence.
Firepower is a splendour of catchy, head banging lyrics and easy sing along choruses – What an absolute winner!
http://judaspriest.com
Reviewed By Lucas Chapel