Have you been to a horror convention in the last couple of years? Then you may have met or seen a film featuring the skilled and driven Emma Dark. Beginning as a model, Emma has since broken into the indie film circuit, making a big impression on the horror scene. Now actress, director, writer and producer, Emma Dark spills all about vampires, music videos and being a science fiction nerd.
Where will you be writing from today?
Outdoors, in the sun! I spend too many hours locked away inside editing and so forth, so any time outside is always welcome.
What sparked your interest in Horror and Sci-Fi? 
I've loved Horror and Sci-Fi back as far as I can remember. At the age of two I was an avid Star Trek TOS fan, naming my first stuffed toy (a brown and white spaniel) Scotty after Chief Engineer Montgomery "Scotty" Scott. I still have Scotty to this day, and bizarrely in my early 20's I found a duplicate of her (yes, she's a she) in a charity shop in an 'as new' condition. Of course I had to buy him, and he's called James T. Kirk!
As I got a little older and Albert Pyun's "The Sword and the Sorcerer" hit UK video rental stores in the 80's I managed to persuade my Dad to rent it for me from our local store. It's a dark fantasy, but does have very strong horror elements. Strangely things came full circle on this when my first self-Produced/Directed film "Seize the Night" had its UK premiere at Northern Ireland's Yellow Fever Independent Film Festival. Albert was scheduled to appear as a special guest, although sadly could not make it. I've since connected with Albert on Facebook though. I feel incredibly lucky to have connected with many of my early film heroes and heroines both online and in real life in recent years through my film-making and acting. I'm not 'fanatic' (in general) by any means, it's just not the kind of person I am, but I do love speaking to creative minded people with talent whom I respect and who obviously share the same interests and passions for the films and genres I love.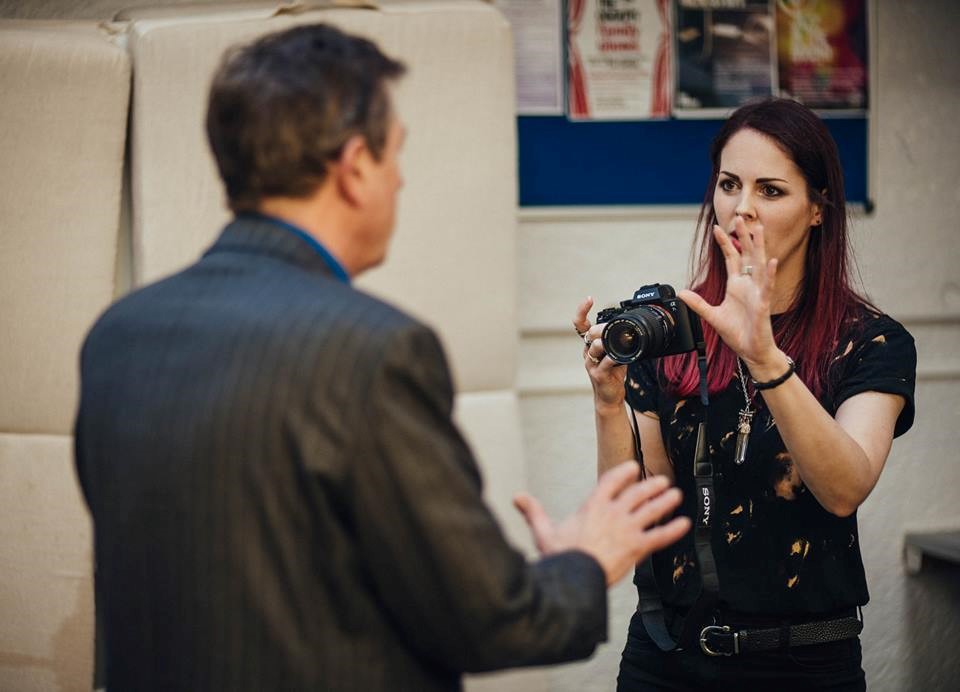 You were originally a model and being featured in a music video lead you to become an actress. What was it about acting that got you hooked? 
I was, and that's correct, a Horror themed music video by B.E.F. / Kim Wilde called "Every Time I See You I Go Wild", and I had a lot of screen time. It was a welcome break from the modelling, which was great but not creative enough for me – with modelling you're the art, not the artist, which isn't very fulfilling, creatively.
As far as the acting goes it's something I enjoy but my real interest lies in film=making and the challenges that go with that. However, I'm a firm believer of having a visual presence and not hiding behind your art, and if acting works for talented Directors like Quentin Tarantino it certainly works for me. Plus I've been extremely lucky to have worked front of camera on other creator's projects with iconic Actors / Actresses such as Caroline Munro (Maniac, The Golden Voyage of Sinbad, Dracula A.D. 1972), Judy Matheson (Twins of Evil, The Flesh and Blood Show) and many more. I've recently starred as lead actor in a short Horror film called Umbilichord by a musician/producer called 1i2c and the results look great.
You have also self-produced and directed two short films; "Salient Minus Ten" (2017) and "Seize the Night" (2015). What made you decide to try directing?
I'm a deeply creative person, and just being in front of the camera isn't enough for me. I know it is for some, and it's really down to how you interpret things in your own world, but for me creating a story and bringing it to life is just so much more fulfilling. As to what made me try it, well that was down to chatting with similarly minded people who had managed to make these wonderful short films with only a small amount of experience. So, I threw myself in at the deep end! There was no way I was going to make a talking heads film with two people in a living room, no, I needed the challenge, so I had multiple cast members in multiple locations. For better or for worse if I was doing this I was going all out. And with a lot of trial and error and a wonderfully supportive cast and crew "Seize the Night" was born.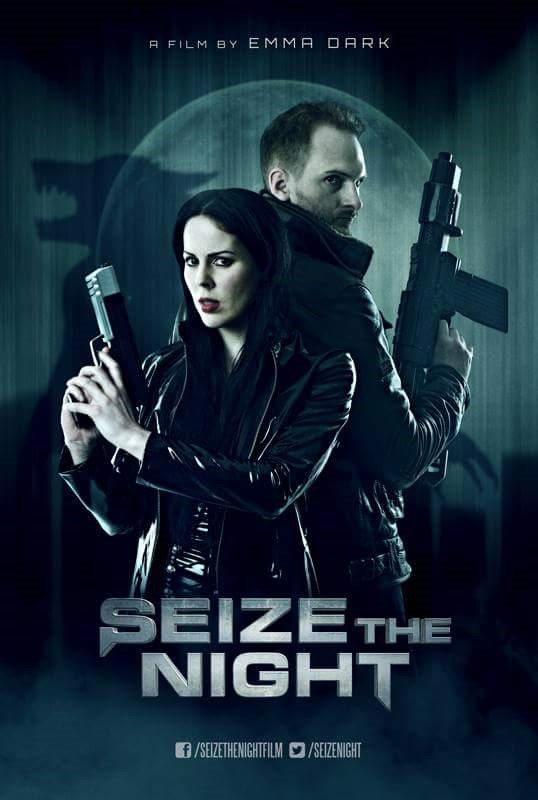 Working on these films, what did you feel were the biggest differences between the two? 
Oh they are wildly different films. I went for less locations for "Salient Minus Ten", and less dialogue to keep things easier, which is fine for a short film. It was not without its teething problems very early on, but when does anything run completely smoothly? All in all I feel it's a progression from my previous films, and I'm incredibly proud of it. I was lucky enough to bring back many cast and crew from "Seize the Night", including Composer Eric Elick, VFX Artist Davy Simmons, Actors Chris Hampshire and Beric Read, Set Production Assistant Wendy Rose and many more. And then again very fortunate to have on-board Alan Austen (Star Wars) in the lead role, Philip Bloom (world renowned Cinematographer) as DoP, Mike Peel (Casino Royale, The Descent) as SFX Makeup Artist, Chris Collier (Morbid Fascination: The Nekromantik Legacy) as Sound Designer, and other talented cast and crew.
Being involved with the directing, producing, editing, acting etc. Do you have a preference, or one that you would like to explore more of in the future? 
Writing and Directing for sure as that's where the main bulk of the creative control is. I do like to edit as well, it just feels right to take the time to finish off the film as you envisioned it when shooting. Production, well it would be nice to have some help with that in the future as it's a lot to take on with everything else. Acting is a nice to have, and I'll always give myself a role in my films, whether that's a cameo or something else.
Being a fan of horror novels, is there a book that you would want to develop into a film (money no issue)?
Anything by Shaun Hutson! Shaun Hutson is my favourite author, and in fact his wonderful horror novels actually kept me creative when I was going through a less creative and rather boring point in my life. I speak to Shaun on and off and he's a lovely person. It was a real treat to be bought a whiskey by him at HorrorCon UK a couple of years back. In return I bought him a cup of tea which I told him to drink before it went cold. Anyone who is a fan of Shaun's work will understand what that means!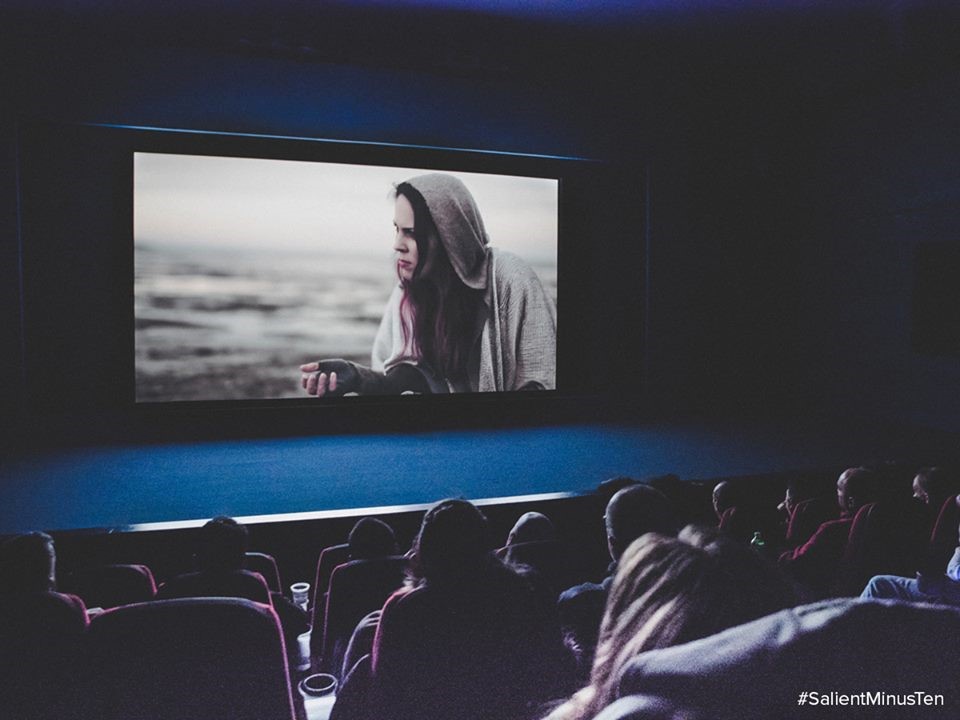 [Image: Emma Dark Salient Minus Ten The Dark Side Magazine's DARKFEST]
And finally, as an up and coming artist within the horror and sci-fi community, do you have big ambitions for the future?
I do! I was lucky enough to be contacted by some well established companies in both Hollywood and the UK earlier this year. I'm currently writing two feature film script treatments right now, and I'm crossing my fingers that something will get funded. If not I'll be taking one of these ideas forward as a short film, although I'd really hope that I can gain investment to proceed as a feature as I'm ready for the challenge and it would be a natural progression for me.
Figure of 8 – Quick fire questions
In your home you will always find…
Coffins, yes!
Your best quality is… 
What you see is what you get, and I'm genuinely passionate about what I do.
As a child, you wanted to be…
A mermaid or a unicorn!
The last thing to make you laugh was…  
Can't remember, I do actually laugh though!
Your pet peeves are… 
Anybody using the terms 'swings and roundabouts', 'fair enough', or 'hey-ho'. Just so annoying.
Something that may surprise us about you… 
I have a robotic toaster. And if that's not horrifying then I don't know what is!
Your favourite movies are…
Too many to mention in all honesty, and my 'top ten' is ever growing.
Dinner with the dead! Who is invited?… 
It has to be Brandon Lee! Apart from being super talented with a great screen presence he was also such a wonderfully handsome and charming man.
Emma Dark | Award-winning Filmmaker & Actress/Model
IMDb | Website | Facebook | Twitter | Vimeo | LinkedIn
By Alice Bizarre
https://www.facebook.com/alicebizarremakeup/
Alice Bizarre is an SFX make-up artist and film writer, a prop maker and prosthetic sculptor based north of London.Wife of a wolfman and mummy of a baby bat.