It is the middle of August, the weather is a mixed bag and British Festival season is in full swing. So what better way to celebrate the annual pilgrimages to large fields of mud, booze and loud ear-bleeding inducing music than to revel in just that at the UK's premier metal festival? For one long August weekend, we joined some 18,000 fellow metal heads in the Derbyshire countryside to dance, drink and worsen our tinnitus – welcome to Bloodstock 2023.
Day 1 – Thursday 10th August
The Violent Inzident
Festival season is party season, right? So what better way to ring in Bloodstock 2023 than with a nu-metal parody in The Violent Inzident. Delivering both riffs that punch as well as rib-tickling punchlines, their set sends-up everyone from nu-metal poster boys Limp Bizkit ("The Violent Inzident"), to 90s Sepultura / Soulfly ("Brazil Is Great"), with the latter featuring the waving of an Argentinian flag for deliberate geo-political chuckles. Acerbic, but bouncing with fun, confetti and pyro, the band in their various costumes are a welcome curtain-raiser to the weekend – treat yourself to a laugh with "Whores of Instagram".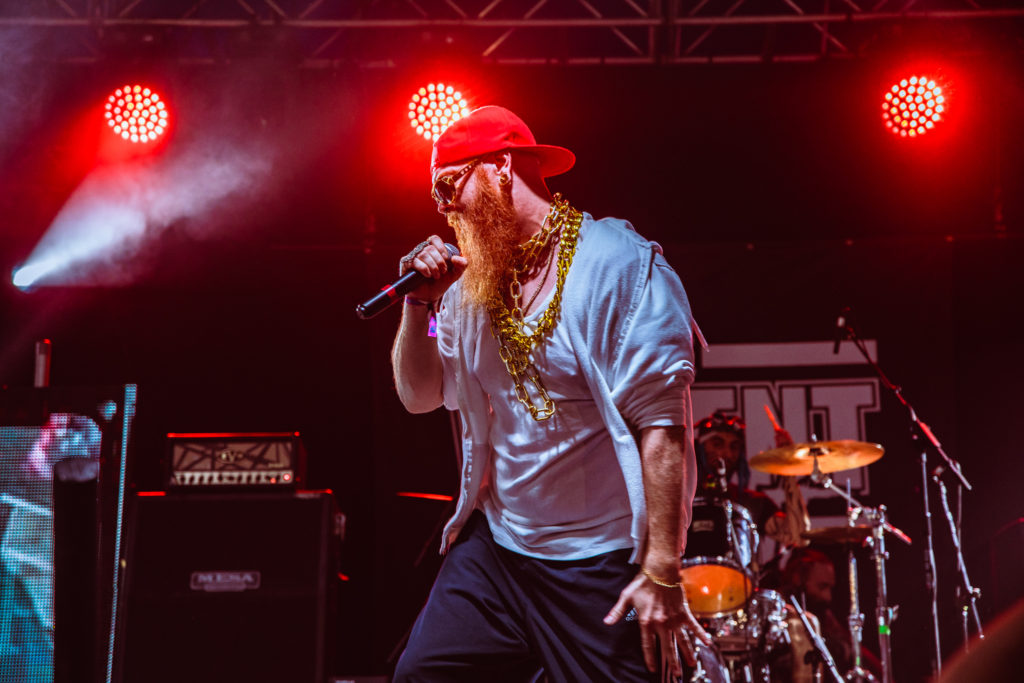 King 810
Renowned for their intense live show and props, there was a palpable expectation as King 810 took to the Sophie Lancaster Stage, with the tent full to the rafters. Featuring barbed wire sections and a very tall drum riser, their performance set hearts racing with seminal classics 'Fat Around The Heart' and 'Alpha & Omega' thundering the foundations of Bloodstock's second stage. While David Gunn and Co. brutalised and all before, the odd secondary performance of a corrupting robo-president which seemed somewhat distracting – the only connection being Gunn's eventual ascension to stage president. Music? Heavy. Stage show? Bemusing.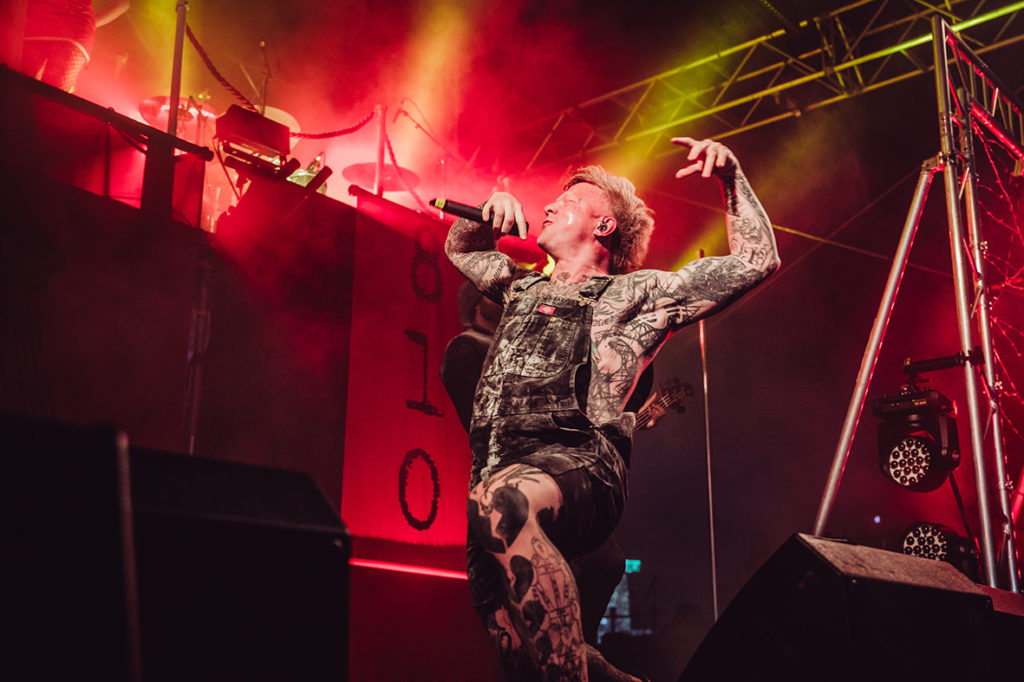 Visions Of Atlantis
When the phrase 'pirate metal' is floated by, the whiff of the rum-loving swashbuckling sort is never far away, but that is not Visions of Atlantis. Their set, including cuts such as 'Darkness Inside', 'Pirates Will Return' and 'Legions Of The Seas', casts the idea of pirate metal into one of an epic sea-faring journey, and it is something the crowd absolutely lap up. Dual vocalists Clémentine Delauney and Michele Guaitoli, de-facto captains of the Sophie Stage, whirl with energy and verve, delivering a glorious show that puts the crowd right in the palm of their hands.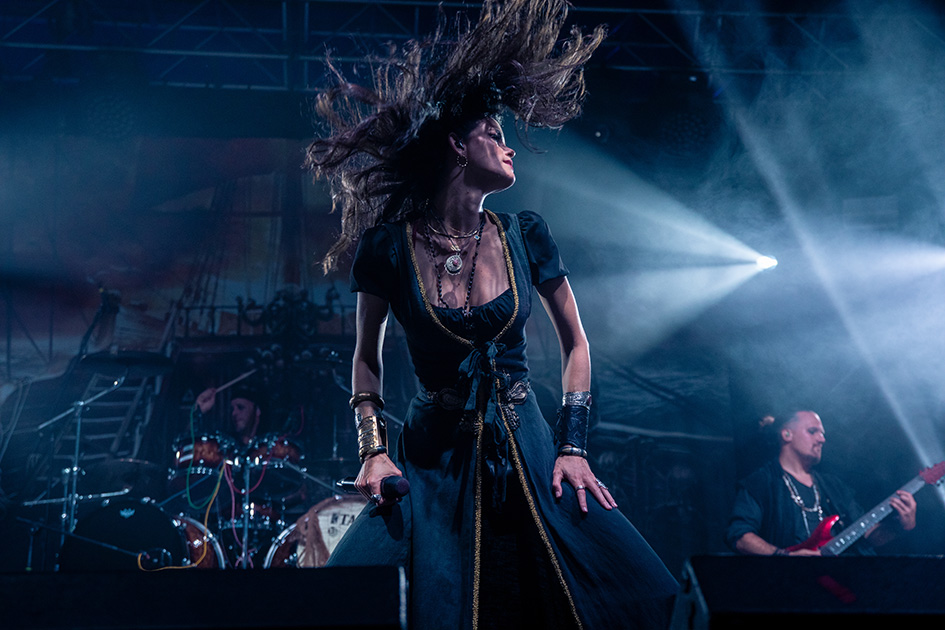 Skynd
It seems fitting that Skynd's headline set comes under the dark August night sky, and more than meets the mood. Blessed with one of rock's most expressive voices, Skynd can convey a myriad of emotions whilst delving into the depths of true crime's hardest-hitting stories. Whether it was the addictive 'ring-de-ding down' refrain of 'Elisa Lam', the urgency of 'Robert Hansen' alongside the perfectly choreographed dancing, or the compelling 'Jim Jones', Skynd's set was a worthy headline performance for the opening night of the festival. Chilling, enthralling and incredibly catchy – true crime in musica.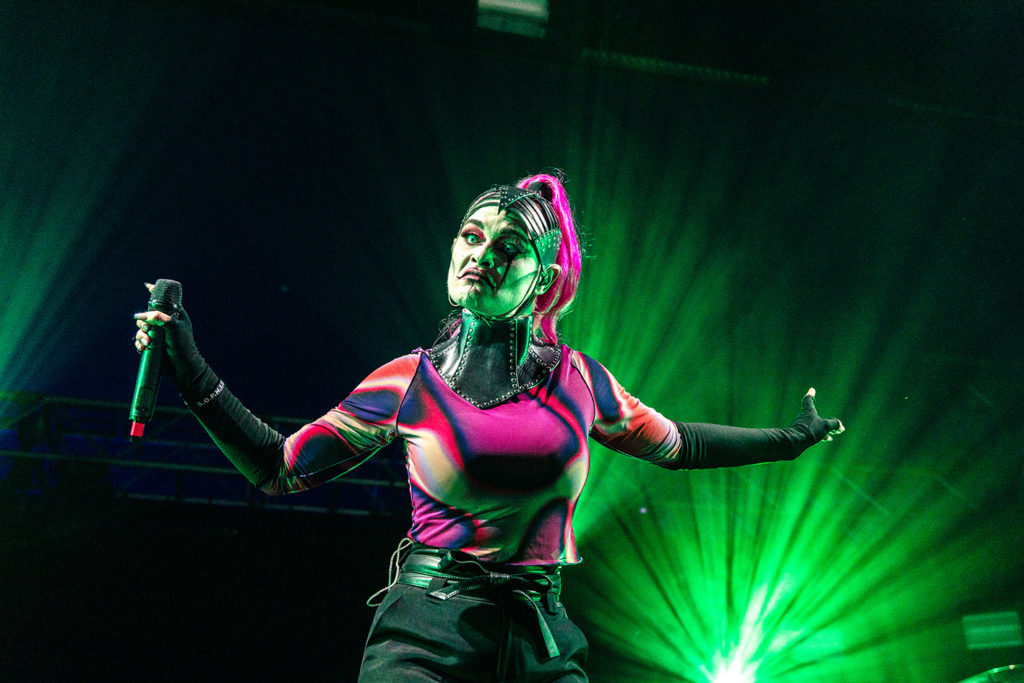 Day 2 – Friday 11th August
Witchsorrow
Friday morning bright and early saw Hampshire's three-piece Witchsorrow take to the Ronnie James Dio stage to blow away the haze of the night before, and their fuzzy brand of doom certainly helped ease the collective into the day. No frills, no over-the-top stage props or personas; just Sabbath-worshipping doom metal. If the crowd were a little subdued to begin with, they were enjoying themselves by the end of 'Made Of The Void'. It is a tough slot to deal with but Witchsorrow made for a pleasant wake-up call.
Apathy
Over at the New Blood Stage, Apathy's turn at ripping the tent down elicits a response from the gathered that is far from apathetic. With a wonderful energy about them, the four-piece tear through a set list of thunderous modern metal, and defy technical glitches to Oscar Lockwood's guitar, all the while oozing confidence throughout. Calls for circle pits and a wall of death were obeyed – even with pillows! While the recent release 'Gravewalker' received a welcome airing. Needless to say, it is these sorts of acts that the New Blood was made for.
Hate
Blackened death metal in the sunshine? It is an odd one as it completely goes against the aesthetic of the black metal part of Hate's sound, but they give it a ruddy good go. The RJD crowd are warm to it, and the likes of 'Threnody' and 'The Wolf Queen' hit all the right heavy notes. But with a sound that begs for some on-stage theatrics, the staid stage presence of frontman Adam 'ATF Sinner' Buszko alongside the summer sun takes the shine off the performance somewhat.
The Enigma Division
It may not be scientific, but there can often be a correlation with increased complexity in music with decreased stage presence when performing. If you are concentrating on playing your Byzantine scale sweep arpeggios in 23/8, you would be forgiven for not running around a bit. While that is an extreme scenario, The Enigma Division do run it close on the Sophie Lancaster Stage. The music is prog metal magic, but how it was delivered came across a touch placid. Granted not every show needs to be a West End performance, but a little spark goes a long way.
Gatecreeper
Wait, this isn't Sacred Reich?! Nope, it's Gatecreeper and they're bloody heavy. Here's a band that will snap you out of your day-drinking fuzz, and that's before you consider the band's musical potency. Chase H. Mason is a compelling frontman, and delivered an intense performance with plenty of soul-staring, topped with a crunching go at 'From The Ashes'. The riffs hit hard, and the RJD crowd duly lapped it up eagerly despite the last-minute line-up switch. It is always a risk making changes to line-ups or running orders, but this one most assuredly did not backfire.
Zetra
Bearing closer resemblance to a black metal band than anything else, London-duo Zetra may only be a two-piece, but their sound packs one helluva punch under the lights of the Sophie Stage. Crunching riffs with dreamy soundscapes, their sound calls to mind Deftones at their most atmospheric and it made for one incredible musical journey to behold. A voyage that the two of them were determined to bring everyone along for, willing or otherwise. On the evidence of the day, those witnessing it were very willing.
Sacred Reich
Somewhat later than expected, Sacred Reich made their appearance on the RJD stage to bring some thrash to Friday's fold, and there was a delightful levity to their set. It is not often that one can describe thrash-tastic tracks such as 'Awakening' as light, but frontman Phil Rand's radiant positivity and earnest nature shines through, and made the band's performance all the more enjoyable for it. Simply, watching Rand rip through classics and appear grateful for his lot in life raises a smile that mirrors his own. Throw those horns up.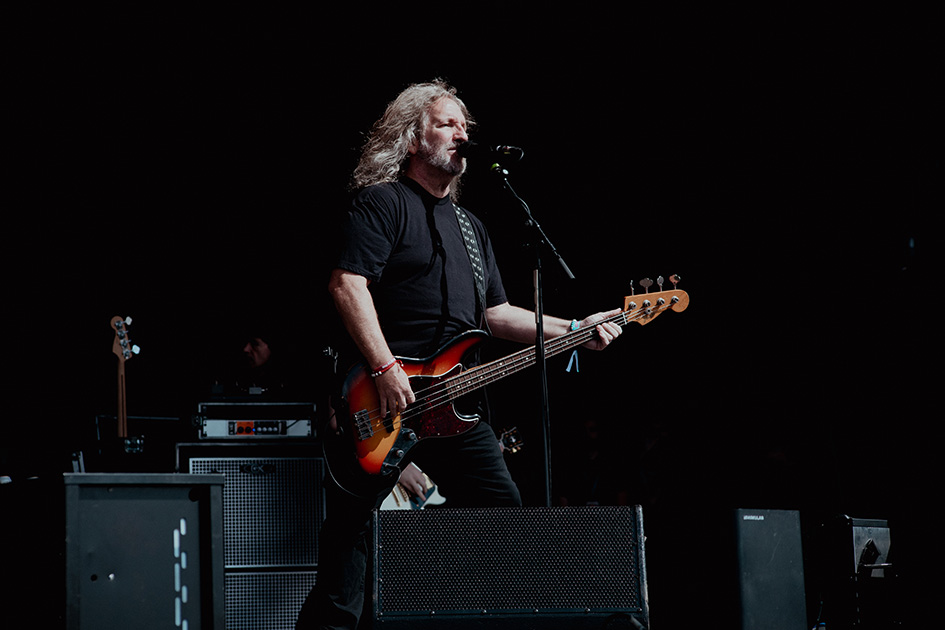 Wild Heat
It may be the smallest stage of the festival, but the Jägermeister Stage more than makes up for it with a massive sound. As does Northern Ireland's rockin' Wild Heat, who brought a feel-good 80's rock factor to the day's proceedings, and a real palette-cleanser to the more heavy stylings the day generally brought. Featuring big choruses and an even bigger cover in Ozzy Osbourne's 'Crazy Train', it made for a small, vibrant bit of fun that ably captured a rock night down at the local music venue.
Fit For An Autopsy
If you knew nothing of the band, their name alone would give you reason to believe that things gon' get heavy. Needless to say, things inevitably become leaden straight from the opening strains of 'A Higher Level Of Hate', and there was absolutely no let up. With 'Black Mammoth' sounding monstrous, alongside bowel-bothering bass drops, Fit For An Autopsy's set was an exercise in unrelenting savagery. When a member of the RJD crowd describes the snare as sounding like a "fucking shotgun", you know things were brilliantly brutal.
Heaven Shall Burn
Suffice to say that German metallers Heaven Shall Burn know how to put on a show. A set replete with pyro, and vocalist Marcus Bischoff sounding in top form, their set explodes with the gargantuan 'Endzeit' and maintains a steady level thereafter. Their brand of metalcore translates delectably live, and the tightness they display on record is more than matched on stage. Featuring classics from the stellar 'Antigone', including 'The Weapon They Fear', the RJD crowd were well and truly whipped into a frenzy, and the metalcore bend on the night was kicked off in some style.
Gaerea
Masked metallers are nothing new, and in certain circles somewhat in-vogue, so seeing Portugal's Gaerea take to the Sophie Lancaster stage hooded-up does not surprise. What does, however, is the sheer power behind their modern black metal onslaught. The genre, when done right, can have amongst the greatest impact sonically, musically and emotionally – and that's Gaerea's set. It pushed, it pulled, and it drew you in and then released you back, while the band's vocalist screamed, shrieked and writhed onstage. They may sing of isolation, but there was a remarkable sense of togetherness at witnessing the ascent of a terrific band.
In Flames
In Flames may be among metal's most celebrated bands, but who says that there cannot be a little fun to their set of melodic death metal? Featuring a variety from across the back-catalogue, from 'The Great Deceiver', through 'Cloud Connected', all the way to 'Behind Space', it was a set to please fans old and new. But one in particular will have headed home made-up after his decision to dress as a trumpet/bugle-wielding pirate prompted Anders Fridén to invite him up on stage for a jam through an In Flames classic. There is always room for frivolity in metal!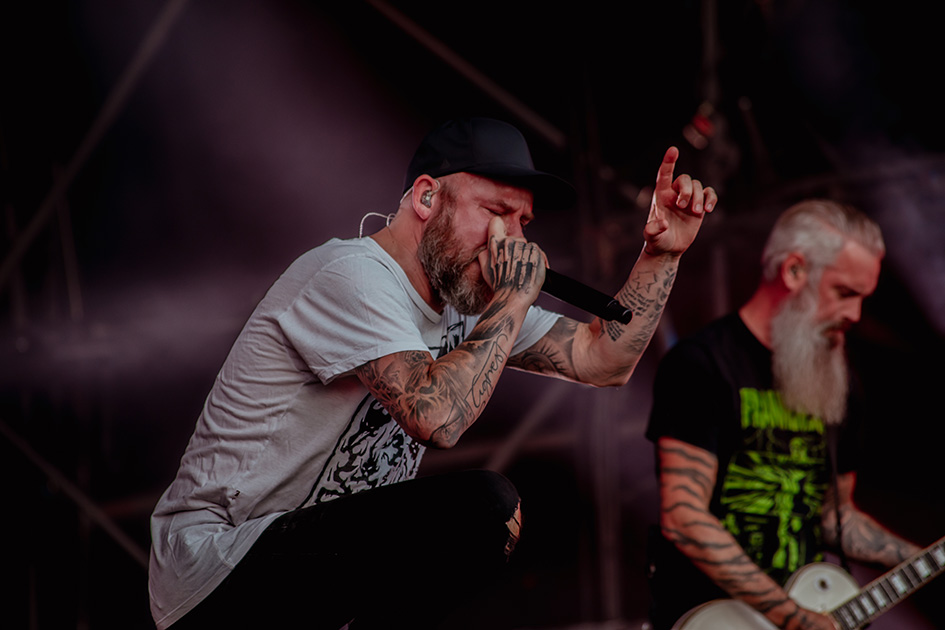 Killswitch Engage
RJD's final act Killswitch Engage made their long-awaited return to the UK and in some style by taking on their first festival headline gig. Based on their showing in the warm Derbyshire night, there will be more. It was a slot that delivered everything special about the band: punchy metalcore including classics like 'My Curse', 'The End Of Heartache' and 'My Last Serenade', alongside plentiful pyro and Adam Dutkiewicz's inimitable brand of humour ("Piss Jug Guy!") The band themselves admitted missing the UK, and the feeling was mutual. But what a glorious reunion.
Candlemass
Under the veil of darkness in the Sophie Lancaster tent, Sweden's brought the curtain down on Friday with slow, crushing doom – their speciality. As veritable veterans of the game, their performance was a prime example of a band that has honed, crafted and refined their work to a fine point, with Johan Längqvist's vocals a certain highlight. Songs like 'Crystal Ball' and the dark 'The Well Of Souls' prompted mass sing-alongs from an adoring crowd. It may have lacked the energy of previous acts across the day, but the doom metal masters leave with reputation intact and a loving reverence.
Day 3 – Saturday 12th August
Ambrius
The magic of the New Blood Stage right here. A year ago, Gloucester's Ambrius graced Bloodstock's third stage, and had the honour of opening the Sophie Lancaster Stage for this year. Though the early morning attendance is somewhat light as the Friday night hangovers bite, the band's brand of progressive metal cuts the mustard, with the likes of 'Breathe' and the epic 'The Unavoidable Path' sounding marvellous as the caffeine kicks in. If that lot didn't rouse the dead, then the stellar falsetto from vocalist Sam Shiers certainly would – glorious!
Seething Akira
From prog metal to 'electronic nu-core' over at the RJD stage, and it is the turn of Portsmouth's Seething Akira to open a day's festivities, and, boy, did they deliver. A fun, dynamic set with enough energy to power a small town for a month, these lads brought chunky riffs and aggression aplenty wrapped up in a track like 'Punishment Instructions'. Contrast this with the, frankly, bizarre video backdrops (at one point featuring gardening legend, Alan Titchmarsh), and you had a terrific early morning party to jam to.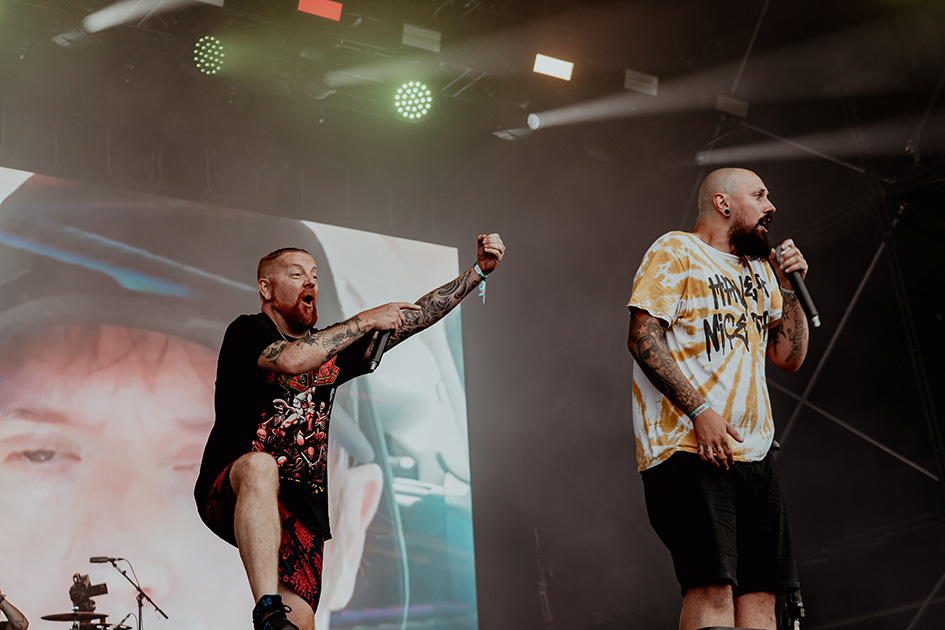 Tortured Demon
Music journalists often debate acts as "the next…", but it is reliant on subjective perspectives. That said, if Tortured Demon become the next big name in thrash, then it is both easy to see and well-deserved based on their destruction of the Sophie Stage. Another that have risen from the festival's smaller stages (they played the Jägermeister Stage in 2021), the four-piece treated all to the likes of the thrash-tastic 'Conflict Of Interests', and it was gratefully received by the moshing crowd. With plenty of time on their side, expect to see these lads gracing higher slots in future.
Royal Republic
With frontman Adam Grahn describing themselves as a "pop quartet" and the "finger in the bum you didn't know you liked…" the band fully embraced their standing as the rock tonic to the weekend's gruff metal. For all metal's elitism, it is surprising how easy fans are to embrace a Swedish band popping out a fun, groovy, bouncy set. Including gems like 'RATA-TATA' alongside both a brief foray into Metallica's 'Master Of Puppets' and a run through of 'Battery', the band played the crowd like a fiddle – and they loved it.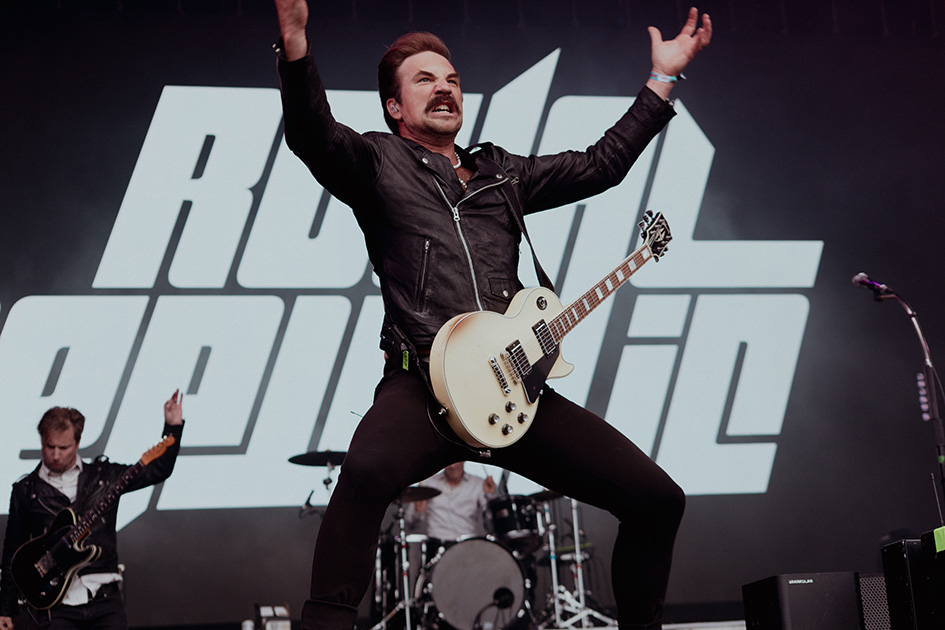 Tribe Of Ghosts
Another of New Blood's graduates, Tribe Of Ghosts have seemingly gone from strength to strength across a year, culminating in their advancement to the Sophie Lancaster Stage. A focused performance that included their latest, 'HIVE', they gave tremendous care to both the atmosphere and tension/release of the music. In doing so, the Brighton foursome brought an entire crowd along for the journey. Where they battered with heaviness, they captured the ear with delicate melodies, and their intensity was captivating. Post-metal at its finest, even if guitarist/vocalist Adam Sedgwick insists on trashing his guitar every time!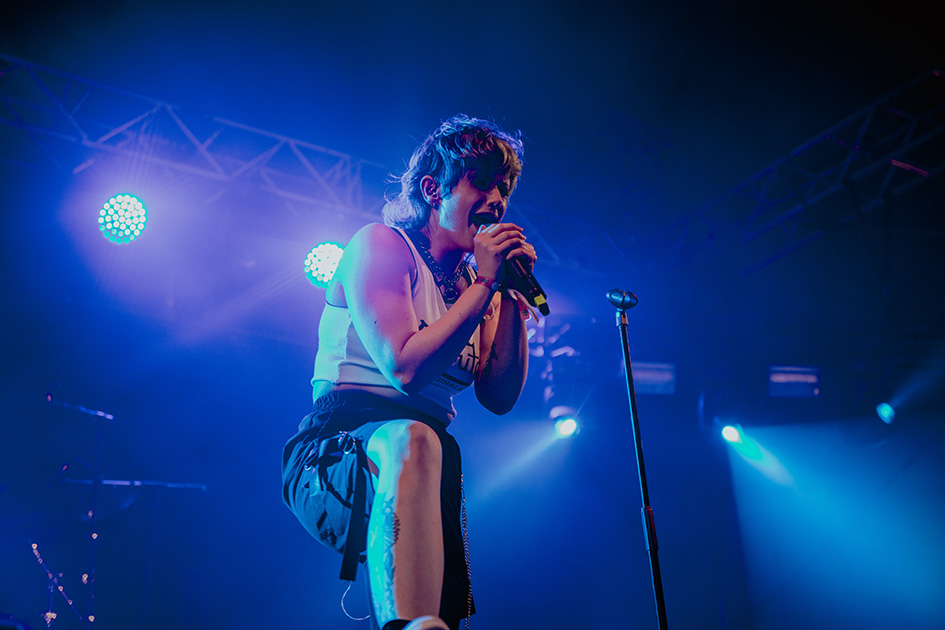 Dakesis
Featuring a big, soaring sound, basically-local Dakesis further ingratiated themselves with Bloodstock folklore by delivering a ripping set of prog metal that leans heavy on melody. That the band are veterans of the festival as well as fans provided an earnestness that made for an endearing quality as they tore through the likes of 'Kairos' and 'Surrender Your Fears', with a fully on-board crowd supporting them all the way. In many ways, it felt like the band were performing a home gig, with further evidence given in their salute to their Midgar campmates for the storming 'The Great Insurrection'. Great stuff.
Abbath
What more can be said about Abbath? The Norwegian black metal maestro is rightly celebrated across the genre, and the arctic blast that he and his merry men delivered was laced, somewhat oddly, with a feel-good factor. Where other corpse-painted black metal bands in summer can feel out-of-place, Abbath's set worked just fine, opening with the statement-like 'To War!' and even finding time to include a cover of Immortal's 'The Rise Of Darkness'. With a verve at odds with the warmth of the season, Abbath's show was worthy of his celebrity in metal's coldest subgenre.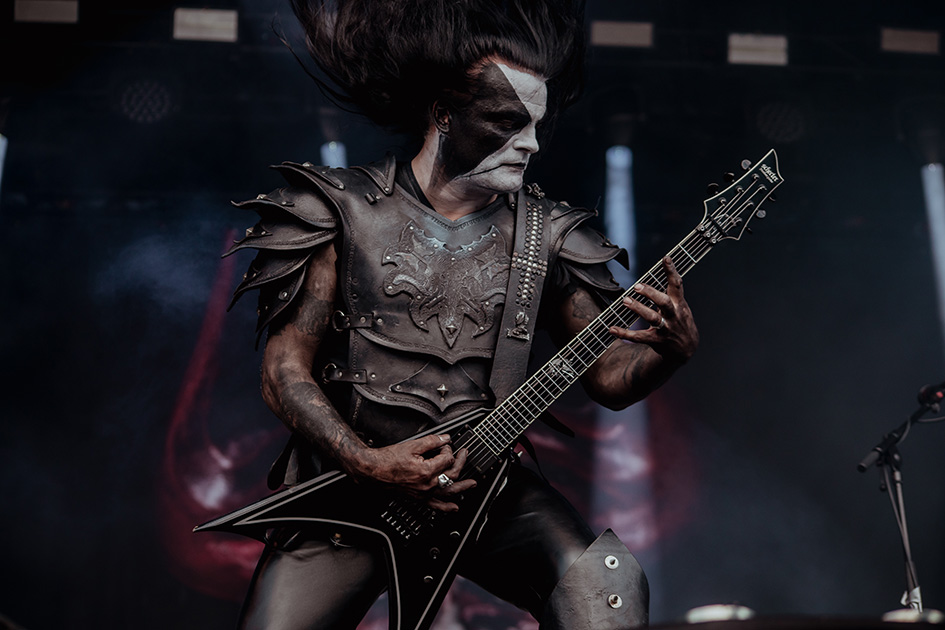 Triptykon
This was a sure-fire special one. With Celtic Frost long gone, this was the opportunity for fans to witness the performance of some classics by the band's successor in Triptykon with one of the remaining co-founders. Tom G. Fischer may have incorrectly referenced Download to a chorus of boos, but all was forgotten once the band ploughed on with the music. With belters such as 'Morbid Tales', 'Procreation (Of The Wicked)' and 'Circle Of The Tyrants' receiving one more airing, coupled with a bonafide massive sound, this was a fitting homage to one of the genre's most revered acts.
Soothsayer
It goes without saying, but the New Blood Stage is a hotspot for new music. That Soothsayer were offered the slot off the strength of their previous material and performances speaks volumes, and volumes is what they delivered. With frontman Liam Hughes doused in blue body paint as a slightly terrifying shaman, the band delivered a devastating slab of caustic atmospheric doom that married melody to heavy in sublime fashion. At times the vocal effects rather distracted from the music and washed them out, but it somehow fed into a chilling atmosphere that rewarded all listeners in the tent.
Drownd
Electronic rock can go one of two ways with the two spliced genres, and the former is more prevalent in Drownd's recorded material. Live, however, the rock comes to the fore and they go heavy. Their performance headlining the New Blood Stage had a terrific intensity to it (including Joe Crudgington trashing his equipment at the end), and the likes of 'Sick Like You' and 'Sinner' benefit from a live band amplifying the record's good work. More guitars, more double-kicks and more noise. The band really gave it some and knocked the crowd on their arses.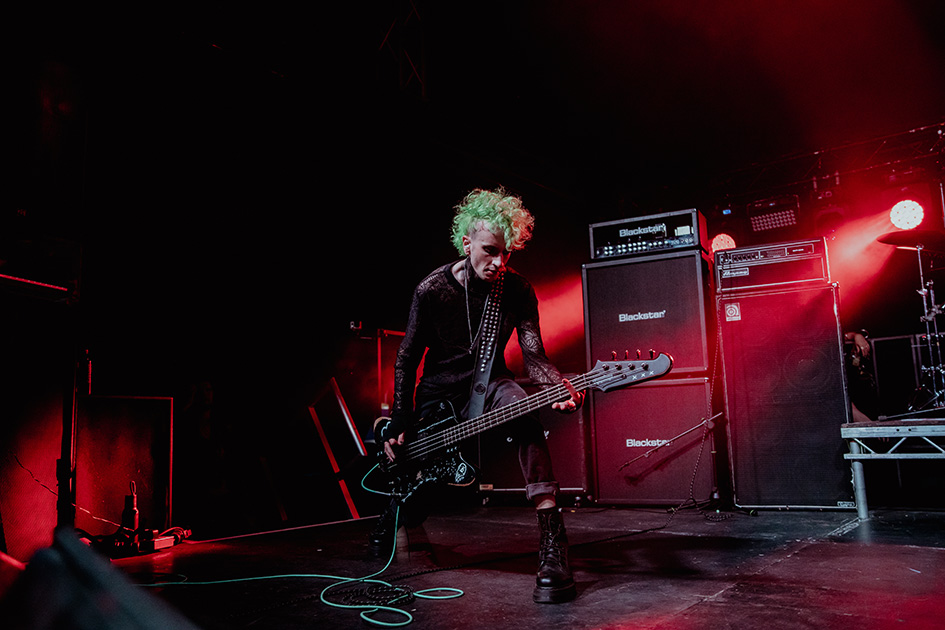 Meshuggah
As is typical for the headliners, there is a great deal of anticipation for Meshuggah to take to the stage – needless to say, it is for good reason and the Swedes duly delivered. Performing a form of music that can feel like it is falling down the stairs, their mastery of musicianship is something to behold. Such precision is to be admired, so the likes of 'Pravus', 'In Death' tracks and digi-demolition ditty 'Future Breed Machine' are truly something to marvel at. They may have remained mostly fixed-in-place on stage, but their unrelenting sonic assault made for one riveting set.
Brothers Of Metal
Music festivals equal variety, so the good vibes that come from Brothers Of Metal is a welcome form of vivacity. Featuring powerful cuts such as 'Theft Of The Hammer', 'Powersnake' and 'Berserkir', the Sophie Lancaster Stage got a history lesson in Norse mythology, and, boy, did they love it. Joyously, the band themselves appear like mates having a blast onstage, whilst it is a performance of whirling bodies as they rip through the set, including plenty of audience interaction and a bit of a Swedish lesson ("Skål!" is "Cheers!"). Fun, frivolity and friendship – a smashing end to a Saturday night.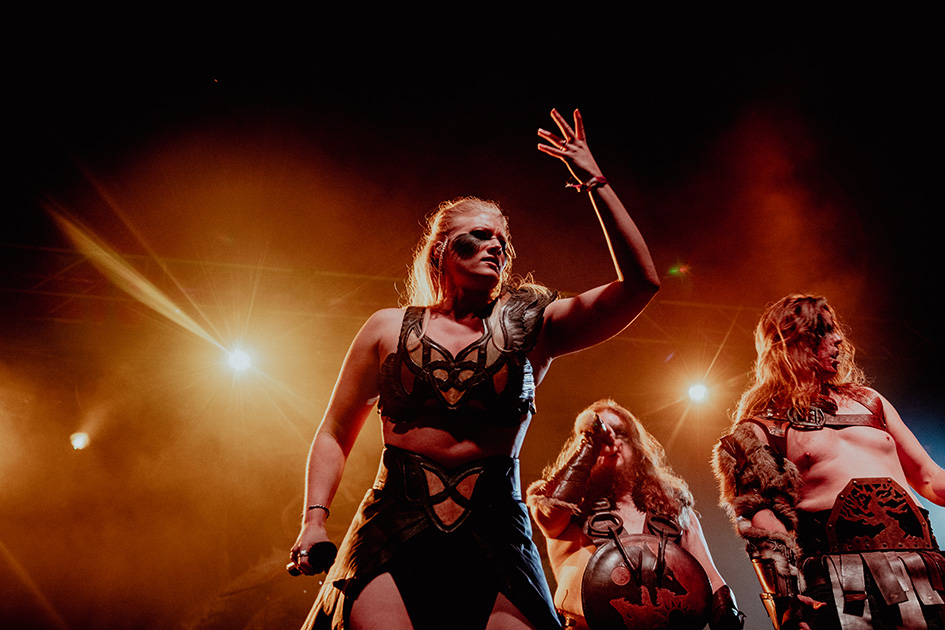 Day 4 – Sunday 13th August
All Hail The Yeti
If it is a beefy sound that you wanted for your Sunday afternoon, then USA's All Hail The Yeti had you covered. Yeti's Connor Garritty commands the stage as a frontman, and the fact that they went and dropped chunkers such as 'Suicide Woods', the wonderfully snarky 'Witch Is Dead' and the big, poignant cut 'Mr Murder', made for a terrific slab of fun. It certainly had the crowd gathered at the RJD stage (and battling the weather) disregarding the wetter conditions to whip themselves into a writhing pit. All hail, indeed.
Tribulation
Variety is the spice of life and all that, so Tribulation's spot on the Bloodstock bill certainly added a sense of that. A little black metal mysticism, a touch of psychedelia and a bit of rock 'n' roll; the majestic 'Melancholia' made its mark upon the arena, whilst the title track of recent EP 'Hamartia' sat comfortably alongside their wider discography to warm adoration. There was even room to visit the band's death metal days in 'Rånda', so a true set for the fans and a performance that demonstrated a band at ease with their sound.
Ugly Kid Joe
There are some bands on the bill that you just know will be bringing the fun times, and that was assuredly California's Ugly Kid Joe. Theirs was a set that featured several cuts from their celebrated debut, 'America's Least Wanted', whilst there were covers dished out in the form of 'Cat's In The Cradle' and a storming 'Ace Of Spades'. Frontman Whitfield Crane marshalled his crowd ably, and even found time to chuck in a spot-on Ozzy Osbourne impression (requesting the crowd go "ker-azy!") good times.
Skies Turn Black
It may only be a small stage, with a very convenient bar located adjacent to it, but it's no mean feat to pack the thing out. Kudos, then, to Skies Turn Black for an exciting set of classic heavy metal that sounded gargantuan in the tiny tent. Sporting a touch of the power metal, the likes of 'This Too Shall Pass' and 'No Place Like Home' have an energy about them that is further enhanced by the meaty drum sound on offer. The more intimate setting made for an earnest show, but expect these chaps to command a large stage in future.
Sepultura
What more can be said about Sepultura? Their inclusion was highly anticipated and the Brazilians did not disappoint, with a varied set spanning their entire career. Highlights included recent cut 'Guardians Of Earth' with its increased level of melodicism, whilst the usual bruisers in 'Refuse/Resist' and closer 'Roots Bloody Roots' damn near caused an earth tremor given the crowd's response. For a band that has been going nearly forty-years, there was an impressive level of energy about their performance, with guitarist Andreas Kisser having the time of his life. Needless to say, they got as good as they gave.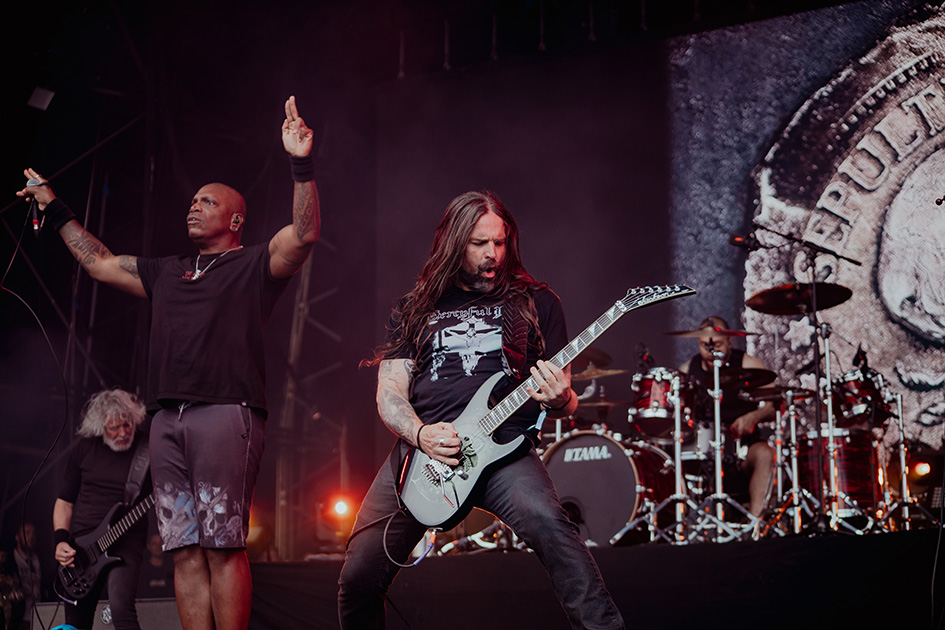 Embodiment
How do you ensure your brand of death metal remains impactful? Chuck in some atmosphere and melody, that's how. Cue Embodiment and their stellar performance over at the Sophie Lancaster. The tightness of their execution in a live setting was impressive, and a baited crowd were thoroughly enjoying the technical forays in the likes of 'Outbreak' and the thrillingly melodic 'Sanctuary'. They were even willing to participate in a "barricade of undeath" during the lead-heavy 'Infested' – think of a wall of death but against a horde of zombies. Technical, a little mad, but more than a little good.
KK's Priest
Okay, credit to KK's Priest in covering for Helloween at such short notice. Their display featured video backdrops and the kitchen sink, so props for going all out for the stage show, yet something felt lacking. Whether it was the heavy focus on Judas Priest songs, or the rather self-serving video backing to 'Sermons Of The Sinner' (which was largely about KK himself), it did not feel like a true celebration of music and these musicians. Comedy moment of the weekend goes out to the one who responded to Tim "The Ripper" Owens' question, "What's my name?" with a simple, "Tim."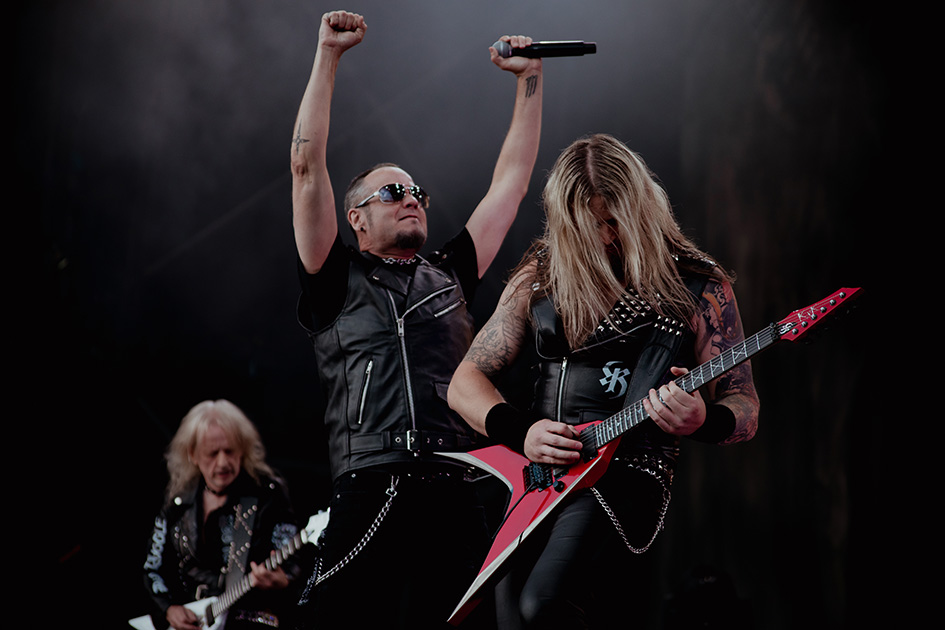 Zeal & Ardor
One of the more anticipated acts across the weekend, the Sophie Stage was full to the brim by the time Zeal & Ardor took to it. Boasting one of the more unique takes on black metal with African-American spirituals, their set was a full-on example of power and catharsis. Fan-favourites such as 'Blood In The River' and 'Devil Is Fine' sounded immense, whilst the fan interaction was joyous to behold during the "you don't belong here" refrain of 'Tuskegee'. That there was a "fan" who walked out declaring it "boring" suggests that they could do with a taste adjustment.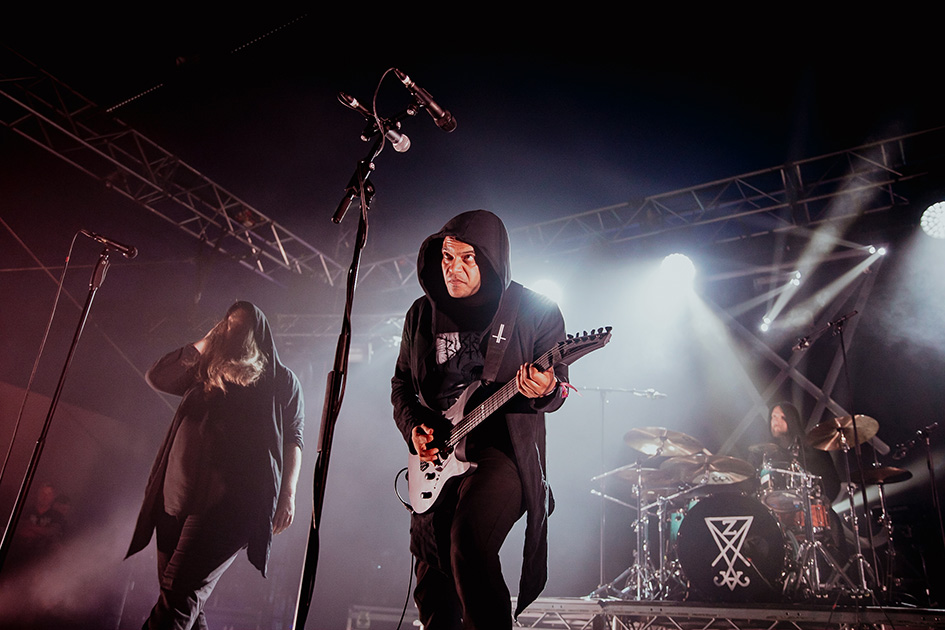 Megadeth
As members of the Big Four, Megadeth naturally have a large pull. So much so that Dave Mustaine and Co. have broken a record for attendance for the third time at Bloodstock. Clearly, there was a lot of love for them, as demonstrated by the RJD sing-alongs for 'A Tout Le Monde' and 'Peace Sells', whilst the band's performance hit the spot, with everyone doing justice to the stacked-with-fan-favourites set list. That being said, someone needs to let Dave know to sing into the mic when playing sometimes!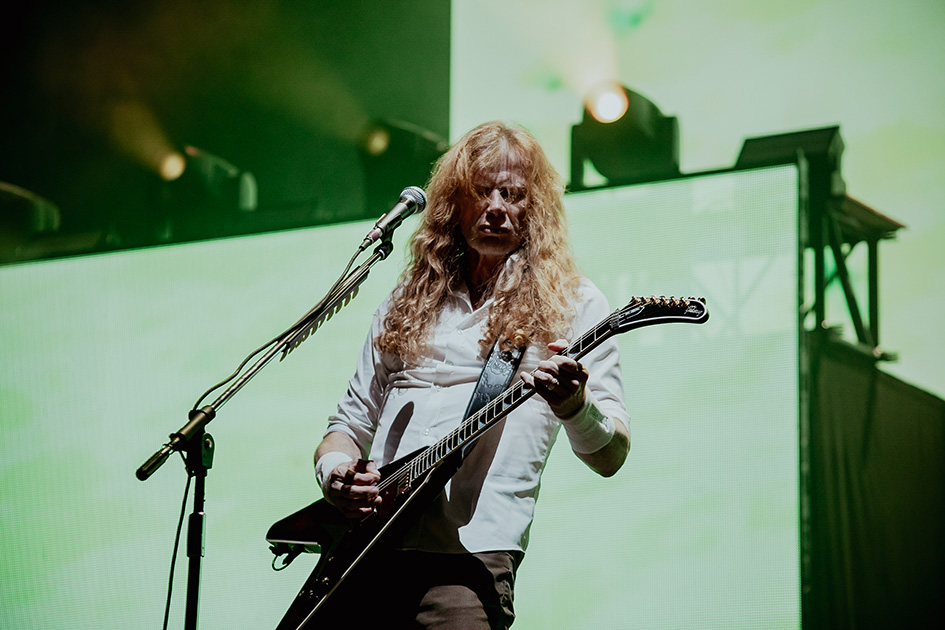 Biohazard
Headlining the Sophie Stage, New York's Biohazard brought the curtain down on the weekend with a typically-macho, chest-beating slab of metal – no frills, just riffs. Oh, there were riffs, with 'Down For Life', 'Wrong Side Of The Tracks' and 'Love Denied' hitting hard and fast with an oh-so-willing crowd. Hell, their encouragement to the crowd to surf and make security earn their money was met with gusto – waves of 'em. They even got circle pits to whip round both the closest tent poles before combining into one Hardcore from first to last.
Popestars
Over in the Serpent's Lair Bar, there was one more band to call time on Bloodstock in the form of the UK's Ghost tribute, Popestars. Sporting a fractionally-heavier sound in the guitars, their Papa and Ghouls delivered a fitting tribute to their Swedish muses, with all the big tunes covered. Special notice should be given to the mystical 'Cirice', the fun 'Mary On A Cross' and the huge 'Dance Macabre' – if you never get to see Ghost, then these chaps offer a fine taster. Culminating in confetti and silly string, it is an enjoyable and upbeat ending to the weekend.
As if despairing on our behalf, Monday morning awoke to pouring rain as the curtain closes on another brutal weekend of metal frivolity at Catton Hall. As is typical of the organisers, there was something for everyone, and with the early announcements for Bloodstock 2024 already a strong topic of discussion, the excitement is already developing for next year's edition.
Until then, Bloodstock 2023 did the business – see you all in the pits next year.
Tickets are on sale now for Bloodstock Festival 2024 – 08th – 11th August
https://www.bloodstock.uk.com/
Reviewed By Lee Carter & Rebecca Bush
Photos by Rebecca Bush
https://www.instagram.com/beckybphoto/
With Thanks To Kirsten & Michelle