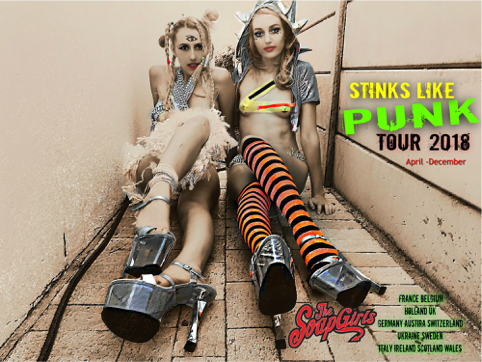 The SoapGirls play a small run of dates including the Monarch in London on Wed 2nd May, as the first part of their Stink Likes Punk Tour, before heading to Europe.
Armed with unforgettable melodies and catchy choruses, The SoapGirls energy, rawness and authenticity live, has earned them a formidable reputation. Performing continuously throughout 2017, these fearless French born sisters Millie and Mie, have slayed critics and earned a dedicated group of followers known as the 'The SoapSuds', who follow the band across the UK and Europe.
The SoapGirls are society's rejects and their punk credentials were rubber stamped by scintillating performances at the legendary Rebellion Festival last year and such was the their success that they were asked back to play the Blackpool event again in 2018.
The SoapGirls write outsider anthems that are androgynous, audacious and straight from the heart. Following the release of their album Societys Rejects,  features on the band have appeared in Classic Rock, The Mirror and Vive Le Rock, while their last two singles were played on BBC Radio and play listed by Planet Rock Radio.
These intimate shows will give audiences the opportunity to witness the phenomena of The SoapGirls in intimate surroundings.
The SoapGirls remind us that music can still be straight to the point, efficient, honest and exciting, so brace yourself for The SoapGirls's next chapter.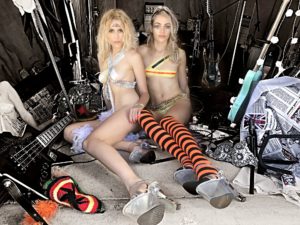 The SoapGirls Stinks Like Punk tour dates, part one
April 
Fri            27th           Percy's Cafe Bar                      Whitchurch
Sat           28th           The Cotswold Inn                    Cheltenham
May
Wed         2nd            The Monarch, Camden            London
Thur        3rd            The Trades                                  Rotherham
Fri            4th             The Ferret                                  Preston
Sat           5th             The Shed                                     Leicester
Sun          6th             The Swan Free House              Ipswich
https://www.facebook.com/TheSoapGirls/
https://www.facebook.com/TheSoapGirls/videos/1880220648718152/