Australia's "Industrial Synth Crust" / "D-Beat Raw Synth-Punk" outfit Schkeuditzer Kreuz, alias Kieren Hills, has just released his sophomore album 'No Life Left', on 25 August, ahead of a 30-date UK and European tour spanning September and October 2023. Self-described as "one human and some machines, making noise in the face of it all", the new album 'No Life Left' mixes crushingly dark, post-industrial grooves with harsh, apocalyptic noise; all made heavier by Kieren's roots in the punk, crust, hardcore and d-beat music scenes of New Zealand, Australia, and Germany.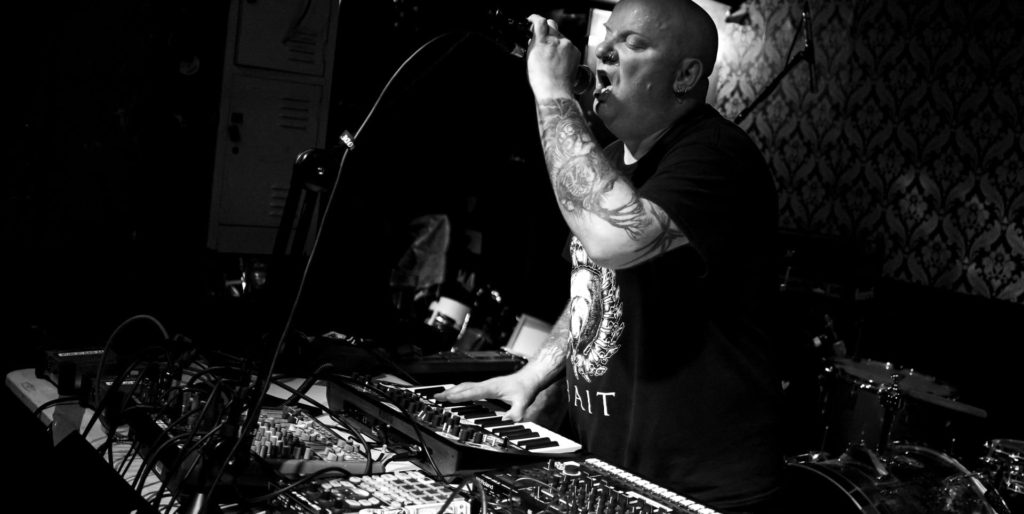 Meanwhile, the album's two video-singles 'Joy' and 'Second Life' have already garnered attention across the dark-alternative, industrial, and punk communities, with strong support from fans, DJs / radio, and critics alike.
Schkeuditzer Kreuz's European tour kicks off with three dates in England in mid-September 2023:
Thursday 14 September, Schkeuditzer Kreuz plays at The Black Bull in Gateshead, with support from local darkwave / goth outfit HOLY Braille. FB event page: here.
Friday 15 September, Schkeuditzer Kreuz play the 1 in 12 Club in Bradford, with Emissaries of Syn (grind punk, North Wales), Victim Unit (experimental noise core, Northwest England), and TCCL (spacecore punk, Leeds). FB event page: here.
Saturday 16 September, Schkeuditzer Kreuz appears as part of Noise=Noise at Telegrafiain Hackney, East London, with an eclectic array of noise, drone, musique concrète and experimental post-industrial artists including Ampersand, ADM, Henry Prince, Trytyyla, and Possession Trance. FB event page: here.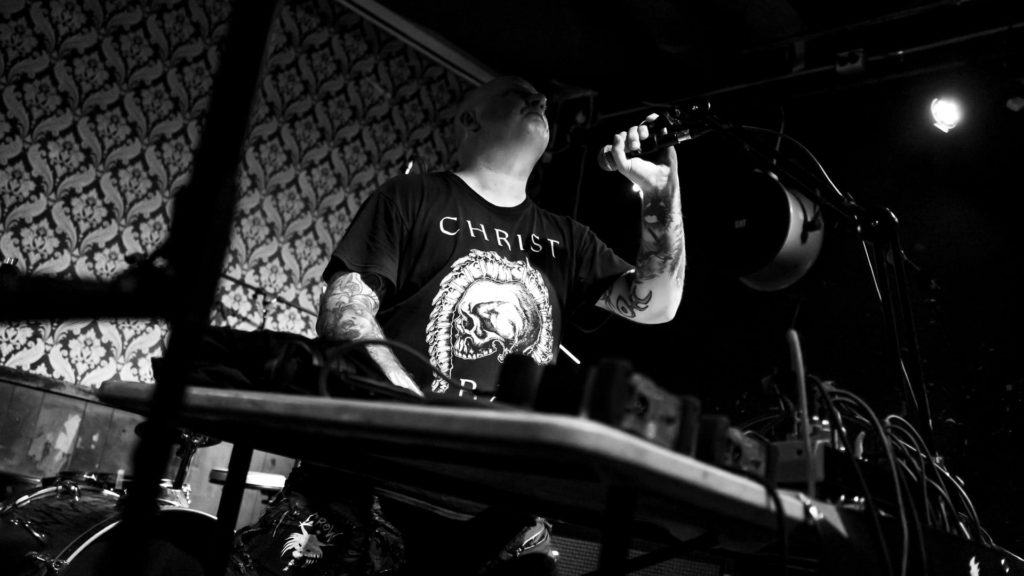 Devolution Magazine recently caught up with Kieren Hills ahead of Schkeuditzer Kreuz's upcoming UK and European shows.
Kieren, what can you tell us about your upcoming UK shows, and what are you most looking forward to about them?
"Years ago, I lived for a short time in London. I had wanted to be there since I was a young, alienated punk kid growing up miserable on the other side of the world. And then I finally managed to make it happen in about 1999, so probably about a decade or two late for what I was after. I had always imagined a place full of life and energy and the anger that drove punk rock; the elements that led to riots in Brixton in the '80s, and the poll tax riots in the '90s. England was where so much of my music came from: from CRASS, Flux, and Poison Girls to Subhumans, Amebix, and Discharge; from Doom, Extreme Noise Terror and Deviated Instinct to Asian Dub Foundation, Chumbawamba and Credit to the Nation; and from LKJ to Billy Bragg to Atila the Stockbroker; to a thousand other bands and performers that created the sounds that had moulded my brain. So much of what drove me came out of that land, and I wanted to be in amongst it.

Of course, I got there, and it wasn't a magical wonderland of creativity. It was just another place where downtrodden people make sounds to get them through and vent their anger through the noise they create. The same as where I was from, and every other place I had been. But it still felt brimming with possibilities. I fell deeply into a world of electronic music and squat parties and mess and noise, which showed me a whole different world from what I was looking for.
And then, after a series of incidents and accidents, I left. Bloodied, bruised, and mentally scarred, but planning on returning when I felt I could face it again.
And it has taken years. We are different people, living in a different world, and I am finally heading back to the UK. But this time I am bringing the noise I have created, so much of which was sparked by sounds I have heard from the UK. Back to London to play with some of the most innovative noise and industrial artists around. To Bradford, to the 1 in 12 Club: a legendary centre where a lot of the music I love has been created, played, and recorded over the years. And to Gateshead: somewhere totally new to me and therefore a perfect place to start my tour – the unknown. No expectations, no preconceived notions. Just me and my machines, making noise for those who want to hear it."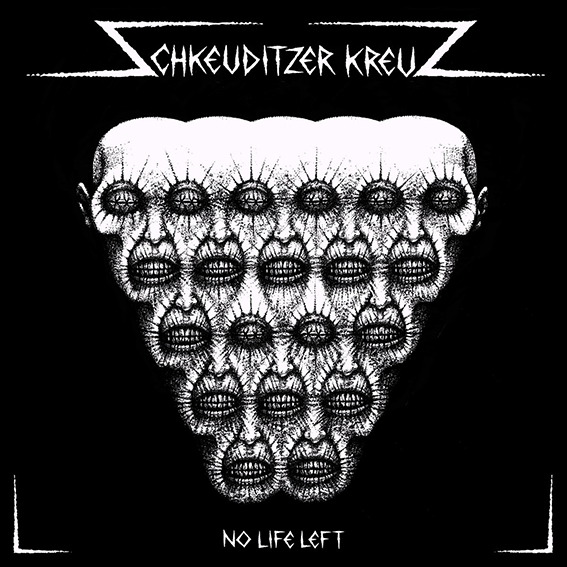 How has the creative process of your new album 'No Life Left' differed from your first album, 'Isolated and Alone'? And in what ways was it the same?
"I have learned a lot about recording since 'Isolated and Alone' – what can be done with sound, and how to make what I hear in my head come through to other people's ears. It's all still just me, playing a few different machines and bashing on random pieces of metal; but I have learned how to refine it and make it bigger and, to me, better.
The writing itself hasn't changed much. I get ideas at any time of the day or night and just work at them until they are done. I don't go in with a specific goal in mind; I work until the song is done, and then sit back and wonder where it came from."
Initial copies of Isolated and Alone were infamously destroyed by authorities in the country where it was first pressed, being deemed "unfit for export" due to allegedly "subversive content". How do you feel about finally having the physical copies of 'No Life Left' in hand, and distributed around the world, in light of the debacle with the previous record?
"Right up until I held it in my hand, I was not convinced I would ever see it. The feeling of relief when I opened a box to see these records shining up at me was almost overwhelming. I gave myself a few minutes to just drink it all in, and then started thinking about how to get them out to people."
What are you most looking forward to about sharing the new album with people?
"I want to share the energy I feel with this album: the anger and the passion and the energy I felt when I was recording, and when I play live. I want to reach in through people's ears, and into their brains, and switch the dial to SK for half an hour and see what that does for them."
What do you most want people to know about the new album before they hear it?
"It is me. Pure and simple. It is loud and abrasive and energetic and at times possibly disturbing – but that is all me."
'No Life Left' by Schkeuditzer Kreuz is out now from Bandcamp, Bad Habit Records (Australia), Sorry State Records (US), and available at all live shows.
Linktree | Bandcamp | Instagram | Facebook
EU / UK TOURDATES – SEPT-OCT 2023
14/09/23 Gateshead, UK
15/09/23 Bradford, UK
16/09/23 London, UK
19/09/23 Wiesbaden, Germany
20/09/23 TBC, Germany
21/09/23 Copenhagen, Denmark
22/09/23 Oslo, Norway
23/09/23 Stockholm, Sweden
24/09/23 TBC, Sweden
27/09/23 TBC, Germany
28/09/23 Gorzów Wielkopolski, Poland
29/09/23 Berlin, Germany
30/09/23 Leipzig, Germany
01/10/23 Eisenberg, Germany
02/10/23 Neugersdorf, Germany
04/10/23 TBC
05/10/23 Ostrava, Czech
06/10/23 Prague, Czech
07/10/23 Bratislava, Slovakia
08/10/23 Vienna, Austria
10/10/23 Serbia (location tba)
11/10/23 Serbia (location tba)
12/10/23 Croatia (location tba)
13/10/23 Moderna, Italy
14/10/23 Alessandria, Italy
15/10/23 Milano, Italy
18/10/23 Switzerland (location tba)
19/10/23 Biel, Switzerland
20/10/23 Kreuzlingen, Switzerland
21/10/23 Stuttgart, Germany