Orange Goblin Reveal Artwork For New Album 'The Wolf Bites Back & Share New Track 'Sons Of Salem'
Legendary British rock band Orange Goblin are set to release their strongest and most diverse record to date with 'The Wolf Bites Back' on 15th June via Universal/Candlelight Records. The band have also revealed the artwork for the album, alongside the turbocharged album opener 'Sons of Salem'. Vocalist Ben Ward comments:
"Sons of Salem is the first track on the album and we consider it an Orange Goblin anthem. We see this song being a staple of the live set with the singalong chorus and the awesome, catchy riff. A mean and moody intro to the album that sets the tone throughout, it's short, sweet and straight to the point. The lyrics are about the sons of the Salem witches returning from the grave to seek vengeance on the religious fools that murdered their mothers during the witch trials."
Listen now – https://orangegoblin.lnk.to/SonsOfSalem
The album artwork, created by Roland Scriver (Familiar Ink) is exactly what the band had in mind when they all agreed on the album title. Ben adds, "We wanted something dark, menacing, striking and memorable all at once and we feel that Roland has certainly delivered that. We think it has the look of an iconic cover, one that you will recognise for years to come and one that perfectly represents the music on the record. The wolf is such an amazing beast. The wolf is predatory, vicious and a merciless hunter but at the same time so determined, smart, cunning and beautiful and the portrayal of the wolf about to strike on the cover is a great representation of the way we felt when writing this album."
Recorded at Orgone Studios in rural Bedfordshire with esteemed underground guru Jaime 'Gomez' Arellano (Ghost, Grave Pleasures, Paradise Lost, Cathedral) at the controls, the new opus comes adorned with a raw but crystalline sound that has maximised Orange Goblin's extraordinary eight-legged chemistry.
Ben states, "Gomez has a very new, custom built studio in a really remote part of the English countryside so there are zero distractions and we were totally focused on the job at hand. We gave ourselves plenty of time so the vibe was relaxed and almost experimental. We were trying out new sounds and working with equipment and instruments that we may not have considered in the past. Gomez was like a fifth member of the band, constantly making useful suggestions. I think that the band's playing and songwriting on this album are the best they've ever been. It's a huge wall of sound and Gomez has recorded and mixed it perfectly."
'The Wolf Bites Back' is available to pre-order now –  https://orangegoblin.lnk.to/TheWolfBitesBack
The band have today also launched their own brand new website and webstore – www.orangegoblinofficial.com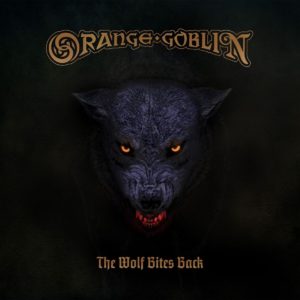 Orange Goblin are set to appear at the following festivals:
Fri 27 Apr – Impetus Festival, Lausanne, CH
Fri 04 May – Planet Club, Rome, IT
Sat 05 May – Dagda Club, Pavia (Nr.Milan), IT
Sat 16 Jun – Stone Free Festival, o2, London, UK
Sat 23 Jun – Hellfest, Clisson, FR
Sat 28 Jul – Rock Im Wald Festival, Michelau, DE
Sat 11 Aug – Alcatraz Metal Festival, Kortrijk, BE
Sat 18 Aug – Summer Breeze Festival, Dinkelsbuhl, DE
Sat 08 Sep – Summer Dying Loud Festival, Aleksandrow Lodzki, PL
Sat 20 Oct – Into The Void Festival, Leeuwarden, NL
facebook.com/orangegoblinofficial/