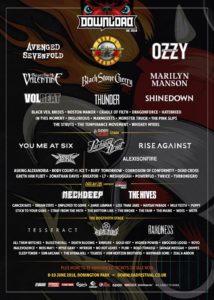 Joining Ozzy and co. at Download 2018 are the mighty Cradle Of Filth who are playing to packed venues on their current tour.  Also noteworthy additions are grunge sisters L7, noise mongers Cancer Bats and punk oiks Milk Teeth
The 65 acts announced today spans the whole spectrum of rock from the mature sludge metal of Corrosion Of Conformity to the youthful exuberance of Marmozets.  Death metal is represented by the likes of the wonderful Zeal & Ardor while more melodic rock will have The Struts in its corner.
It's great to see some emerging acts represented such as the dynamic Hyena Kill from Manchester. SHVPES who are threatening to step up into the big league any time soon, and The Struts who are reinventing glam rock for the 21st Century.
The full line up including today's 65 are:
Avenged Sevenfold / Guns N' Roses / Ozzy Osbourne
Alexisonfire / All Them Witches / Asking Alexandria / BABYMETAL / Baroness / Black Stone Cherry / Black Veil Brides / blessthefall / Body Count Ft. Ice T / Boston Manor / Bullet For My Valentine / Bury Tomorrow / Cancer Bats / Corrosion Of Conformity / Cradle Of Filth / Dead Cross / Death Blooms / DragonForce / Dream State / Emmure / Employed To Serve / Gold Key / Greta Van Fleet / Hatebreed / Higher Power / In This Moment / Inglorious / Jamie Lenman / Jonathan Davis / Knocked Loose / Koyo / Kreator / L7 / Less Than Jake / Malevolence / Marilyn Manson / Marmozets / Mayday Parade / Meshuggah / Milk Teeth / Miss May I / Monster Truck / Myke Gray / Myrkur / Neck Deep / No Hot Ashes / Parkway Drive / Plini / Powerflo / Puppy / Rise Against / Rolo Tomassi / Savage Messiah / Shinedown / SHVPES / Sleep Token / Stick To Your Guns / Stray From The Path / Sun Arcana / TesseracT / The Bottom Line / The Bronx / The Faim / The Hives / The Hyena Kill / The Maine / The Pink Slips / The Struts / The Temperance Movement / Thrice / Thunder / Thy Art Is Murder / Tigress / Turbonegro / Volbeat / Von Hertzen Brothers / Wayward Sons / Whiskey Myers / Woes / WSTR / You Me At Six / Zeal & Ardor
Download festival ticket link here