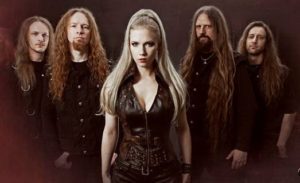 Following the departure of founder member Liv Kristine many may have thought Leaves Eyes would struggle to move forward but new singer Elina Siirala has slotted in seamlessly.  Her vocals on new album Sign Of The Dragonhead has won her many plaudits.  Gary Trueman spoke to Elina and songwriter and keyboardist Alexander Krull about  symphonic metal's origins, vocal coaching and Freddie Mercury.
Elina
You joined Leaves Eyes a year or so ago but what about EnkElination?  Are you still with them too?  What's the biggest difference in terms of vocals between the two bands?
"I haven't left my own band EnkElination, I have just released a new album with them.  I think I'm probably using a lot of my classical range with Leaves Eyes because the music is a lot more symphonic and the range of the melodies is a lot higher.  That's the biggest difference."
Sign Of The Dragonhead is the first album you've appeared on for Leaves Eyes.  Did you have any input in the writing?
"I wasn't involved in the musical writing side.  I was there to see that the keys would suit my voice but it was the same writing team as always."
You're also a vocal coach?
"Yes, I do teach.  It's difficult when I'm travelling but I do have some students and they're lovely and I do love teaching as well."
Do you sing them snippets of your own songs as examples?
"Yes I do.  I sing and then I explain.  I'm also very hands on.  It sounds a bit weird but I need to touch the students to show them the breathing and how they should be feeling when they breathe."
Do you ever watch another professional singer and see them getting it wrong?
"It's the curse of being a musician that you always have this little bit of an analysis going on.  Sometimes I can feel, even if I hear it on the radio, if something is constricting.  I definitely do that and it can be a little bit annoying."
Which singer do you most admire for their technique?
"Well, one of my biggest heroes was Freddie Mercury of Queen but he actually didn't have the best technique at all.  But his voice and his presence and his expression was something so unique that it doesn't have to be technically perfect.  There are so many singers I like but I will always mention Freddie."
You must be really excited for Sign Of The Dragonhead to come out?
"Of course.  It's been a long process so it's exciting to finally have it coming out."
How have the old Leaves Eyes fans reacted to you coming in?
"I've had an amazing response from the fans, some of them didn't know about me when we went on tour.  It's amazing, I've had really good feedback so far."
So you're from Finland but live in London.  Do you ever get the opportunity to speak Finnish at all?
"The only time I really get to is when I'm on the phone to my mum."
Did you speak English before you moved over?
"Yes.  In Finland we have to learn other languages because no one speaks Finnish.  But coming here and living here is the best way to really learn a language."
Do you ever visit home?  Does any of your family visit you?
"Not so much but at Christmas I'm going home and my mum visits me in London which is nice.  My Brother lives in Munich so we're a bit all over the world.  I miss them sometimes.  When my mum visits it's all about food and drinks.  I love sushi so we tend to go for that at least once, but any good food really, Italian too.  there's one in Broadway which is really nice.
Alex
Are you looking forward to coming back to the UK at some point?
"Yes, we're looking forward to playing the new material.  When we were in the studio we were thinking wow this rocks and it's an album with the most catchy songs ever and the biggest production.  We can't wait.
Are you looking to play any festivals in the UK?
"That was something we've just been discussing, it would be awesome.  We would always be up for playing Download for example.  It can be tricky getting into the festivals because a lot of bands want to play them.  We are ready guys, book us!"
Are the fans differently behaved depending on where you play?
"That's the thing about heavy metal, fuck the boundaries and politics.  Of course you find different reactions sometimes where people will express different emotions but the passion for metal is a global scene.  It's one metal family.  It's like we unite people. It's important that you can have a place where you're safe and you can go with other like minded people and be together with them."
We've spoken to Elina and she has said Freddie Mercury is the singer she likes the most even though he may not have had the best technique, so who has  influenced you most?
"Two bands really. Deep Purple is the first.  When I was a six year old kid and I heard them being played on the radio.  That was the introduction for me to hard rock music.  Ian Gillan was an amazing singer, and Richie Blackmore was out of this world.  Other bands such as Rainbow and Whitesnake too.  I was inspired to do that myself one day although when I did it was much more extreme with Atrocity.  The other band is Pink Floyd because of the way they opened doors and pushed boundaries."
I guess when Atrocity teamed up with Liv Kristine ( Leaves Eyes original vocalist) you must have been one of the first bands to do that style of music?
"Yeah, I think that's true.  We were a pioneering band with the technical side of the music and bringing in classical influences, having the symphonic elements."
If you could pick a band still around today to play with Leaves Eyes who would you pick?
"That's a hard question.  I've always wanted to do something with Laibach combining with our metal sound.  I'd love to do that."
Interview by: Gary Trueman