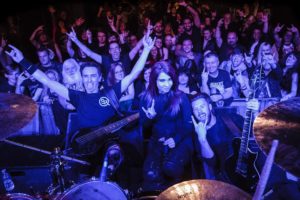 Santa Cruz and Skarlett Riot
Rescue Rooms, Nottingham – 5/12/17
Just outside of Nottingham's Rock City and part of the same complex is the Rescue Rooms, a small club-bar venue that has made quite a name for itself since its gig debut in 2003. The small and somewhat unassuming size of the club area of the Red Room didn't diminish the edgy and alternative energy, and in fact could have been one of the main reasons for the gig to be as much as a success as it was.
Opening are Skarlett Riot, demonstrating their new heavier sound. Considering you'd assume most of the audience had gathered for Santa Cruz, the crowd that quickly developed at the front of the stage was highly impressive and a sign of how much more popular the band will surely become once this tour is over.  Skarlett Riot's performance is nothing short of incredible with Skarlett using her excellent stage presence and strong, clean vocals to excite the audience into a frenzy. The brief conversations she had with the crowd as a whole helps bring the set together in a relaxed, interactive way. It seems as though Skarlett Riot have finally settled into their skin, and are enjoying  their new sound just as much as their fans.
The main act of the night is Finnish glam metal band, Santa Cruz who started their set by calling the audience "mother fuckers", maybe it was this old school approach that inspired a five person mosh pit towards the middle of their set. Before Santa Cruz had even started, your attention is drawn to the huge double bass drum kit sitting nonchalantly centre stage. Attempting to play these kits these days with the tuning issues is almost a lost art.   Any rock lover can't help but be seduced by this kind of equipment. However not all is as it seems, the extra bass was apparently "just for show", dulling the act's authenticity by, sadly, quite a bit. Aside from this, the set was filled with contagious energy and a nice balance between glam rock and acoustic songs. It wouldn't be surprising if die-hard fans followed them to Germany for the next leg of this tour after the UK to experience the same level of performance again.
Although the bands are quite a contrast to one another with Skarlett Riot's new take on rock and Santa Cruz's nostalgic style, they have created a harmonious gig partnership that both intrigues and captivates the audience. There is no doubt that as this tour moves across the country and eventually to Germany, it will impress more and more people.
Review by: Olivia Tansley
Photos by: Gary Trueman