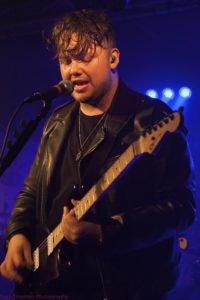 London metal trailblazers Brutai are on a roll right now.  They recently got nominated as best new band at the Golden God awards, they played a prestigious slot at Download festival and more recently got asked to tour with Canadian legends Kobra And The Lotus.  Gary Trueman chatted to affable frontman Felix Lawrie about the future for Brutai, losing small venues and why Mike Patton is the answer.
We had a quick chat at Download, so what have you been up to since then?
"Straight after Download we went to the Golden God awards where we were nominated for best new band which was out of this world.  We got shortlisted in the top three for best new but unfortunately lost to Venom Prison but they're more than worthy winners.  Just to be nominated is a bit ridiculous as we've only done one album.  After that we took a little breather and got back to our normal lives for a little while.  Then we got the bug to start writing some new music.  And rehearsing for this tour with Kobra And The Lotus too."
That's a pretty good tour to get on isn't it?
"We were very fortunate to be asked to come on as special guests and we bit our booking agent's hand off as soon as it was offered to us. We are quite different in our styles of metal but I think we also compliment each other.  We do get billed with the same sort of bands so we kinda want to branch out a bit and play to different types of metal audiences."
Do you think audiences these days are more accepting and have a wider range of taste than a few years ago?
"I'd probably say yes and no.  I think generally they are more open but you do still get your elitists sometimes but they tend to be more online really.  You do see keyboard warriors now and then.  I think because our music is quitter diverse that if people come to us with an open mind there will be something they will be satisfied by."
You do get that nit-picking keyboard warrior in any genre though don't you?
"Yeah it's all part of it.  You just have to take it on the chin and don't retaliate."
So what have you got in store for 2018?
"Writing mainly, and making plans for a new record.  We're keen to do our own headline run because we haven't done that yet.  A headline tour and play a long set which would be great.  We have loads of ideas writing wise we just need to knuckle down and finish them."
It's nearing that festive time of year so what's on your Christmas list, apart from socks?
"I actually probably do need some socks.  That and a holiday anywhere would be nice.  Maybe some more guitar picks."
We're losing a lot of small venues at the moment.  We've heard recently that the Unicorn in London is the latest to shut.  What's your view on that?
"It's tragic.  Not a lot of people are going out as much as they could to support smaller acts in smaller venues.  Even some of the bigger ones are going.  The one that springs to mind is the London Astoria.  When that closed down that really hit home because every band that I listened to would play there.  The Intrepid Fox, an amazing metal bar, that got closed down.  I'm not sure what can be done about it other than telling people to go out and support live music.  What else can be done? All we can do is support as much as we can."
Obviously we do still have a few left.  Do you go out when you're not playing and check out other bands?
"I try to go to as many gigs as possible, both smaller and bigger bands.  Last one I went to was Arcane Roots at the Boiler Room in Guilford.  One band that have taken me by surprise and have just released some new material are Core Of Io, I think they're genius."
So who inspired you to play music?  Who is your icon?
"Dave Mustaine.  My first guitar was a Dave Mustaine signature flying V.  When I wqas a teenager I would try and learn as many Megadeth songs as possible.  I could just about play Dave Mustaine's solos but not Marty Friedman's.  Megadeth are the reason I am in a band."
In your opinion which is the best Megadeth album?
"Rust In Peace, a thousand per cent.  There's never a question.  When I heard Holy Wars I thought it was the coolest thing I had ever heard in my life."
Apart from any member of Megadeth who would you most like to share a stage with?
"Ooh,  Mike Patton.  He could probably not know what kind of band we are, you could invite him on stage with any band that has ever existed and he would do a bloody good job.  Mike Patton is the right answer."
Interview by: Gary Trueman