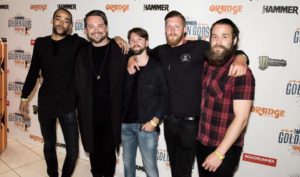 Brutai are one of a number of up and coming young bands who have taken metal as a base and added their own flavour to it, in this case a garnish of pop.  That fusion is something that we see a lot of these days.  GaryTrueman spoke to Guitarist and vocalist Felix about the band's new album, playing Download for the first time and which band made him pick up a guitar.
Where are the band from?
"The majority of us are based in the south east, our bass player is from Reading and our drummer is originally from France but lives in London right now/"
First Download?
"First Download as an artist.  We've been many times as fans.  As teenagers growing up, so having the chance to come and play it is a bit mad.  I'm still pinching myself.  It hasn't sunk in. "
Bit of an eye opener seeing it from the other side?
"I've kinda been around the press area before but to be here because my band are playing is a bit of an eye opener really. "
The festival obviously has a lot of history and you said you've been as a fan.  Memorable times?
"Yeah.  I remember coming years ago when Metallica were headlining and Lars was sick.  The had Joey Jordison from Slipknot fill in, and Dave Lombardo from Slayer.  I remember thinking it was strange to see something like that.  It's still regarded to this day as a one off performance because Lars is Metallica."
Any thoughts on how music has come together since the tragedy at Manchester and how Ariane Grande handled what happened?
"I thought she conducted herself really well.  You've got to remember she's almost just a kid herself."
You got a Golden Gods nomination.
"It's crazy, a pinnacle of the band's early career.  In two days we've got our Download performance and then we're up for best new band at the Golden Gods. "
You've got an album out called 'Born'.  Quite an apt title?
"A bit of a cliché but very apt for where the band are at the moment.  Before that we had a EP but we weren't very much a band at that time, more of a studio project.  Now we're five members all individually and collectively as a band so we now feel this is the best and so we are born so to speak."
Is the writing process a team effort?
"With lyrics it's headed towards myself and Alex as we're the two singers in the band.  In terms of music it's more of a collective effort.  You have someone like a team leader who will head the song but we all come up with the structures and collectively make them into songs.  It's starts off with an idea from a member but the band collectively make it a song."
You're metal with a twist.  Does that make choosing music in the tour bus interesting?
"We all have our own individual tastes but we try not to be too snobby towards one another if someone wants to listen to jazz say.  I wouldn't be opposed to that.  We're not elitist or anything like that."
Do you think the lines are blurring in music these days?
"Yeah, people are more open to people expressing their artistic views.  It's all subjective. "
If you could resurrect one musician from the past who would it be and why?
"I'd probably say Dimebag Darrel just because he's a big influence on me as a musician.  I think he just seemed like the coolest guy in the world.  He liked to party, I like to party a little bit.  He'd be a guy I'd like to resurrect to play a show with and to hang with.  I remember being really hurt when he was murdered.  That really affected me.  I was young at the time and it felt like I already knew him."
Did you ever see Pantera?
"I didn't but I did see Damage Plan…..at Download actually.  Pantera were just breaking up when I was getting into metal. "
What's the one band you'd love to see at Download 2018?
"I'd love to see Megadeth.  As I mentioned Pantera were a big influence on me growing up but Megadeth are the reason I play guitar."
Brutai have been announced as support to Kobra And The Lotus for their tour in November.