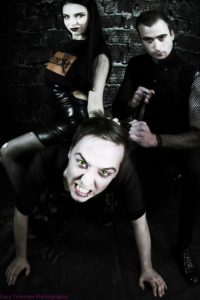 Northamton might not seem the obvious place to look if you want to find great industrial metal but the town has spawned a band that Devolution just had to investigate.  Fleisch are a three piece heavily influenced by the daddy of them all Rammstein.  That doesn't mean they are copy cats though.  Gary Trueman Spoke to Jonny, Rosie and Connal about their sound, fetish oriented stage attire and Elvis Presley.
People are obviously going to compare you to a mini Rammstein.  Are you big fans of the band?
Jonny: "Yeah, massively.  Even though we're called a Rammstein/Nine Inch nails crossover here in the UK, we went to Germany there was no reference at all.  We got Green Day in Germany.  Haha. "
Maybe that's because you're a three piece.  Do you think it might be because Germany has so many Rammstein like bands that they get used to it?
Connal: "Yeah that's exactly what it is.  There's nothing like that here in the UK."
One album out, are we getting any closer to a second album?
Jonny:  "The songs are written.  We need to record vocals now.  We're hoping to finish it for Christmas now so it'll be out in the new year I guess, after all the publishing."
Connal: "After all the boring stuff is done.  We are starting to play some of the new songs live.  Hopefully that'll give people a taster of what's coming along."
Jonny:  "It's more Fleisch now"
Rosie:  "It's a bit more dancey.  But we do have a secret album."
Tell us about the secret album.
Rosie: "We have an album that's not online anywhere but we did sell about fifty copies so some lucky people out there have the secret album."
Jonny: "This album, the first album, which isn't the first album.  It was an album to learn how to use recording equipment and for writing songs.  There's a lot of Rammstein influence which I thought if this is released professionally we would look like an identical Rammstein.  We'd get sued.  The last album Mine was moving on from that and that's what we considered to be our first album.  A few of the songs on the first secret album are being changed and rebuilt to accommodate our new sound and will be on the new album."
So you've taken stuff that was a lot like Rammstein and made it a bit more like how Fleisch is now?
Jonny: " Yeah, we've used tiny bits of old songs and just completely cut out riffs and changed the riffs, and even lyrics.  It's the structure of the songs too, making them a bit more fun to listen to."
Rosie: "We have grown a lot as a band over the last two years with touring and stuff.  Now we've got our own individual sound.  Whereas before it was Jonny's solo project now it's a band."
Do you think as you've grown individually as musicians and as a band you've found it easier to know what you want?
Jonny: "We do use a lot of samples and stuff because we don't have a keyboard player.  Writing new songs in a rehearsal room can be a bit difficult.  What we try to do is play a bit of something then I'll go away and work on that song.  Then I'll come back and show it to the others and if they like it they like it and if they don't,  they don't.  We can still change it right there and then and if we don't like it we can just write a new song."
Connal: "But I have to tell the truth, Jonny cannot write lyrics.  He spends hours and hours and days writing songs and they sound amazing and then he puts the worst lyrics in the world to them so now me and Rosie are a lot more involved in writing lyrics."
Jonny:  "I hate writing them.  I love writing melodies.  I love writing music but lyrics, I'm like that'll do."
Rosie: "I'm always the biggest critic.  I'll speak my mind and say Jonathan that's shit and we need to change it.  And we do."
Connal: " The band had already started gigging with their previous drummer so when I came into the fold I felt as though I was a session musician playing songs I'd had no input on.  I was holding myself back because I have a certain way I like to play the drums.  I really beat the shit out of them.  That wasn't what was called for but as we've worked on the album 'Mine' and the new one I've had a lot more influence so we've become a band as opposed to Jonathon's solo project with Rosie's beautiful face and me."
Jonny:  "I was worried about having a drummer because I was scared of the sound changing.  Since having Connal and him putting his own bits into it it's good.  It's good we got him when we did because our last drummer left the day after recording a video due to religious reasons which we won't go into."
Connal: "We're all going to hell."
Rosie:  "Personally the drum machine was easier to deal with.  Haha."
You mentioned Rosie's "beautiful face".  Rosie, You model as well.  Do you find some of the attention you get while playing with the band is for the wrong reason?  Is it a bit of a double edged sword where any attention for the band is still great?
Rosie:  "Well Jonathan taught me how to play bass.  I didn't have much musical experience before then.  I think I've grown a lot as a musician now and I'm more able.  I think to start with people just saw me as someone in the band to look at but now I think people respect me a lot more as a musician.  What I wear is my own individual style and it's something that helps especially with the modelling, it's given me a platform to promote the band. "
Has what you wear onstage changed as you've grown as a musician and as the band has progressed?
Rosie: "Yeah I think it helps with the whole style of the band.  We've gone a bit fetishy which is interesting. "
Jonny:  "I think when you start out and you're a bit younger you know what you want to achieve as a style but you can find it a bit difficult especially playing smaller venues.  Playing a pub and arriving in full fetish gear for instance.  But now as we're growing as a band and growing more comfortable with that we are looking at our image more seriously."
You do still see a lot of bands walk onto a stage in the same clothes they've been wearing all day.  If you're going to put a show on do you think it's important to project an image that fits the style of music you play?
Jonny:  "We want it to be a show.  We want to put on the best show we can. Now we have lighting and effects it's getting more to a schedule.  Like the whole improvisation thing, there won't be as much room to do that.  Because we play to a click that song is always going to end at the same time."
Connal:  "Some people might find that restraining but I've found our musicianship has improved.  That sample pad isn't going to go out of beat or out of time.  It is very industrial, that rhythm that's set in stone.  We aren't going to go into a rehearsal room and settle for anything less than perfection.  If it's not perfect people aren't going to hear it live."
Jonny:  "We take a long time to get a song right, to get the lights right for it.  It's all flowing better now.  People say that although we play to a click we don't look like we are, it looks like we're having fun which is good."
You touched on the move towards a slightly fetish look.  It's interesting that you see a lot of crossover between alternative music fashion styles and the fetish community.  Do you think it's a case of like minded minority groups being drawn together?
Rosie: " I think so.  I think the fetish scene has become a lot more mainstream so it's considered more acceptable to see us dressed in latex and wearing collars.  There is still a shock factor but people aren't as offended by it any more.  I think it's good to get it in the open."
That could be said for society in general with general acceptance of say dreads, brightly coloured hair and tattoos.
Jonny:  "Just because you wear latex doesn't mean you're going to be into really kinky stuff."
So any guilt secrets lurking in the collective Fleisch music collection?
Rosie:  "I love Lady Gaga and recently I've been listening to a lot of the Clubland albums when I've been getting ready."
Jonny:  "I like a big range of music but growing up and love Rammstein but I did love and still love Status Quo.  It's so old school but…."
Connal:  "Well we tend to start every gig while we're en route singing along to Elvis Presley.  We have Elvis in the van and for an industrial metal band people might find that a bit strange."
Jonny:  "Sometimes when we turn up to a gig and we're in our normal clothes with our sandwiches in the van people are like you're not what we expected then we go on stage all dressed up but we've had a little picnic outside."
Connal:  "I do play in a function band and really enjoy playing songs like Mustang Sally and Good Times by Chic and everyone's favourite, Love Shack."
So which band would each of you love to see Fleisch on the bill with….other than Rammstein.
Jonny:  "Nine Inch Nails it's got to be."
Connal: " I'd like to get the Eurythmics back and play with them. Wouldn't that be a great show?"
Rosie:  "I'd like to travel back in time and play with 90's Manson, that would be my ideal.  I still like him but his sound has changed so he's not as industrial as he was."
Interview by: Gary Trueman