Have you ever wondered where that really cool picture of a band was taken? Or where alternative clothing companies get those amazing shots of their gear being modelled? Chances are quite a few of them were taken at London's Murder Mile Studios. Run by husband and wife team Amber and Adrian Erlandson this is no ordinary photographic studio and this is no ordinary couple. For one thing Amber is a model herself specialising in fetish wear so she knows a thing or two about what's needed by photographers to get the perfect shot. And Adrian? Well he's the drummer for Paradise Lost, The Haunted and Nemhain so no shock that bands and music magazines flock to the pair for shoots. Murder Mile has a reputation as one of the best, and most beautiful studios around with a real eye for detail. Gary Trueman sauntered down to north London for a chat with Amber about all the hard work it's taken to get the studio where it is today, what Murder Mile offers that other studios don't and where a bucket of chocolate and custard sauce ended up.
You started Murder Mile in 2009 and you've come an awfully long way since then. It must have been a lot of hard work.
Yeah, it has been quite a lot of work but all good. It's been a great project and it's good to see the visions you've had in your head being made flesh so to speak. It started off being a little flat in Stoke Newington and now it's a massive warehouse in Clapton. It was a builders merchants originally so it looked nothing like it does today. It was full of pipes and paint tins. It's great to see it come this far but now it's a case of taking it further and creating as much as possible within the space.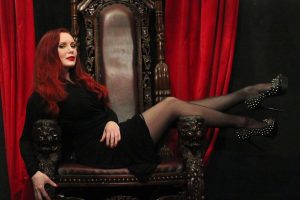 It must be the most beautiful industrial unit in London?
Thank you, I hope so. It's a case of trying not to get complacent and trying to change things. There are certain things that have to stay. The dungeon will always be a dungeon. You have to get creative and think how you can change something but keep it the same, make it fresh. You need to keep ahead of yourself the whole time.
So as a photographic studio, film studio or even when you host parties your repeat customers are going to want to see new stuff which means you're constantly updating everything?
The parties kind of might want things to stay the same. It depends for photography and filming. If they came for the jail cell and it was gone that would be a problem. You have to be able to change sets and come up with new ideas but still keep the basic layout. We've come up with a new idea with backgrounds that live on boards which aren't too thick so we can store them. We'd need a decent amount of them without losing space so it's a case of constantly trying to balance things to keep people happy.
Where do you get your ideas from? Who's the creative one? You do this with your husband Adrian so who does what in the business?
Usually I'll come up with the ideas and Adrian tends to build stuff. He's come up with some really cool ideas himself but the usual dynamic is that I come up with the ideas and he does the building although I do the wallpapering. He hates wallpapering. I do the fiddly bits like the bits around door frames, I like attention to detail, I'm quite into that. He hates it. It works out well although there have been a few heated discussions at times.
That's the red head coming out in you?
I think so. It's called the ginger rage. It's all good fun though and at the end of the day we always get to where we want to be.
What about influences? What has inspired you to create such a fantastic studio?
When I was growing up I was really obsessed by haunted houses, gothic buildings etc . I had an adventure book called 'House of hell' where you throw a dice and end up in different rooms and experience different fates. There was also the house from Adams family, Amityville horror, oh and Anton Lavey's Black House, the list goes on. I remember watching super girl as a child and the villains lived in a ghost train! That really stuck with me at the time. Later when I was a bit older I was really influenced by films like Sid and Nancy and personal services which both featured Dominatrixes and the idea to create a dungeon, film, photographic location but with a difference was spawned.
Where do you source your props from? You have an amazing throne and some beautiful chairs and chaise longue.
I've been doing this for a long time now and I'm really into furniture and weird looking objects. It's been a combination of looking in second hand shops, word of mouth, friends have offered me things and then bits of it have been on EBay. With EBay there's always that thrill of waiting until the last minute to bid on it to get it at a decent price. The whole bargain side appeals to me too!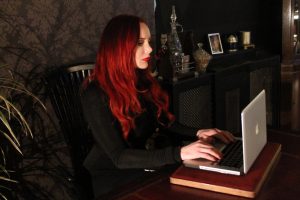 You provide a complete service where you can provide hair and make up artists, photographers and models.
Yes, we provide all of those services. We do have people come to us and Adrian will take the pictures and I do the editing and retouching if needed. I also do make up myself and hair. We've had a private couple and she was his mistress and he wanted to treat her to a photoshoot. They came over from Europe and we had a great shoot, she was fantastic. It's amazing watching people. She just came alive in front of the camera. I know that sounds like a cliché but it was great to see. Most of the time I help to direct people but this woman needed no direction, she was amazing.
Obviously you're a business and the place looks amazing. Do you get people that'll turn up and take you for granted a little bit and forget that you're in this to make a living?
You do get people trying it on for discounts and stuff. If someone's a student or something then I'm happy to help if they have a good case. We can't give stuff away for free. WI do point out to people that we have really high costs here, running costs, business rates, bills, all sorts.
You featured on Channel 4 not that long ago. Did that boost the business side of things at all?
I'm a dominatrix as well and we had quite a few submissives contact me after that wanting to come and be punished and put on the wheel of misfortune. I'm not sure if we had any more shoots though. We might have done. Around the time quite a lot of people contacted me personally about it. It was an interesting thing to do, to see how other people work and set all the lights out for the filming. I'm always interested in how lighting is set up and how other people operate.
Dominatrix and Domina. Are they the same thing or is there a difference?
Some people may beg to differ but in my opinion no. I think they're just different names for the same thing. Some people if they want to get really anal might say this is slightly different to that but as far as I'm aware it's the same thing.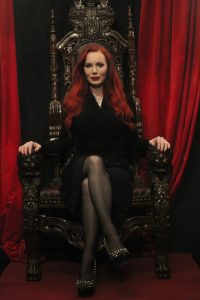 You're also a fetish model too. Do you think it's helped you as a model to see the business side from the perspective of the studio and photographer and visa versa?
One thing it has made me realise is how sorry I feel for photographers when their models don't show up. It's terrible. Being on the studio side of it and the photographer has paid for the studio and arrive for the shoot and then it might happen that their model doesn't show up. It shows how important it is that everyone is reliable. Fair enough if you have a really good excuse but seeing that happen is really terrible. It's interesting to see how everything works, to be involved in the studio and the modelling, the photography and the retouching. It's interesting, you get an appreciation for all aspects of it.
You must have seen some amazing sights here over the years. Is there anything that sticks in your mind as being particularly odd or funny?
I have a memory of someone lying on the floor. The whole room had to be covered in bin bags whilst he lay on the floor and I had a bucket of chocolate and custard sauce that got dumped on him. That was pretty much it but my god!, I left him to dispose of everything afterwards and he must have had to scoop it all up back into the bucket and pour it down the toilet and flush it away. It took him quite a long time to clean up. There was still bits of custard in the bathroom.
Haha, amazing! What about photoshoots?
There was a shoot I was involved in. It was Ester Sigarra for Metal Hammer and it was with Nergul from Behemoth. She made this pentagram to go on the floor and she had tons of candles. Her attention to detail was incredible. There were cloaked figures in the background. I'm really into occult imagery, particularly 1970's style Dennis Wheatley and Christopher Lee Hammer Films, the kind of stuff Ghost is doing now but way before that. The way that she conducted that shoot was amazing. One of my best friends is a magician and she has this magic book where you open it and it's on fire. I had this prop at the time and I lent it to them for the shoot. Ester was amazing and the shoot looked incredible. Another time Metal Hammer came in and used the main studio and the whole thing was basically on fire. We had the singer from Watain in front of it and even in the office you could smell the flames and fire. It was the most flames we've had in the building, but safely done. Also with Watain they brought lots of carcasses and real blood. They cleaned up as best as they could but it still stunk afterwards.
Have you ever seen a cool photo and thought "hey that was taken at Murder Mile"?
Yes. We change some walls quite a lot and we'd painted a wall green but it wasn't quite the right colour. We thought it looked awful. This guy came in and didn't look too impressed but did the shoot and we changed it a few weeks later. When we saw the pictures they looked amazing and he was really pleased with them.
What about the future? Presumably Murder Mile is going to be staying put now you're established?
Maybe for the next few years because we renew the lease every few years, so we'll see what the landlord has to say. We just want tom keep on improving it. We're going to be opening another room as well. We have three rooms that no one usually gets to see. One is our rehearsal space when we rehearse with Nemhain. It's going to keep the drum kit and the rehearsal capacity but some other stuff will move. It's just a case of keep on improving on what we have."
Murder Mile studios can be contacted for bookings at murdermilestudios@gmail.com
and have a website at murdermile.com
All Images C/O Gary Trueman Photography
https://www.facebook.com/gtruemanBYHO/