L.A. GUNS  Release New Single 'Well Oiled Machine'
LISTEN to 'Well Oiled Machine' HERE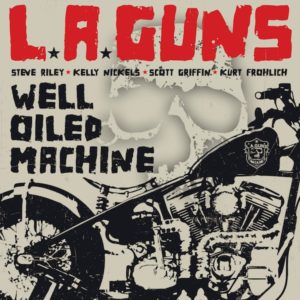 Following on from the release of their single 'Crawl' back in April, which clocked up well over 100,000 streams on Spotify within weeks, L.A. GUNS have dropped their next track 'Well Oiled Machine', through Golden Robot Records.
Also lifted from their forthcoming album, Renegades (slated for release later this year), 'Well Oiled Machine' sees L.A. GUNS as just that; a well-oiled machine that is fuelled by high octane rock 'n' roll. Whilst their classic L.A. rock sound remains, the band have upped the ante here adding a little more polish. Sonically, 'Well Oiled Machine' easily drops into today's rock market.
L.A. GUNS are heavily plugged into their loyal fan base, but now we are seeing material that will open the doors to a whole new group of fans!
WATCH L.A. Guns behind the scenes video on the making of 'Crawl'
[youtube width="800″ height="600″ video_id="jOwPekpYuI4″]
Stream/buy 'Well Oiled Machine' HERE
ABOUT L.A. GUNS
If there was a band synonymous with the infamous Sunset Strip it is L.A. GUNS. Born into a scene that will never be replicated, L.A. GUNS rode alongside Motley Crue, Guns n' Roses, Ratt, Poison, Quiet Riot and co. in one of the biggest movements in music history. L.A. GUNS are without a doubt Hollywood rock royalty.
The band was formed in 1986 and signed with Polygram Records in 1987, recording their first album that summer. This first album, titled L.A. Guns, went on to sell over 1,000,000 copies giving the band its first platinum award. Tours with AC/DC, Iron Maiden and Def Leppard followed. A compilation of the videos made from this first album also earned the band a gold video award. L.A. Guns went into the studio to record their second album, Cocked and Loaded, in the spring of 1989. It was a hit right away with the release of "Rip and Tear" as the first single and video. "Never Enough" and "The Ballad of Jayne" followed, pushing the album toward platinum status once again. The video compilation from this album earned the band its second gold video award.
A successful world tour followed. The band's third album, Hollywood Vampires, was recorded in the fall of 1990. With the release of "Kiss My Love Goodbye" as the first single and video, and another successful world tour, the album gave L.A. GUNS its third platinum album in a row.