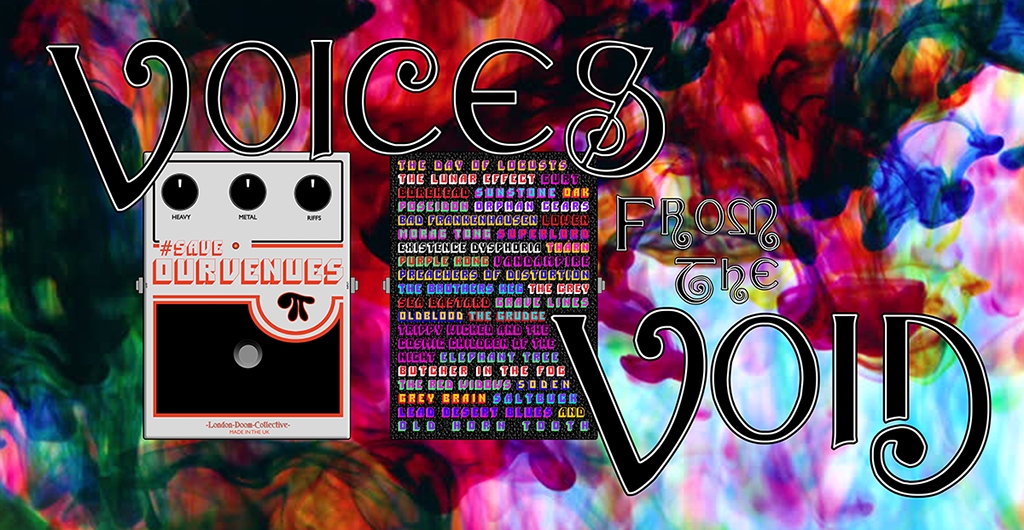 London Doom Collective Presents…. "Voices From The Void"
A charity Doom/Stoner/Sludge compilation with 100% of proceeds going to the Music Venues Trust. #saveourvenues
Released June 5th ~ 32 bands for a £4 donation.
"There are so many fantastic music communities coming together to do everything they can to Save Our Venues. Music Venue Trust is incredibly grateful to the London Doom Collective for bringing together this excellent compilation; every penny raised in profit will go directly to prevent a music venue the fans love from being permanently closed down." – Mark Davyd, CEO Music Venue Trust
"Voices from the Void" is a charity compilation showcasing some of the best bands from the London Doom/Stoner/Sludge scene. It brings together heavy hitters Elephant Tree, sludge stalwarts Gurt and monstrous gloom purveyors Grave Lines with a whole host of established and up and coming talent. All on one 32 track behemoth of music.
Put together by London based musicians group, London Doom Collective, the album features a mix of previously unreleased tracks, recently released singles and some old favourites, all kindly donated to the cause by the bands and their record labels. There is something for everyone from the most avid collector to the totally uninitiated, and well worth the suggested donation of £4. The compilation will be available for purchase on June 5th via the London Doom Collective Bandcamp page.
The idea of the compilation was to bring together some of the best London based Doom/Stoner/Sludge bands to raise money for the Music Venues Trust campaign #saveourvenues. Grassroots venues across London and the surrounding areas are facing full closure after the country went into lockdown due to the current Covid-19 crisis. Some of them, without financial help, will NEVER reopen again. It is vitally important for the London music scene that these venues are able to stay open, not just for the metal community, but for all aspiring musicians in London. It was for this reason that LDC originators, doom band "Old Horn Tooth", decided to try and do something to help, and the concept of the compilation release was born. It has been a collaboration in the true sense of the word. Using the contacts and experience of every member of the Collective, a mighty playlist was put together featuring amazing artists from London, and a few friends from a little further out who were only happy to help out. The release date of June 5th coincides with the date that the BandCamp platform will be waiving their fees. It is hope that everyone who is interested in helping to save the best music scene in the world will use that day to buy a copy. Every single penny of the price will go to the MVT campaign.
PURCHASE YOUR COPY FROM