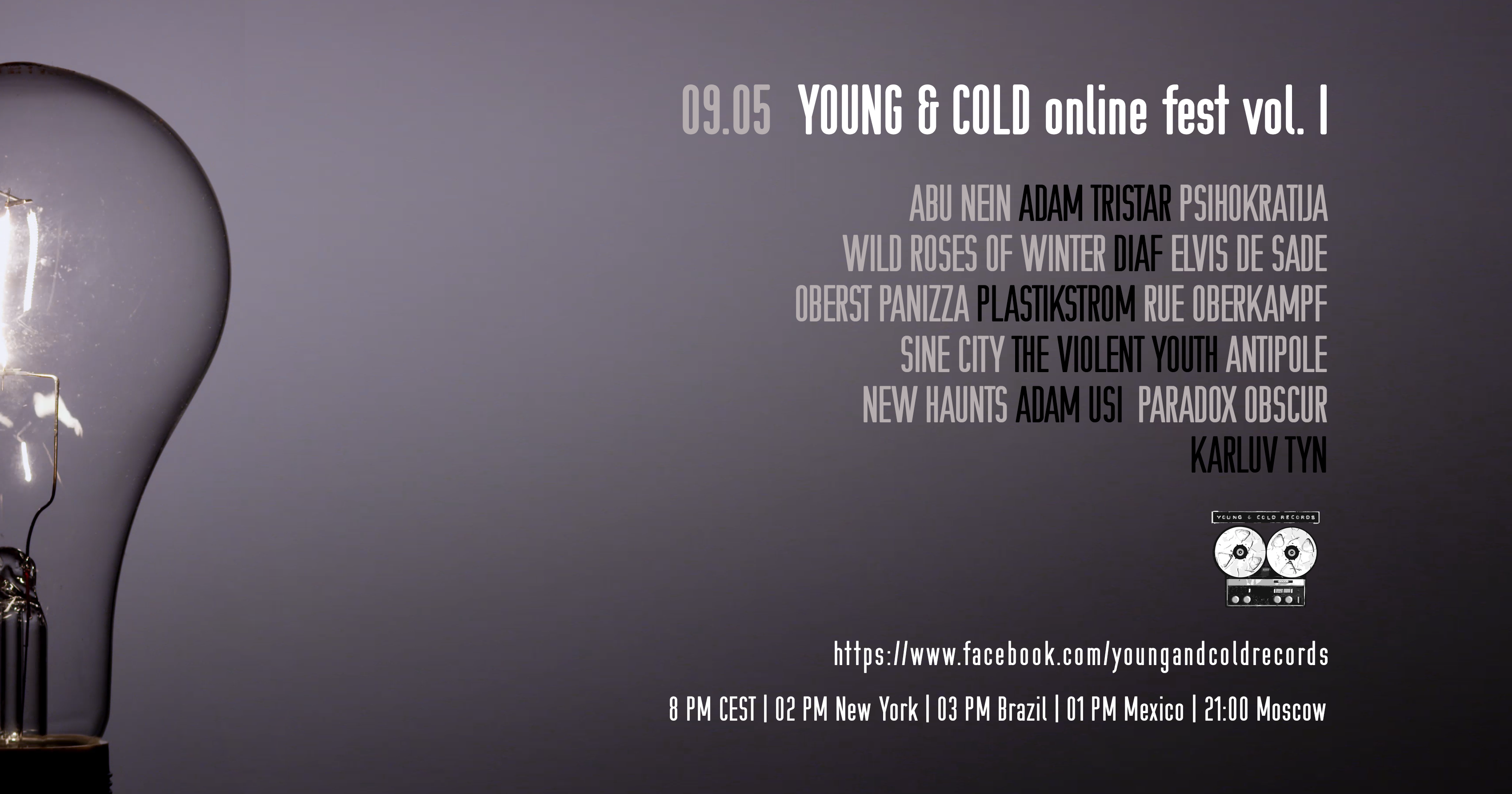 Young & Cold Online Festival
Musicians in social distancing participate in the very first Young & Cold Online Festival
Most of Europe is in lockdown, including many of the artists housed on the German record label Young & Cold. Specializing in minimal wave, synthpop, postpunk, and other dark music, the label is one of Europe's premier labels issuing records on vinyl.
The current Coronavirus crisis is behind the massive wave of cancellations -festivals, shows, concerts are cancelled all over the world, and many artists are struggling to find a creative outlet for their music when live shows and touring is impossible. That's how the first Young & Cold Online Festival was born. With an incredibly rich roster of bands at the label, sixteen acts are participating in the live event. Some are creating brand new material for the festival, others are showing recent live performances for the first time.
"The community of bands at the Young & Cold label is like a great family, and working together we have come up with a really satisfying lineup, including acts that really showcase the range of the label", says Måns Jonasson, arranger of the festival.
"When I made the first call for bands to participate in our group chat, almost all bands were interested in joining forces to support the label. We ended up with sixteen bands that I think will really inspire all viewers, especially those in quarantine, not able to go out.
The festival will focus on live or never-before-seen footage from live shows from the last year. Streaming live on Facebook at 8PM on May 9th, the two-hour special is a chance for a wide audience to discover Young& Cold artists.
"All participating artists are eager to show the world that the dark scene of Europe is stronger than ever before", Jonasson continues. "From electronic beats to haunting guitars, we will have it all."
Stream details Live on the Facebookevent page at https://www.facebook.com/events/2633564326911954/May 9th, 2020, 8PM CET.
Artist Lineup  ABU NEIN, Adam Tristar, PSIHOKRATIJA, Wild Roses Of Winter, DIAF, Elvis de Sade, Oberst Panizza, Plastikstrom, Rue Oberkampf, Sine City, The Violent Youth, Antipole, New Haunts, Adam Usi, Paradox Obscur, Karluv Tyn