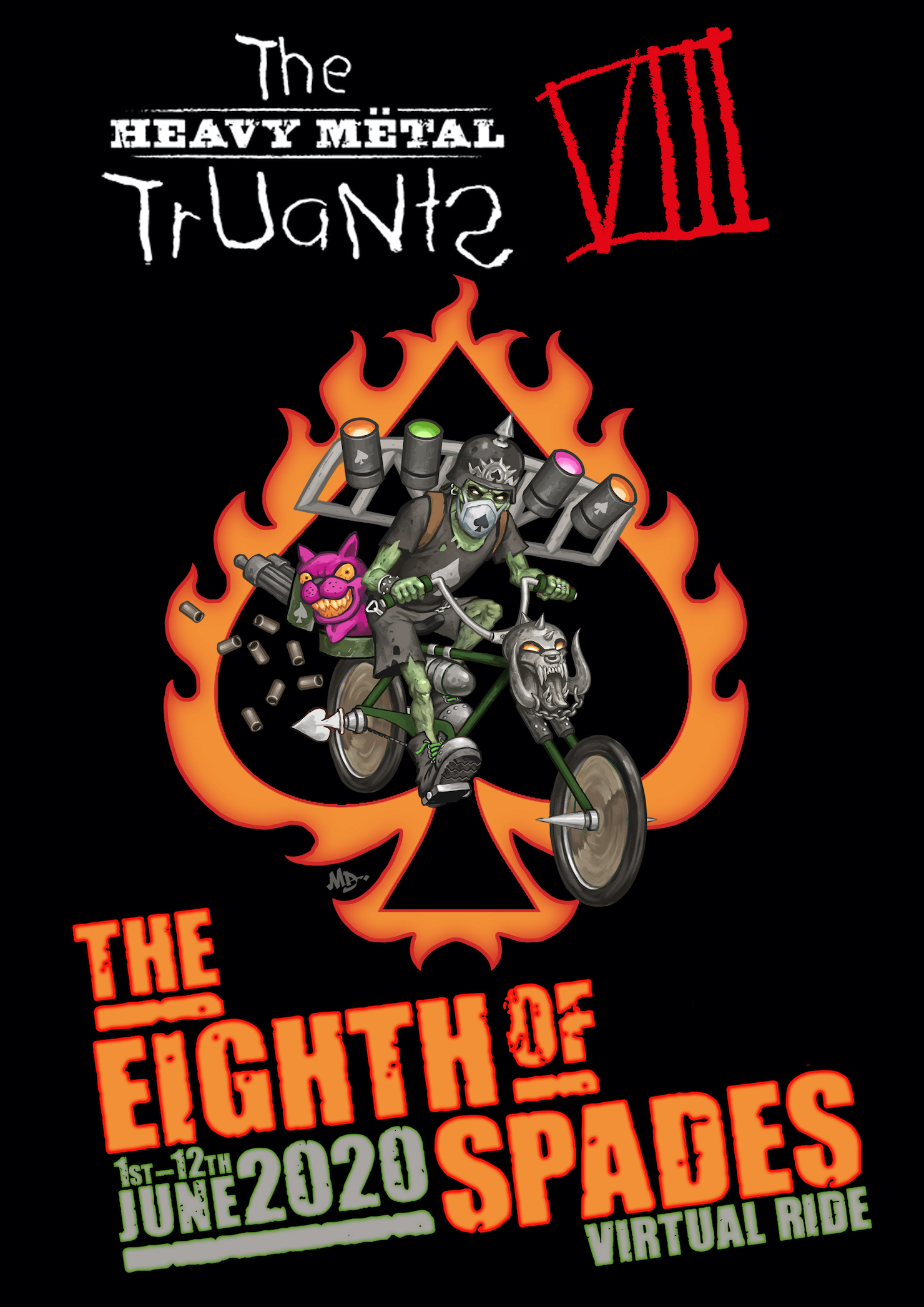 The Heavy Metal Truants Ride Again… Virtually!
Charity Cycling Troop To Recreate Legendary Download Festival Ride On A Global Scale And Invite All To Join
Reimagined Ride Set To Be Their Biggest Yet, With No Restriction On Numbers Or Location
Download Tv To Take Place 12-14 June
Friday 8th May 2020 – The Heavy Metal Truants have today announced that their eighth annual fundraising ride from London to the hallowed grounds of Castle Donington for Download Festival, will go ahead virtually.  The charity cycling group, founded in 2013 by ex-Metal Hammer Editor in Chief Alexander Milas and Iron Maiden Manager Rod Smallwood, raise money for children's charities through events, memorabilia auctions and their annual charity cycle ride from London to Download Festival.  To date, the Heavy Metal Truants have raised £681,500 for Teenage Cancer Trust, Nordoff Robbins and Childline.  This year they welcome the addition of Save The Children as an international charity beneficiary.
The announcement coincides with unofficial Motörhead day, the 8th of May. This year marks forty years since the release of Motörhead's seminal album 'Ace of Spades'.  The aptly named 'The Eighth Of Spades virtual ride' will be the cycling warrior's eighth annual pilgrimage of completing the 175 miles from London to Download Festival in Derbyshire.  Due to the virtual nature of the 2020 charity ride, registration will be free and open to all who want to take part which opens the gates to music fans and cycling enthusiasts globally not to mention band members themselves. The Heavy Metal Truants have enjoyed the backing and personal support of a tremendous range of artists over the years, including Iron Maiden, The Who, Slipknot, Saxon, Thin Lizzy, Metallica, KISS, Def Leppard, and Queen among many others.  This year the Truants are thrilled to announce that Luke Morley from British Rock Titans Thunder are already confirmed to join the ride and they expect many more to come.
Download TV comes to your homes via Download's social channels (including Facebook, Twitter, Instagram and YouTube) for one weekend only, across 12-14 June 2020. Not wanting to miss out on the best weekend in rock, Download TV will have special interviews, unseen performances, exclusive footage, and so much more, in the hope of recreating the weekend from the safety of your own homes. Full line up will be announced soon and will very much be focused on some of the incredible talent due to play Download Festival 2020.
"We were heartbroken to see Download festival cancel, a decision which we of course fully support," says co-founder Milas. "We weren't happy to sit on the side-lines either, particular when the needs of these charities are now greater than ever, so we got planning – this is the metal way."
"Metal is all about community," says co-founder Smallwood. "Today we're calling on that community to help the most vulnerable among in the name of metal and these four incredible children's charities. On yer bikes!"
This year riders will have from June 1st until June 12th to complete at least 175 miles – the distance from London's Hammersmith to Castle Donington – on anything with a pedal that that you can track with the freely available Strava mileage logging app.  This can include actual bikes, trainers, hand bikes or simple exercise bikes.  All miles must be logged on Strava and all riders must register via the HMT website in order to raise funds.  There is no registration fee.
#HMT8
#DOWNLOADTV
FOR MORE INFORMATION ON HOW TO SIGN UP VISIT THE WEBSITE
https://heavymetaltruants.com/
Donation Link: https://my.race-nation.co.uk/sponsorship/entry/315440-
https://www.facebook.com/heavymetaltruants/
https://www.instagram.com/hmtruants/
https://twitter.com/hmtruants
Disclaimer
The Heavy Metal Truants are committed to safeguarding the safety of riders and the public, and we are actively encouraging registrants to carefully observe local government guidelines for outdoor activity with regard to the current Covid-19 pandemic.
About Save The Children
Save the Children exists to help every child reach their full potential.
In more than 100 countries including the UK, we help children stay safe, healthy and keep learning. We lead the way on tackling big problems like pneumonia, hunger and protecting children in war, while making sure each child's unique needs are cared for. We find new ways to reach children who need us most, no matter where they're growing up.
For a century, we've stood up for children and made sure their voices are heard. We wrote the treaty that sets out the rights of every child, and we've been upholding them every day since.
We know we can't do this alone. Together with children, supporters and partners, we work to help every child become who they want to be.
About Teenage Cancer Trust
Every day, seven young people in the UK aged 13 to 24 hear the words "you have cancer".
Teenage Cancer Trust puts young people in the best possible place, physically, mentally and emotionally, for their cancer treatment and beyond.
We do it through our expert nurses, support teams, and hospital units. And we're the only UK charity dedicated to providing this specialised nursing care and support.
During the current crisis, young people with cancer are more isolated than ever, and the charity has been rapidly working behind the scenes to continue to offer them the support they need, whilst also working alongside NHS colleagues to respond to the Coronavirus pandemic.
Teenage Cancer Trust is a registered charity: 1062559 (England & Wales), SC039757 (Scotland).
About the NSPCC/Childline
The NSPCC is the leading children's charity fighting to end child abuse in the UK and Channel Islands. Using voluntary donations, which make up around 90 per cent of our funding, we help children who've been abused to rebuild their lives, we protect children at risk, and we find the best ways of preventing child abuse from ever happening. So when a child needs a helping hand, we'll be there. When parents are finding it tough, we'll help. When laws need to change, or governments need to do more, we won't give up until things improve.
Our Childline service provides a safe, confidential place for children with no one else to turn to, whatever their worry, whenever they need help. Children can contact Childline 24 hours a day, 365 days a year.
Our free NSPCC helpline provides adults with a place they can get advice and support, share their concerns about a child or get general information about child protection. Adults can contact the helpline 365 days a year.
About Nordoff Robbins
Nordoff Robbins is the largest independent music therapy charity in the UK, dedicated to enriching the lives of people affected by life limiting illness, isolation or disability. We receive no direct government funding, which means we rely on the generosity of our supporters.
Our music therapists are expertly trained to tune into each movement, reaction and expression of the individuals they work with to discover how music can enrich their lives. This could be to unlock memories, to communicate where words have failed, to socially connect with family and friends, and to build confidence and self-esteem.
We provide a range of different sessions for children and adults of all ages in our centres in London, Manchester, Newcastle and Scotland – from specialised one-to-one music therapy to shared sessions for groups of different sizes and formats.
We also work in partnership with over 270 organisations to bring music therapy to as many vulnerable people who could benefit from it as possible. These include schools, care homes, hospices, hospitals, mental health services, and brain injury units.