Strange Bones Release Isolation Visualiser For New Single TEN GUNS
New EP BLITZ PART 2 out now
Blackpool experimental punks STRANGE BONES have just released their colossal EP BLITZ PART 2, and to mark the occasion they've dropped an isolation visualiser for new single TEN GUNS which showcases a new dimension to their sound.
Vocalist Bobby discusses the track meaning, "It's about forgetting how to breathe, understanding mistakes. It's an acknowledgement of reality, consequential in moving forward. Finding no peace when your head is a minefield".
STRANGE BONES – TEN GUNS //ISOLATION VISUALISER.
Produced by Bobby, and mixed by Adrian Bushby (Muse, Foo Fighters), Ten Guns follows previous singles Underdogs and Napalm Über Alles which landed plaudits from NME, BBC Radio 1, Clash, Radio X, Rock Sound, and Gigwise. Both feature on new EP BLITZ PART 2 due 10th April, the sequel and evil twin to last year's Blitz Part 1 (KKKK – Kerrang!).
"I hate the phrase 'guitar music'. It's not dead, it's not breathing. It's music. Everything that once was, will be again, in one shape or form", smiles STRANGE BONES vocalist and commander Bobby Bentham, "Ever since I started writing, I've always loved the idea of exploring every single back alley I could. A korg prodigy or a matchbox guitar – if I can get a mad sound out of it, I'm going to use it". His words ring true in STRANGE BONES latest offering BLITZ PART 2. It's a short but seismic soundsphere that captures everything that the Blackpool band embodies – hard graft, unpredictability, frenzied and adrenaline-drenched stage presence, all whilst blurring the lines between venomous punk and crushingly heavy electronica.
STRANGE BONES collectively grew up on an awe-inspiring diet of punk rock, with brothers Bobby, Jack (guitars) and Will (bass) glued to punk gigs recorded to VHS tapes by their parents under their bracket Jettisoundz/Visionary. Hypnotised by performances from the likes of Black Flag and UK Subs, the sense of community and full-throttle energy is something the band endeavour to recreate at their notoriously ferocious live shows. Highlights include support to Frank Carter and the Rattlesnakes, Yonaka and Cabbage, alongside Reading and Leeds, Isle Of Wight, Download, TRNSMT and 2000 Trees.
STRANGE BONES spent much of early 2020 on the road, with a sold out UK headline tour. The band are raring to get back on the road and were due to play The Great Escape festival this summer. Rescheduled tour dates will be announced very soon.
Armed with an EP that hits like Tyson, an unquenchable thirst for second-to-none live shows, STRANGE BONES are shaking things up, with a sound that is undeniably exciting.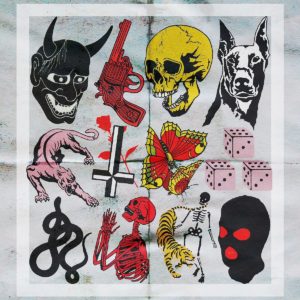 BLITZ PART 2
NAPALM ÜBER ALLES
UNDERDOGS
BLOODSPORTS
https://www.facebook.com/strangebonesband/
https://twitter.com/STRANGEBONES 
https://www.instagram.com/strange_bones