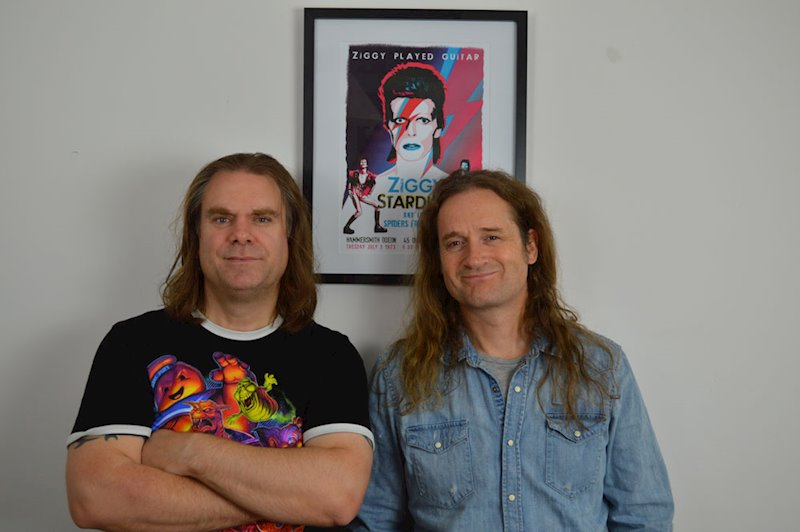 "How To Be The Best Band On The Planet"
Music Workshop UK Tour 2019
One of the UK's leading lights in music industry innovation; Lightning In A Bottle has announced a unique opportunity for music artists and bands to have industry professionals Toby Jepson and Rob Town spend dedicated time with them, in person, for a limited number of workshops this December. Drawing on decades of experience being involved in the music industry as artists and businesses, collectively Toby and Rob have shared stages and worked with some of the biggest and most influential rock/metal artists in the world.
"This is an amazing opportunity to work with two of the most talented and generous people in rock. With Toby and Rob you get the complete package – a deep understanding of machinery that drives the music industry along with tried and tested ability to write hit songs and produce career defining records. It you were looking for a leg up and you're prepared to listen, take constructive criticism and work hard, then this is it. The real thing!"
– Bruce John Dickinson (WaterBear – The College Of Music)
ABOUT THE WORKSHOPS:
Set in rehearsal studios across the UK; Toby and Rob will examine first hand what musicians are trying to achieve with their music, and present on the spot ideas and strategies for improvement and development. Focusing on vision, creativity and song writing, these three hour workshops feature critical analysing of issues that artists face on a daily basis in the music industry.
This is a chance for musicians with serious aspirations to develop creative, practical solutions and discover new ways to approach their music career that can positively help distinguish and separate themselves from the pack. The workshops will help musicians get ahead with these experiences:
. Learn how to access and understand the modern music business.
. Practical help on how to unlock your music and creativity.
. Essential advice to help you sustain positive mental health and wellbeing whilst achieving your goals.
. Q&A session specifically tailored to your music career.
. Music industry stories and anecdotes from Toby Jepson (Wayward Sons/Little Angels) and Rob Town (Panic Cell/Stampede Press) drawing on their experiences from sharing stages and working with some of the biggest and most influential rock/metal artists in the world.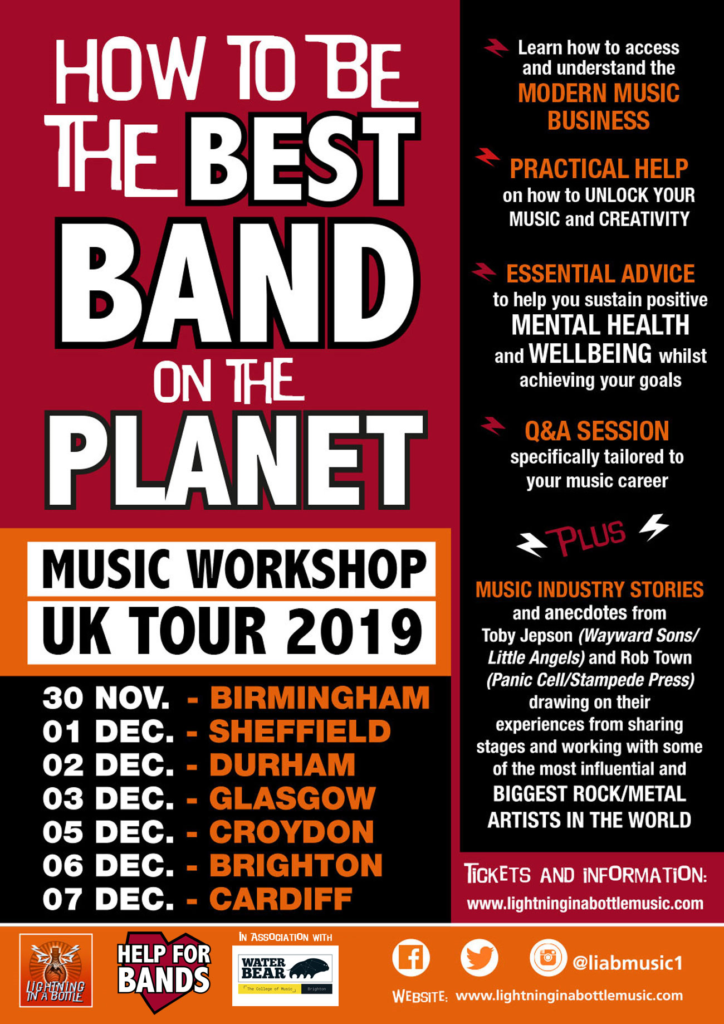 Workshop Dates:
30th November – Birmingham
1st December – Sheffield
2nd December – Durham
3rd December – Glasgow
5th December – Croydon
6th December – Brighton
7th December – Cardiff
Lightning In A Bottle co-founder Toby Jepson says, "Being in a room, face to face, with bands and artists, working in the moment on their ideas is the single best way of getting to the heart of what can be achieved. These workshops will be fast and furious, an exchange of ideas designed to focus each act and fast track their creative goals and ambitions. It's always the best approach; practical, hands on hard work that can produce quite startling results in a short space of time. For me, music should be fluid, inventive and free form, not constrained by convention. Igniting musicians and helping them see the possibilities is the most satisfying element of what we do."
"I can't wait to do this! We're in the age of expression, and the great news for music creatives is that there has never been a better or easier time to express yourself. However, the challenge for music artists and bands in the age of superfast digital development is to find their uniqueness in order for fans to discover them, pay real attention and truly fall in love with the music. We believe it all starts with conversation within ourselves and real human interaction and discussion in positive, creative spaces where sparks fly for the right reasons.", says Rob Town. "These sessions are a great opportunity for musicians to discuss key music business strategies that are crucial to success and discover ways to sustain positive mental health and wellbeing, be happier, and embrace creativity more. Ultimately, these workshops are gamechangers for musicians looking to carve a career in the music industry."
With a strong emphasis on creativity, education and positive wellbeing, bookings for Lightning In A Bottle's workshops are limited.
More information and tickets: https://www.lightninginabottlemusic.com/site/how-to-be-the-best-band-on-the-planet-workshop
ABOUT LIGHTNING IN A BOTTLE: 
Lightning In A Bottle is a Music Management Consultation Agency set up by musicians and music business people with proven track records in the music industry. We're here to help inform, encourage, support and empower musicians, to bring a real, honest approach to the problems and challenges that so many bands and music artists face every day and help them find their own uniqueness.
Toby Jepson:
Toby found fame as the front man/singer/songwriter in British rock band Little Angels who achieved significant success in the UK, Europe and Japan between 1989 and 1995. Signed to Polydor Records, they clocked up 10 UK Top 40 hits, and a number 1 album with the band's final studio album 'Jam' in 1993, followed by a farewell sell out show at the Royal Albert Hall in 1994.
Between 2007 and 2017 Toby fronted Eddie Clarke's (Motörhead) vehicle Fastway across the globe, sang for Scottish rock band GUN. and then once again on a global scale fronting Dio's Disciples – a band made up of the late great Ronnie James Dio's last line up.
As a producer, Toby's production credits include working with Macclesfield rock act The Virginmarys on their critically acclaimed debut album 'King Of Conflict', this in turn led on to working as a producer/arranger for many acts including Saxon, Fastway, and The Answer, as well as being the principal writer/arranger/producer for UK rock act Toseland.
Toby has also written and co-written songs for and with a vast array of artists including Katie Melua, Dan Reed, Russ Ballard, Biff Byford, Hugh Cornwell, Matt Sorum, Giuliano and Dante Gizzi, James Lomenzo, Brian Tiche, and Jim Vallance.
Toby's new band Wayward Sons have been hailed as one of the key bands at the forefront of the U.K. hard rock scene. Their debut album 'Ghosts Of Yet To Come' was voted Number Eight by Planet Rock Radio's listeners in 2017's Top 20. Wayward Sons also went on to be voted 'BEST NEW BAND' in the station's ROCKS Awards 2018. The new album 'The Truth Ain't What It Used To Be' is out now via Frontiers Music Srl.
Rob Town:
With over 30 years experience as a musician and businessman, Rob found success in the music industry as bassist/co songwriter/co manager for the British rock band Panic Cell. With perspicacity on stage and behind the scenes, Rob's background of working in traditional business sectors in Service Delivery / Project Management for multi million pound corporate companies has enabled him to successfully activate his skill set and launch his music career independently.
Rob's time in Panic Cell saw the group sharing stages worldwide with legacy acts like Metallica, Alice Cooper, Disturbed, Slayer, Megadeth, Alice In Chains, Papa Roach, Skindred, Anthrax and many more, plus slots at major festivals Download, Sonisphere, Bloodstock Open Air, SXSW, Wacken Open Air, and others. Panic Cell were regularly featured by major press and media outlets, including MTV, Kerrang, Metal Hammer, XFM and notably Scuzz TV; which saw the band reach number one on the station's most played chart alongside Linkin Park, Slipknot, and Evanescence in 2004. The band featured in MTV's 2008 muppet tv spin off 'Fur TV' which saw the group starring in episodes as well as featuring on the soundtrack to the show and on the YouTube multi million viral video sensation 'Fat Ed's Furry Guide To Metal."
Following Panic Cell's final show at a full capacity Sonisphere Festival in 2011, Rob launched his own PR/Marketing company, Stampede Press, in 2012. Respected in the music industry for his position of "quality over quantity" and the wellbeing of others, Rob has worked with notable artists including Terrorvision, Winger/Kip Winger, SOiL, (Hed)p.e., Richie Ramone, Jizzy Pearl of Love/Hate, Toby Jepson/Wayward Sons, Krysthla, The Virginmarys, Devilskin, Samarkind, Matt Mitchell and the Coldhearts, The Rocket Dolls, and more.
Rob co-founded Lightning In A Bottle with Toby Jepson in 2018 and completed and passed a Masters Of Art Degree in Music Industry Innovation and Enterprise with WaterBear Music College and the University of Chichester in 2019.
Connect with Lightning In A Bottle
Website – www.lightninginabottlemusic.com
Facebook – www.facebook.com/liabmusic1
Twitter – https://twitter.com/liabmusic1
Instagram: www.instagram.com/liabmusic1