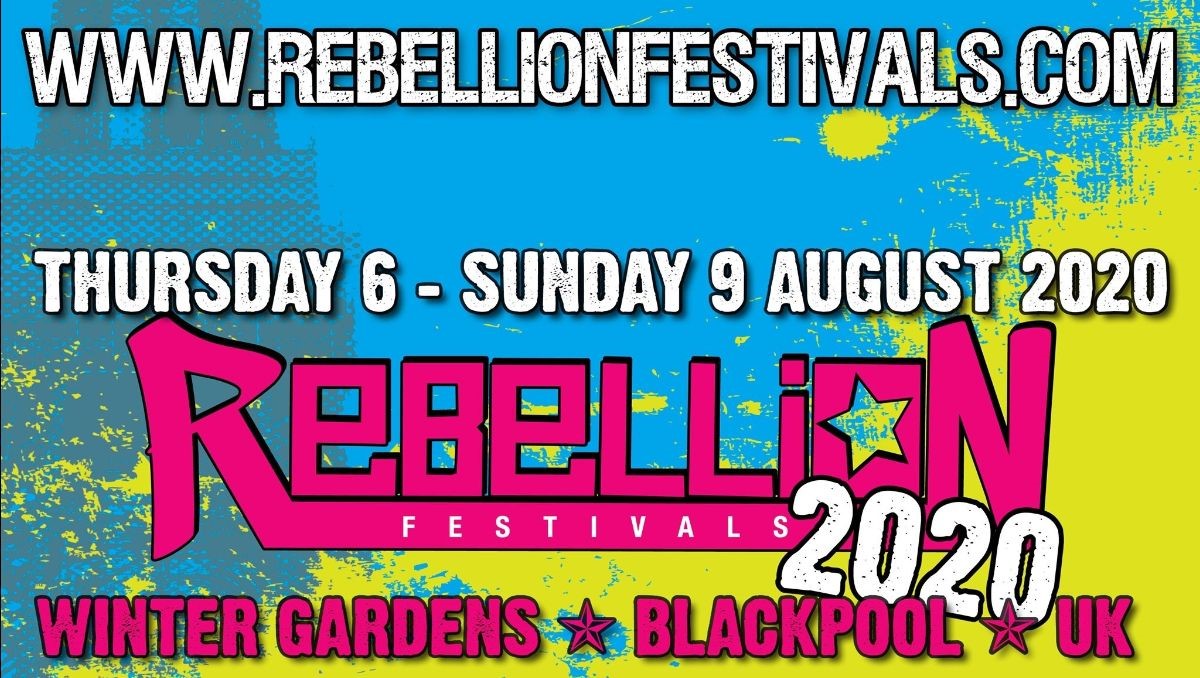 Rebellion Festival Returns Thursday August 6th – Sunday 9th 2020 At The Winter Gardens, Blackpool
39 Bands Already Announced
Early Bird Tickets Onsale Now!
Although the memories, the hangovers and the hearing loss of this August's immensely successful Rebellion Festival are still vivid and fresh, with hardly a pause for breath, the Rebellion Family are already hard at work planning next year's event and 39 bands have already been confirmed for 2020.
Scheduled to take place Thursday August 6th to Sunday 9th 2020 at it's home, the Winter Gardens in Blackpool, Rebellion Festival is now wildly recognised as the largest gathering of punks in the world and continues to grow every year.
2019 saw one of the most prestigious line-ups yet, with iconic acts from every corner of the globe rubbing shoulders with a multitude of thrilling up and comers. The Stranglers, Descendents, Fear, Spear Of Destiny, The Damned, The Skids and many more all topped the stages and left lasting impressions. You can view a fast-forward recap of 2019 here: https://vimeo.com/354631253
Although very much at the early stages of booking, the bands confirmed for the 2020 event already include some surprises and many returning favourites. Jimmy Pursey's legendary herberts Sham 69 will be returning to the festival for the first time since 2015, whilst former Crass frontman Steve Ignorant will be performing a full Crass set. Also returning are The Dickies, Angelic Upstarts, GBH, Anti Nowhere League, UK Subs, Neville Staple Band, The Boys, Scream, Toxic Reasons, MDC and many more.
For listings and additions head to: http://www.rebellionfestivals.com/line-up
Since its original inception in 1996 as the then named Holidays In The Sun festival, Rebellion has always aimed to bring together the best punk and alternative music from across the globe, and is still a family-run, family-orientated event that celebrates punk in all its forms.
Tickets available here: http://www.rebellionfestivals.com/tickets
Head to www.rebellionfestivals.com for more information.
Rebellion Festival is an ALL AGES, family friendly event and children under 12 are admitted free of charge (accompanied by an adult). More information and tickets are available at:
Website: www.rebellionfestivals.com
Twitter: @rebellionfest
Facebook:  www.facebook.com/RebellionPunkMuskFestival