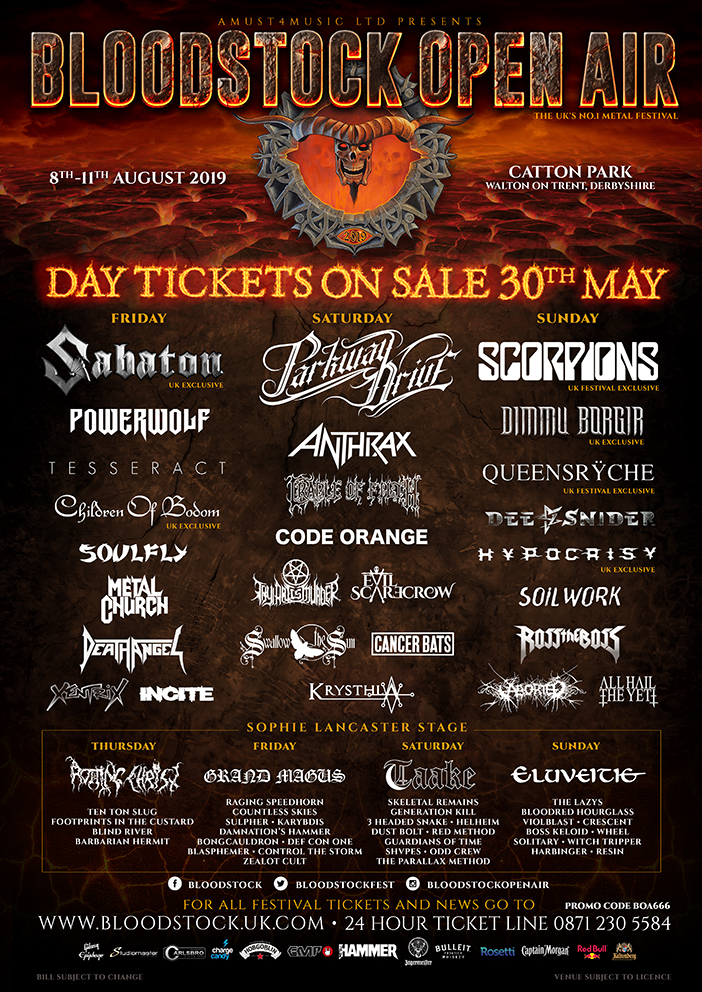 LATEST BLOODSTOCK UPDATE…
BLOODSTOCK have locked down the last handful of Ronnie James Dio main stage and Sophie Lancaster stage bands, as the Metal 2 The Masses finals roll through the UK to find the best of the grass roots to flesh out the New Blood stage. BLOODSTOCK can also reveal that a limited number of day tickets for 2019's event will go on sale at the end of May. Don't miss out – sign up for a reminder here.
BLOODSTOCK's final main stage band are classic UK thrash squad, XENTRIX, who are set to play on Friday.  Having recently signed to Listenable Records, the band are set to release a new studio album, 'Bury The Pain' on 7th June.  Check out the brand new track, 'Bleeding Out' here; https://youtu.be/vFgiw7XOiGo.  The album has been produced by Andy Sneap and you can pre-order it over at www.shop-listenable.net/en/268_xentrix.
Joining the Sophie stage bill on Friday are British death metallers, KARYBDIS.  The band released their third studio album, 'In The Shadow Of Paradise' last year, which you can pick up over on their Bandcamp page; https://karybdis.bandcamp.com/.  Watch the video for the title track and get yourself up to speed – https://youtu.be/g09x4f8cVUc.
A former winner of BLOODSTOCK's Metal 2 The Masses competition back in 2012, melodic metal crew CONTROL THE STORM have gone from strength to strength, and we're delighted to now welcome them to Friday's Sophie stage. With plans afoot to release their second album, 'Forevermore' this summer, hopefully they'll treat everyone to some new songs live! See what you think of new single 'Follow Me' at https://youtu.be/7SzIq8yc0T4 and if you dig it, help them along by contributing to their Kickstarter at https://www.kickstarter.com/projects/controlthestorm/control-the-storm-forevermore-help-fund-the-album.
The pioneers of Norwegian Viking Metal, HELHEIM land a Saturday set on the Sophie stage. Hailing from Bergen, you can find their latest blackened sounds on new album, 'Rignir', released late last month by Dark Essence, who have kindly added no less than three songs from it to their YouTube channel, including the title track at https://youtu.be/ECRCW94pW_o.
There's more from our Norwegian brethren, with GUARDIANS OF TIME also bagging a Saturday slot on the Sophie stage to showcase their brand of heavy/power metal. Don't know them yet? Their fifth album, 'Tearing Up The World' came out in Oct 2018 and features guest appearances from none other than Abbath and Tim 'Ripper' Owens. Investigate that title track with Abbath here – https://youtu.be/69ItcYo8txU.
Bulgarian metalheads, ODD CREW also land a Saturday slot.  The band take their influences from classic metal like Black Sabbath through artists like Pantera through to modern day acts like Killswitch Engage.  Check 'em out storming through 'Death Trap' here; https://youtu.be/MSpAig3cxaI.  The band released their fifth studio album, 'The Lost Pages' last year, which you can check out on Spotify or via all major DSPs.
Making your travel plans yet?  The good folks at BIG GREEN COACH have added an extra 13 pick-up points for their BOA coaches this year!  Travel direct from your town and get dropped off inside the BLOODSTOCK gates, bringing your camping gear and supplies with you!  Say hello to a total of 34 locations, with prices for a return ticket starting at just £32.  The full list now runs as follows; ABERDEEN, BIRKENHEAD, BIRMINGHAM, BRADFORD, BOURNEMOUTH, BRISTOL, CAMBRIDGE, CARDIFF, CARLISLE, CHESTER, DUNDEE, EDINBURGH, EXETER, GLASGOW, GLOUCESTER, LANCASTER, LEEDS, LIVERPOOL, LONDON (Victoria Coach Station), MANCHESTER, MIDDLESBROUGH, NEWCASTLE-UPON-TYNE, NEWPORT, NORWICH, OXFORD, PERTH, PLYMOUTH, PRESTON, SHEFFIELD, SOUTHAMPTON, SUNDERLAND, SWANSEA, TAUNTON and WORCESTER.   Head over to www.biggreencoach.co.uk/events/bloodstock-festival-tickets-coach-travel to book your seat or your coach + ticket bundle!   BIG GREEN COACH's services were hugely popular last year and many routes sold out in advance of the event, so please book now to guarantee your spot!  If you're coming by train instead and need a shuttle ride from Lichfield City rail station to the festival site, BIG GREEN COACH do those too, so click to their site to secure your place for just £10 (it's more expensive on the day) and get ahead of the rush!
VIP tickets are down to very limited numbers so grab yours if you want one, including limited Podpads, Bellepads, and Octopads, plus limited remaining VIP upgrades (for those who've already purchased a standard ticket).  Luxpads are already SOLD OUT! For full details click here.  Standard weekend tickets are also in the ticket store, priced £145 (+ fees), snap yours up here. There are also child weekend tickets available, and don't forget that children under 4 go free!
Friday night's headliner SABATON, Saturday's top dogs PARKWAY DRIVE and Sunday's bill toppers SCORPIONS, join ANTHRAX, DIMMU BORGIR, CHILDREN OF BODOM, CODE ORANGE, POWERWOLF, SOILWORK, CRADLE OF FILTH, THY ART IS MURDER, TESSERACT, METAL CHURCH, SOULFLY, DEATH ANGEL, DEE SNIDER, QUEENSRYCHE, ELUVEITIE, SWALLOW THE SUN, EVIL SCARECROW, ROSS THE BOSS, GRAND MAGUS, ROTTING CHRIST, ABORTED, SKELETAL REMAINS, ALL HAIL THE YETI, INCITE, HYPOCRISY and many more on the Catton Park stages this August.  With more bands to come, stay tuned for even more artists to be announced soon!
BLOODSTOCK will take place at Catton Park, Derbyshire on 8th-11th August 2019.  Get additional information over at www.bloodstock.uk.com.