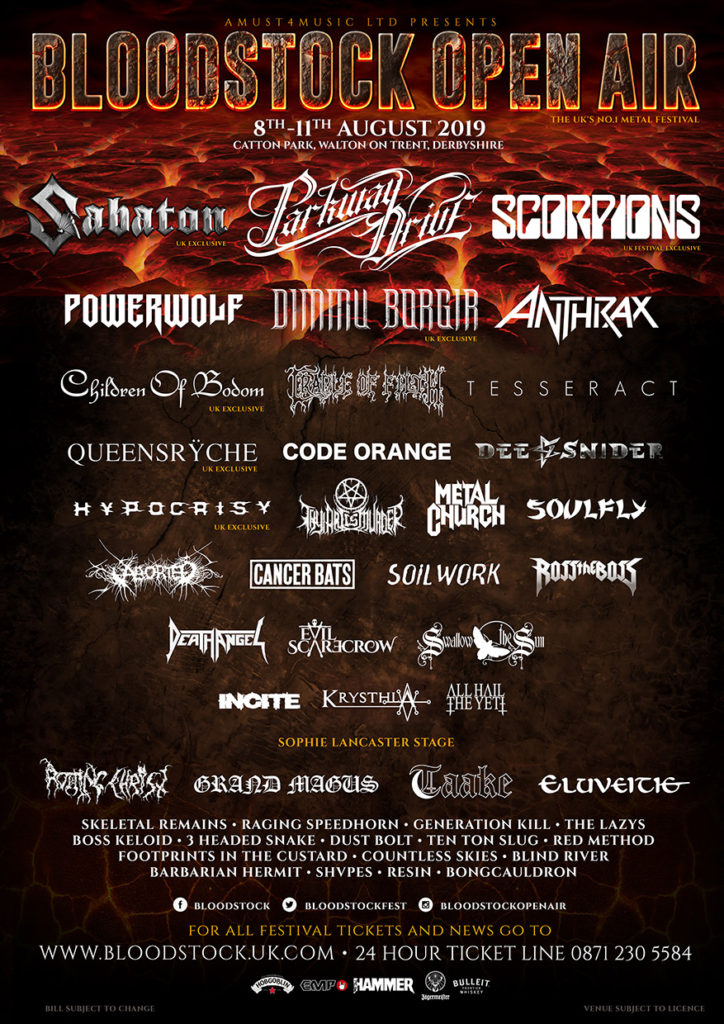 Eight More Bands Added To Bloodstock 2019!
Bought your BLOODSTOCK 2019 ticket yet?  We're more than half way there now; just 19 weekends remain 'til you can be back with your metal brethren on the hallowed ground of Catton Park. But with more than 80 bands still to announce and a host of other goodies in store to reveal too, it's on with the show revealing eight more excited acts joining the UK's best metal weekender this August.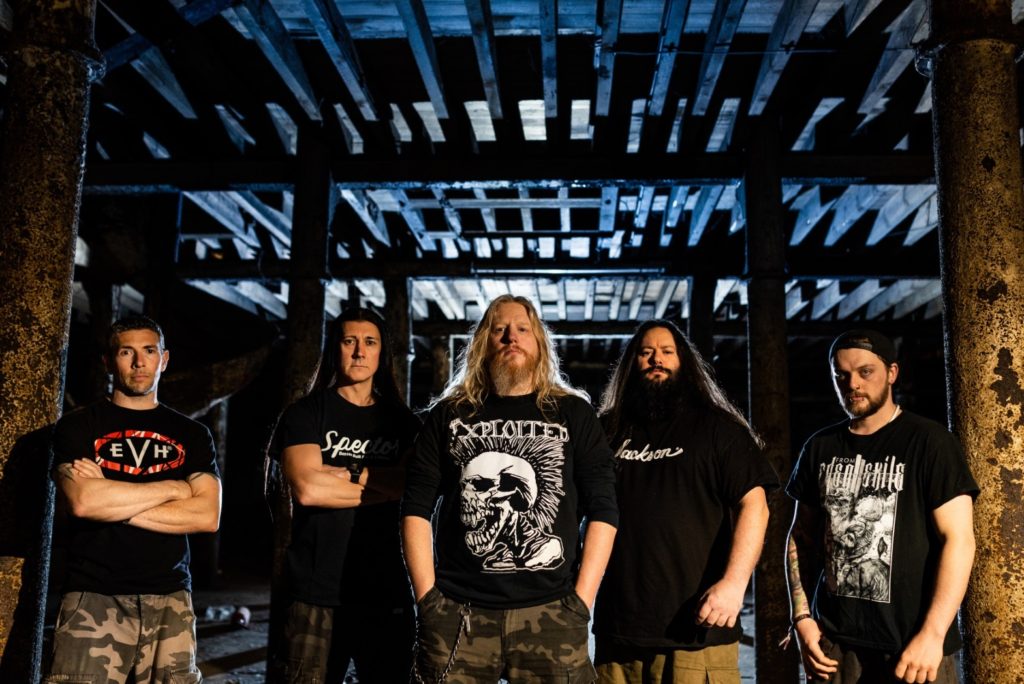 Brit tech/prog extremists, KRYSTHLA will kick off proceedings on the Ronnie James Dio main stage on Saturday.  The band are currently in the studio working on their third studio album, set for release this Summer, so expect new material in August!  In the meantime, check out the video to 'The Minor Mystery Of Death' taken from their last release, 'Peace In Our Time' – https://www.youtube.com/watch?v=3eCAbdqCGjY
[youtube width="800″ height="600″ video_id="3eCAbdqCGjY"]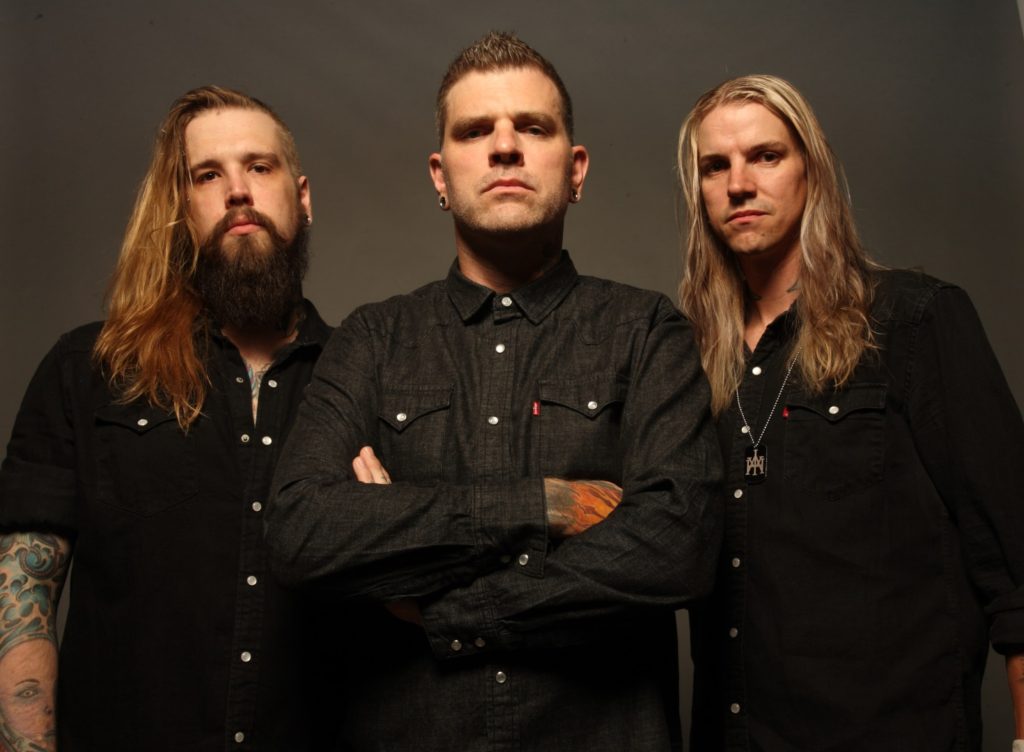 LA-based metal squad, ALL HAIL THE YETI are set to open the main stage on Sunday.  The band released their third studio album, 'Highway Crosses' late last year via minusHEAD Records.  Check it out on their Bandcamp – https://ahty.bandcamp.com and crank the video for 'The Nuclear Dust', taken from that album here; https://youtu.be/08cFFnxtAfI.
[youtube width="800″ height="600″ video_id="08cFFnxtAfI"]
Six more bands pick up spots on the Sophie Lancaster stage, bringing their glorious noise for your delectation on both Thursday and Friday.  Kicking off the fun after you've set up camp on Thursday are doom-laden riffmongers, BARBARIAN HERMIT (www.facebook.com/barbarianhermit), classic hard rockers BLIND RIVER (www.facebook.com/BlindRiverUK), groove heavy slug-lords TEN TON SLUG (www.facebook.com/TenTonSlug) and bringing the party and all the laughs for opening night, FOOTPRINTS IN THE CUSTARD (www.facebook.com/Footprintsinthecustard).  On Friday on the Sophie stage, we also welcome melodic death metal beasts COUNTLESS SKIES (www.facebook.com/CountlessSkies) and sludge metal squad BONGCAULDRON (www.facebook.com/bongcauldron).
BLOODSTOCK Director, Vicky Hungerford and husband Alan's clothing company Heavy Metal Lifting Club are proud to be the official sponsors of BLOODSTOCK's Strongest Man competition for 2019 which is held in the main arena for its 3rd consecutive year in 2019.  The contest showcases some of the strongest men and women over 3 days at BLOODSTOCK and you too can enter if you think you're strong enough!  Ant Brown from 100% CA, who runs the competition for BLOODSTOCK, has organised 4 national qualifiers that you can get involved in, tagged 'Muscle 2 The Masses, The Road to BLOODSTOCK's Strongest Man'.  Heats will be held in four regions; Wales (tbc – 19th May), South (High Wycombe – 16th June), North (Newcastle – 29th & 30th June) and Midlands (Tamworth – 6th July) and the Top 5 competitors from each qualifier will compete in BLOODSTOCK's festival arena on either Friday or Sunday.  If you think you're strong enough, come join the lifting fun.  We need supporters too, so if you prefer less strenuous pastimes, come along to watch the competitors battle it out for a place at BLOODSTOCK!  For info on how to enter, click to https://heavymetalliftingclub.com/m2tm/.
Whilst the boys lift heavy on Friday and Sunday, the ladies do the same on Saturday!  We're also welcoming the best female athletes from across the land for Britain's Strongest Woman 2019.  The line-up will include two of the best in the World and the current World, Europe, Britain and England's Strongest Women's Champion, Andrea Thompson (Opens) and Rhianon Lovelace (U63kg), as well as Top 10 World's finalist and current British U82kg Champion, Rebecca Cumpsty.  It's shaping up to be one of the best women's contests ever!
Our first phase of BLOODSTOCK club nights start on Saturday 6th April!  More will be added for June/July, so don't despair if your local rock club isn't listed yet.  Get along to one of the following events, check out some tunes from BLOODSTOCK bands old and new, and be in with the chance of winning weekend tickets or related giveaways.  Expect fun ways to win – previous events have seen the likes of bucking broncos, endurance tests, and air guitaring!  Check your local club for details, as dates may be subject to change. Events for April/May run as follows:
Sat 6th April – Stoke-on-Trent – Devil's Night @ The Sugarmill
Thu 11th April – Reading – Q Bar
Fri 12th April – Bristol – PHUCT @ The Lanes
Sat 13th April – Camberley – Agincourt
Sat 13th April – Newcastle – Grindhouse @ Reds Bar (Northumbria Uni)
Sat 20th April – Glasgow – Cathouse
Sat 20th April – Norwich – Meltdown @ The Waterfront
Sat 27th April – Liverpool – Electrik Warehouse @ Pandamonium
Sat 27th April – Birmingham – Eddie's Rock Club
Sat 27th April – Sheffield – Corporation
Fri 3rd May – Woking – Schism
Sat 4th May – Stoke-on-Trent – Devil's Night @ The Sugarmill
Fri 10th May – Bristol – PHUCT @ The Lanes
Fri 10th May – Portsmouth – The Wedgewood Rooms
Sat 11th May – Coventry – The Phoenix
Sat 18th May – Aberdeen – Heavy Resistance @ The Shack
Sat 18th May – Norwich – Meltdown @ The Waterfront
Sat 25th May – Birmingham – Eddie's Rock Club
The final allocation of VIP tickets, as well as Podpads, Bellepads and Octopads are now on sale, plus limited remaining VIP upgrades (for those who've already purchased a standard ticket). Luxpads are already SOLD OUT!  For full details click to http://www.bloodstock.uk.com/pages/vip-camping. Standard weekend tickets are also in the ticket store, priced £145 (+ fees), snap yours up at http://bloodstock.seetickets.com.  Day tickets will go on sale in limited quantities on 28th June.  Sign up for a reminder email here – https://bloodstock.seetickets.com/register/bloodstock.
Friday night's headliner SABATON, Saturday's top dogs PARKWAY DRIVE and Sunday's bill toppers SCORPIONS, join ANTHRAX, DIMMU BORGIR, CHILDREN OF BODOM, CODE ORANGE, POWERWOLF, SOILWORK, CRADLE OF FILTH, THY ART IS MURDER, TESSERACT, METAL CHURCH, SOULFLY, DEATH ANGEL, DEE SNIDER, QUEENSRYCHE, ELUVEITIE, SWALLOW THE SUN, EVIL SCARECROW, ROSS THE BOSS, GRAND MAGUS, ROTTING CHRIST, ABORTED, SKELETAL REMAINS, ALL HAIL THE YETI, INCITE, HYPOCRISY and many more on the Catton Park stages this August.  With more bands to come, stay tuned for even more artists to be announced soon!
BLOODSTOCK will take place at Catton Park, Derbyshire on 8th-11th August 2019.  Get additional information over at www.bloodstock.uk.com.