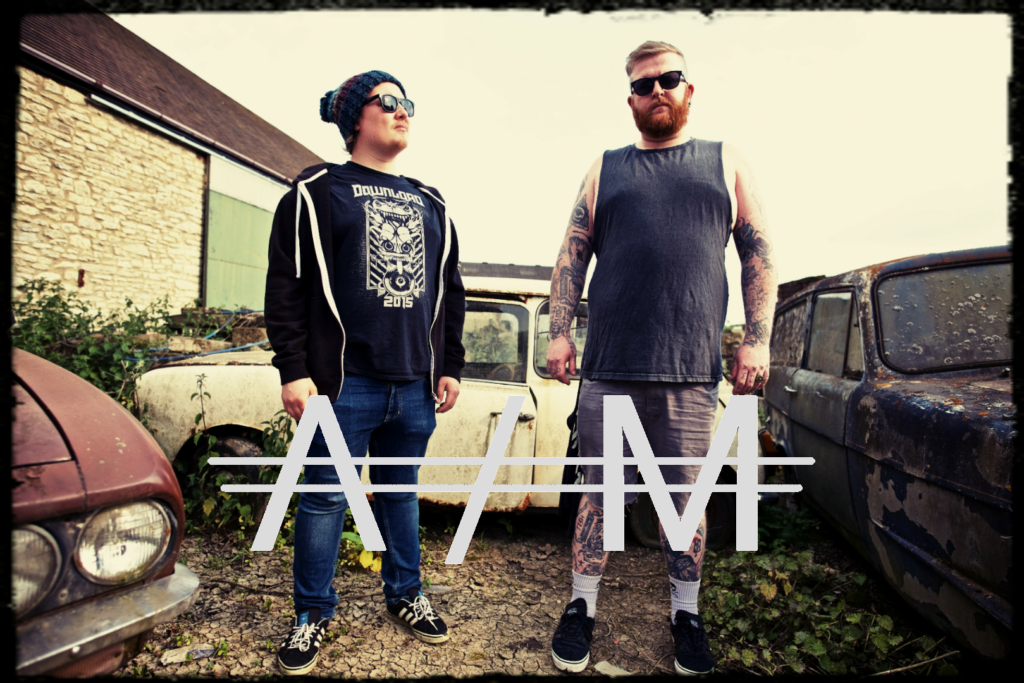 As part of our 'Introducing 2018' series we hand over this showcase to Oxfordshires A/M and let the guys tell you in their own words who they are and why you should be listening to this duo! 
BAND NAME:  A / M
LOCATION:  OXFORD, UK
GENRE: HEAVY, TRASHY, ROCK AND ROLL
BAND MEMBERS: ADAM TRUBY / MATT O'BRIEN
CURRENT ALBUM RELEASE: 'BELIEVE'
Introduce the band in your own words…
2 Piece heavy head banging noise. The best band you've never heard of.
Tell our readers about your current release
'Believe' released 2nd Nov 2018, 5 track EP available on all streaming sites
Who would you say you sound most like?
Imagine 225g Royal Blood, 2 tablespoons of '68 with a dash of Down, seasoned lightly with some Black Sabbath then baked for 3 hours or so in Ed Sheeran's oven until it's burned and horrible.
Who or what are your biggest influences?
Adam – Jimmy Page (Led Zeppelin), Dimebag Darrel (Pantera/ Damage plan) and Tom Searle (Architects). In my eyes they're all guitarists that made something their own and stood out above other guitarists, particularly when I was finding my feet in the world of guitar and rock/ metal.
Matt – Travis Barker (Blink), Morgan Rose (SevenDust), Every Time I Die, '68 and Deftones.
Describe your band members and what each person brings to the table
Adam (described by Matt) – An absolute beast on the guitar, I still don't know how he makes those noises. Usually the first in and last out of the pit.
Matt (described by Adam) – Matt is 100% the driving force behind A / M, his motivation and passion for music is incomparable. And he's probably the 2nd best drummer in the band.
Do you have a band joker?  If so who and what's the dumbest prank they've pulled?
Matt – We are both pretty stupid; we are like brothers so love to wind each other up.
Adam – I wouldn't say there's a single joker, we both think we're hilarious.
Do you argue over what music gets played on the way to a gig?  Who wins and what's the most popular choice?
Matt – We usually play new songs we like to each other and always throw in some cheesy classics.
Adam – Nah I'm always in charge, if Smooth by Santana and Rob Thomas hasn't played at least once on the way to a gig then the gig's going to be terrible.
Pick your dream band line up.  Each band member selecting a corresponding musician who may be dead or still very much living.
Adam – I'd pick Tom Searle, his riffs and his tone for Architects are just unbelievable and incredibly powerful.
Matt – Ryan 'Legs' Leger (Previously of Every Time I Die) – He IS drums.
If you were marooned on a dessert island which band member would be eaten first and why?
Matt – Adam would be first to go as I am bigger and hungrier.
Adam – Yeah Matt would eat me first, he knows how to cook as well so it would be a waste if I tried to eat him.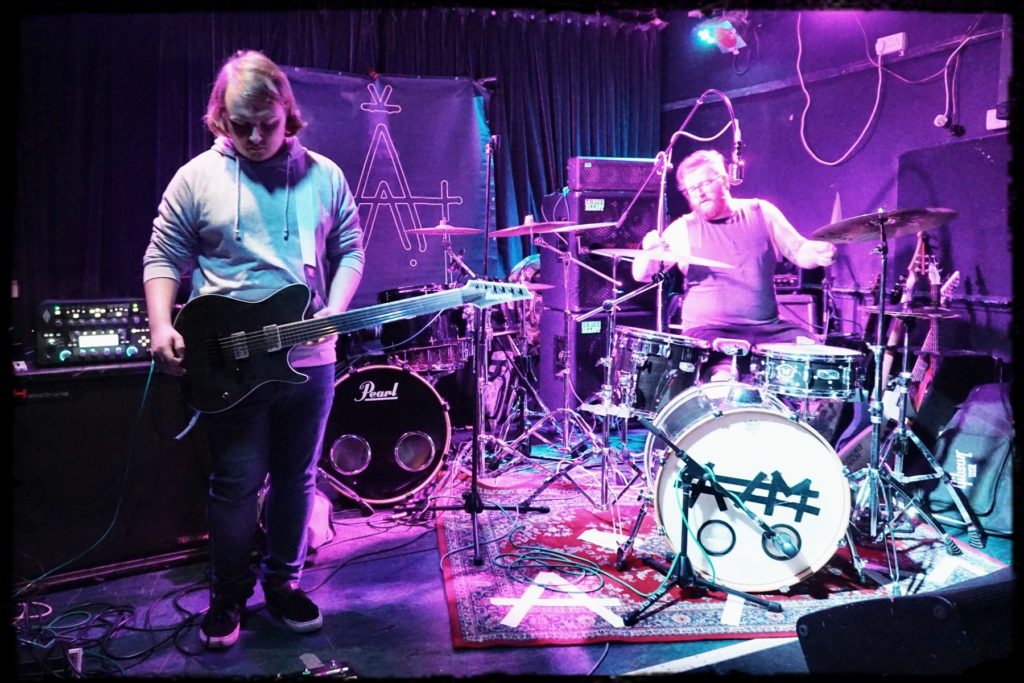 What's the funniest thing that's ever happened to you while you were on stage?
Matt – Somehow I manged to get my drum stick under my glasses and launch them into the crowd
Adam – It didn't necessarily happen to me but there was one time when me and Matt were in a Psychedelic band and we played a gig where people were getting naked, laying down, sitting on each others faces and drawing round peoples shoes with chalk. That was an interesting evening.
You're asked to select a band to tour with you as support.  Who would you choose and why?
Matt – '68 – We wouldn't be here if it wasn't for them.
Adam – I think I'd pick Architects, I know they say never meet your heroes and all but I want to. Besides they're popular so they'd bring a crowd.
If you could bring back one music personality who would it be and why?  You get one choice so this is a group decision.
John Bonham – the greatest musician ever.
If you could name any one item that would be delivered no questions on the band rider what would you choose and why?
Dogs – Because, dogs.
You're stuck on a night off mid tour with just a games console and a handful of games for company.  Do you choose Call Of Duty, Zelda, Need For Speed or do you just raid the mini bar?
Adam – As good as Zelda is, have you never won a FIFA match with a last minute top bins 40 yard screamer with Alan Hutton on a rainy Tuesday night away to Norwich City in the 3rd round of the FA cup?
Matt – I'd get in that fridge/mini bar.
If the band got offered an amazing major label deal but it meant a change of image to something you are uncomfortable with and censorship of lyrics would you take the deal or walk?
Adam – Not that we have an image or anything, but personally I'd say no.
Matt – Same, we are who we are and we like who we are. Stay True.
In the event of the end of the world what's the first song on your post-apocalypse playlist?
Matt – Queens of the stone age – You Think I Ain't Worth a Dollar, But I Feel Like a Millionaire
Adam – Mine would probably be You Make My Dreams by Hall and Oates.
Who has the worst habits on tour?
Adam – Probably Matt, I'm a delight.
Matt – Yeah probably me, I snore like a gutted warthog.
Describe the local music scene of your hometown and how you fit into that as a band?
Bicester, Oxford: We are pretty lucky and most of oxford are metal heads.There are a lot of promoters for rock and metal music in and around Oxford so it's good because there are a lot of chances to get shows.
When writing new music is it a collaborative effort or is there a main song writer?
Matt – It's a bit of both, Adam with either come up with a killer riff or I will hum a riff, the idea of the song is down so it's looking for lyrics which Matt writes with Adam throwing in a line here and there. We also write the song name first then make a song that sounds like the title.
Adam – It's fairly collaborative but I forget every riff I ever write so if Matt didn't record anything we probably wouldn't have any songs.
Some bands have goals for albums, the UK Subs for example recorded an album for every letter of the alphabet. Do you have any goals for future albums?
Matt – We have already got the concepts for 5, 10 track albums. These will be released as 2 part EPs (or until we get a record deal)
In the modern on-demand music scene is the concept album dead or do you feel there's still room for them?
Matt – I think music will always be a huge part of life, so music of any media will thrive.
Adam – I'm a huge believer of just putting your best tracks on an album regardless of if they all sort of fit each other or not. It's part of the beauty of music.
The hardest step for any band today is going full time, is this something you envisage being able to do in the future?
Adam – That's always such a difficult question, because as much as everyone wants to be able to say: "Yeah, let's do it!" In reality it's got to be a really tough choice because there's so many things to consider, financially and being away from home constantly for starters.
Matt – 100% – we will work our asses off until this happens, I'm definitely a "Yeah, let's do it" kind of guy.
How important is the local music scene to you as a band?
Extremely, without it we'd have never have got any gigs at all. Playing small venues is great as well because even when there's not a lot of people there, it looks fuller than if it was a bigger venue.
With everything being so digital and run predominantly through social media what is your view on the importance of regional and print press?
Adam – It's still very much important, people might see your ad on Facebook and whatever and keep scrolling. But if you're seen in a magazine that they'd have to go out of their way to get, they're going to be more inclined to check you out. That's how I think it works anyway.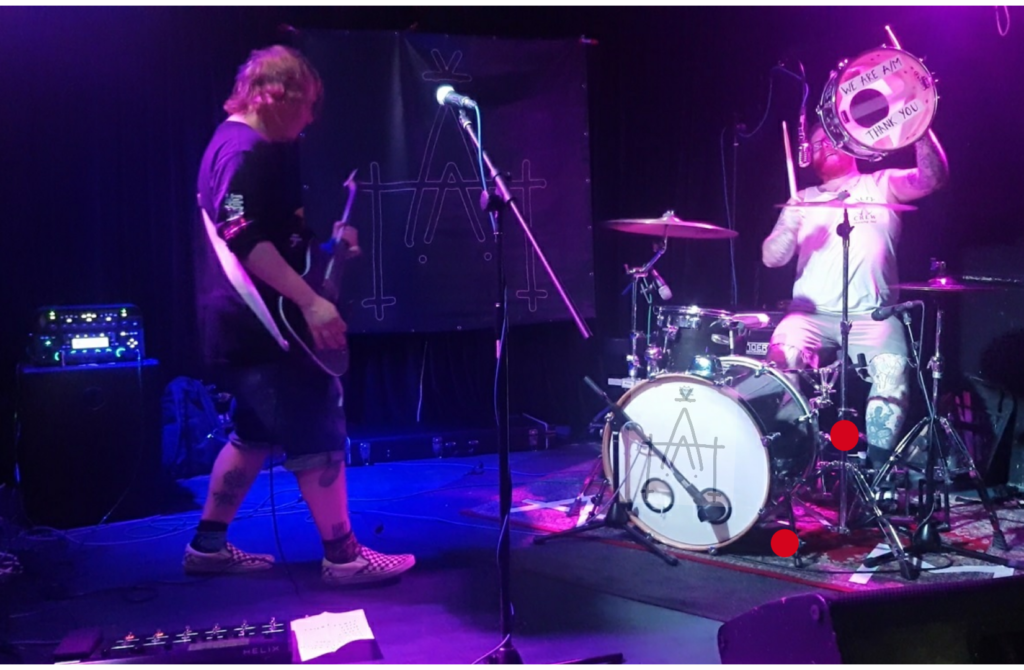 What are the band goals for the rest of 2018 and 2019? Anything important or any milestones to be reached?
Matt – We are still a new band so we are hitting milestones every day, whether it be a new video we've dropped or photoshoot or review we've released. Plans for 2019 is to get the 2nd part of the first album recorded and released, play festivals and spread the word of A / M #believeinam
Adam – Just keep doing what we've been doing, and most importantly keeping it all our own way. The moment you're told what you can/ can't do I think it takes some of the fun out of it, and that's not something I want from music! There should be no rules.
If you could choose to play any UK festival – which one would it be and why?
Matt – Download – This festival means a lot to both of us, it was our first experience attending a festival  and will stay close to our hearts.
Adam – Absolutely, Download is THE festival. I've attended a fair few of them so for me to play it would be a dream come true. And that means you get a free ticket, right?
If you could be endorsed by any companies who would they be and why?
Matt – Zildjian Cymbals, Tama petals Please J
Adam – Easily ESP guitars, because they're incredible instruments, hands down the nicest guitars I've ever played. If anyone at ESP happen to be reading this can you spot me a Cult '86 please? Thanks. Ernie Ball power slinky strings with a .64 on the lowest string is where it's at, so obviously them. I use mostly digital stuff now but I'd love to be endorsed by Orange amps because their cabs are the best sounding cabs I've ever had the pleasure of using. I could honestly go on for hours about the stuff I use and love.
If you could play God for a day – who would you make an angel and who would you send to hell? And why?
Adam – Whoever invented Dr. Pepper, they're going to be my angel. As for sending someone to hell, I'd probably send Mark Labbett off of the chase. Nothing too personal, just don't like him, or his face.
Matt – Stephen Fry would be my angel as he's the closest thing we have to GOD. I'll prob end up going to Hell, so I'll send Adam too, so at least we can Fuck up HELL together.
Do you have a message for fans of your music?
Matt – Thank you for all your support so far we hope to keep surprising you and smashing up stages all over the world.
Adam – Thank you for taking the time to come down to gigs and supporting us by buying T-shirts or baking us cupcakes!
Here is your opportunity to end the interview with some final words on a subject of your choice….
I till I die! Electric Dream Machine are the best band in the world. End of.
Thebandam.com
Facebook.com/thebandam
Instagram.com/theband_am
Soundcloud.com/thebandam
Twitter.com/thebandam
Spotify: https://open.spotify.com/album/2yibXg7nEstNUKuWaSV8Cp?si=3rk1yhHHQ8ms5EyU5xKb3w
Youtube: https://www.youtube.com/watch?v=Os0ULSNZwrA