Sinsaenum Premiere Video For Brand New Single "Hooch" Ahead Of First Tour Since Their Formation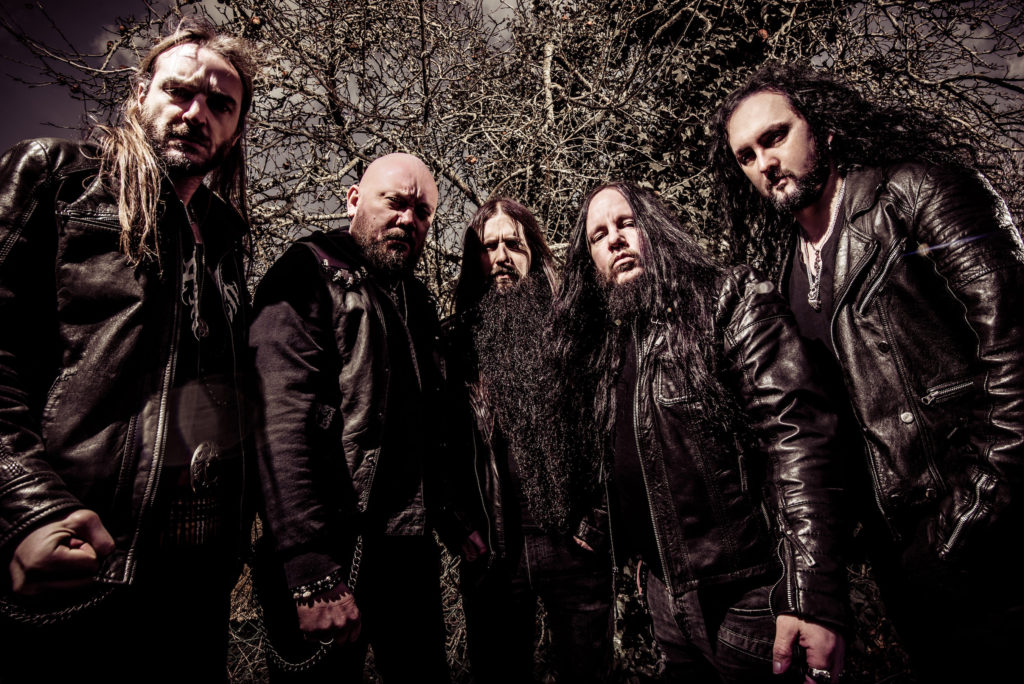 Following their brand new studio album "Repulsion For Humanity", death metal super group Sinsaenum are premiering their brand new single for "Hooch". Despite their latest album having earned endless praise from the metal community, the band – Fred Leclercq of Dragonforce and Joey Jordison (VIMIC, former Slipknot drummer, Sean Zatorsky (Dååth, vocals), Stephane Buriez (Loudblast, guitar), Heimoth (Seth, bass) and Attila Csihar (Mayhem, vocals) – refuses to slow down. "Hooch", a cover from American rock band Melvins, is an exclusive unreleased track. This release is only days before their European tour, which every fan should see as an opportunity to say, "I was there when it all first started".
The release of the video for the new single can be found here:https://youtu.be/4VRMasgjGRw
The song is extremely heavy, while visually, "Hooch" is a tribute to the original version's video with a disturbing twist.
"Repulsion For Humanity" can be ordered here:
? https://sinsaenum.lnk.to/Repulsion
"Repulsion For Humanity", the second album by Sinsaenum, was released on August 10th, 2018 on earMUSIC as 1CD (hardcover digipak) and 2LP.
With the help of Francis Caste on mixing duties, Sinsaenum sharpened its own sonic identity, far from the typical death or modern metal sound.
This autumn, Sinsaenum will be touring for the first time since its formation.
01.10.2018 Esch Sur Alzette – Kulturfabrik (LUX)
03.10.2018 Hamburg – Knust (GER)
04.10.2018 Hannover – Musikzentrum (GER)
05.10.2018 Berlin – Lido (GER)
06.10.2018 Warsaw – Proxima (PL)
07.10.2018 Prag – Futurum (CZ)
09.10.2018 München – Backstage (Werk) (GER)
10.10.2018 Budapest – Dürer Kert (HUN)
11.10.2018 Wien – Szene (AT)
12.10.2018 Zug – Galvanik (CH)
13.10.2018 Milan – Legend (IT)
14.10.2018 St. Ètienne – Le Fil (FR)
16.10.2018 Colmar – Grillen (FR)
17.10.2018 Stuttgart – ClubCANN (GER)
18.10.2018 Vosselaar – Biebob (BE)
19.10.2018 London – The Dome (UK)
20.10.2018 Amstelveen – P60 (NL)
21.10.2018 Copenhagen – Vega (DK)
22.10.2018 Göteborg – Sticky Fingers (SE)
23.10.2018 Oslo – Parkteatret (NO)
24.10.2018 Stockholm – Klubben (SE)
26.10.2018 Turku – Apollo (FIN)
27.10.2018 Tampere – Olympia (FIN)
28.10.2018 Helsinki – On The Rocks (FIN)
29.10.2018 St. Petersburg – Zal (RUS)
30.10.2018 Moscow – Zil Arena (RUS)
01.11.18 Taipei – The Wall (TW)
02.11.18 Hong Kong – TTN (CN)
03.11.18 Manila – Riverside Studios (PHL)
04.11.18 Bangkok – Hollywood Awards (THA)
06.11.2018 Tokyo – Club Quattro (JP)
08.11.18 Sydney – Factory Theater (AUS)
10.11.18 Melbourne – Max Watt's House of Music (AUS)
11.11.18 Auckland – Whammy Bar (NZ)
13.11.18 Wellington – Valhalla (NZ)
https://sinsaenum.com
https://www.facebook.com/Sinsaenum
www.ear-music.net