London Horror Con with Victor Wright
With London Horror Con getting closer (1st & 2nd September 2018) we talk to Victor Wright about how it all started, running a convention and what we should expect from this years' show!
Where are you based?
I am in my hometown of Birmingham!
How did Birmingham Horror Con Start?
We were running comic conventions to start with actually but I'm a writer myself so I was going to the odd Horror Con. When I went to these shows as an author to sell my books I thought that they weren't pushing these out the way they should be, they were not attracting a big enough audience. Things like mainly having British guests and even then, it was only a little handful of them so people were missing out meeting the big US stars. The comic cons don't generally bring over the horror stars so we set up Birmingham Horror Con 2 years ago and that seemed to rocket into orbit. We then moved up to Liverpool, did Birmingham twice in one year (one in February and one in October as a Halloween special), then we moved up to London, Edinburgh and this year we've taken on Bristol too. I'd say 2 years ago it started but it's really exploded this year.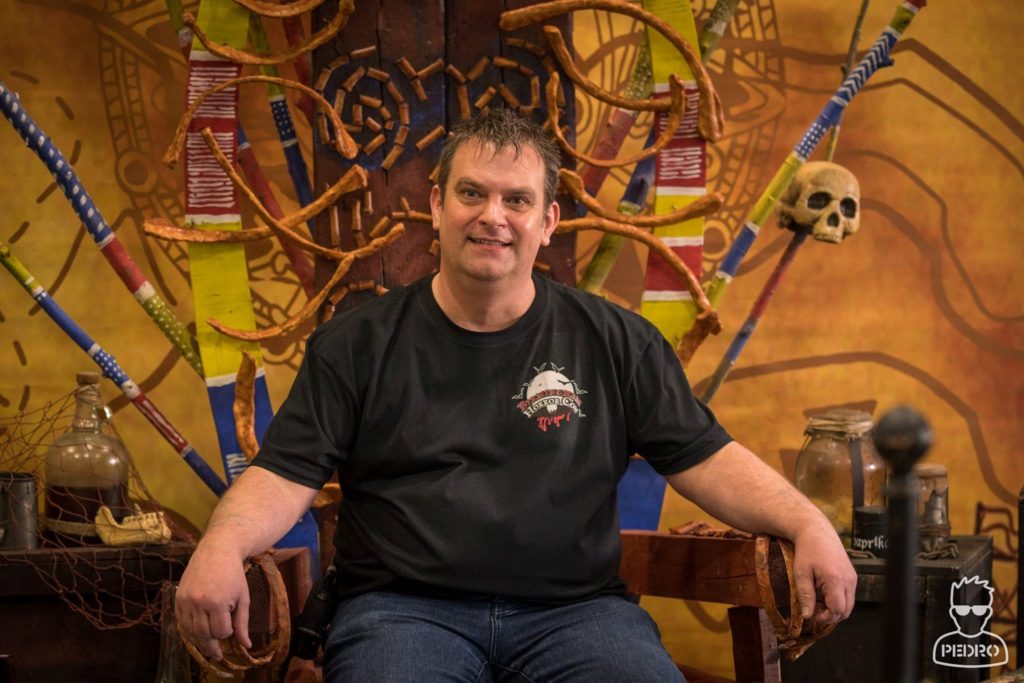 Tommy 'Creep' Edwards originally did Bristol Horror Con so what happened there?
We've taken over it! Tommy is a big musician and wanted to concentrate a lot more on that.  We always avoided each-others dates so we didn't clash but when he said her was going to close it down we got in touch. Rather than close it down why not let us just take over it and keep it going? Obviously when we spoke to Tommy his show was a lot smaller than what we normally do so we've had to transfer it to a bigger venue. We've still kept it as a one-day event for this year but probably next year we'll move it up to a two-day show if we can get the people through the door. Tommy is still going to come and work the show for us, he just doesn't need the stress and the strain of putting these things together.
Why did you decide to move away from Comic conventions and move into Horror?
There are very few horror cons out there. There are some but only dotted about, we wanted to create more within the major cities so if we could get them tied in then hopefully we can catch the horror fans at the shows.  The thing about horror is you love it or you hate it, you either love to be thrilled or you don't like scares. What we found with the comic cons is that there's a much bigger audience as it covers film, gaming and comics in general whereas horror is specific (I guess a little like steampunk). What we started doing is we tapped into the fact that there's many angles to horror, it's not just about watching a film. There are a lot of horror authors out there such as Shaun Hutson and when you look at films in general most of the SFX (unless its sci-fi or fantasy) happens in horror films so it stands as a great platform to bring in SFX companies and do live demos and talks.  We now do independent film screenings which is a big market to get interested and from that you get lots of traders that deal with all sorts of weird and wonderful things from goth clothing to posters, prints to taxidermy etc.
At Comic Con you find every other stall will be selling the same things like Funko Pops, T-shirts and so on, people selling generally the same thing just slightly different ranges. People at Horror Con tend to specialise in things. When you bring all these people together you have a show that has a tremendous amount of entertainment value. We've since added things like scare attractions like Escape and Creep so you can actually now go into live scare attractions and do something physically yourself where you'll get a bit of a thrill and kick.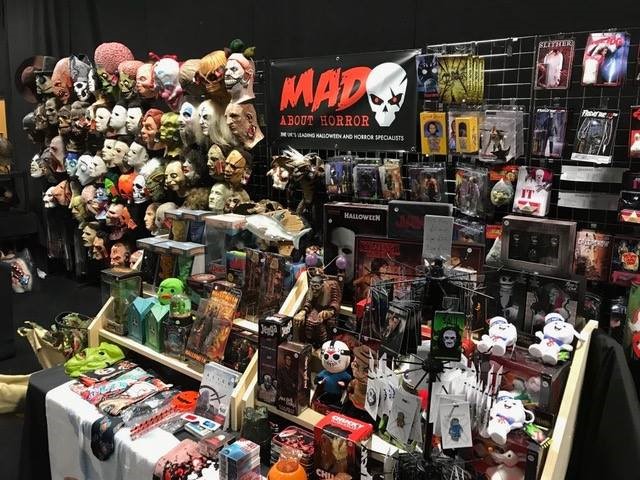 Would you say you are a big horror fan?
I've always liked horror though I won't say I'm a fanatic! I like horror films, I like all kinds of fiction and fact books as well so I read a lot of true crime (a lot are quite horrific). I write as well so I have a keen interest in writing thing, not that will turn your stomach but that will make you sit down afterwards and think wow, that's creepy!
There's a lot of variety on the panels! How did you pick your guests?
Partly who the agents are as we deal with a lot of overseas agents! If a film is going through an anniversary for example Killer Klowns from Outer Space is 30 this year so I have a couple of the main cast coming over to one of the shows later in the year. We have guests from the new Rob Zombie film so that'll be at the front of people's minds so people can meet them before the film comes out etc. They are already big stars but we try to tie it in with anniversaries, new people on the market etc. There are many different factors; sometimes popularity or how famous they are, if we get offered a good deal on somebody etc. It's always a well thought out process. For example; Bruce Campbell is over this year and we would have loved to have had him but he is an enormous amount of money to bring over. We really went away from it when we found out he was doing a book tour because people were simply going to the book tour and paying to get an autograph there and then. Some people we can't get like Robert Englund because he is in a contract with one of the other companies/conventions and can't get out of that until next year! You've got to keep an eye on the market all the time.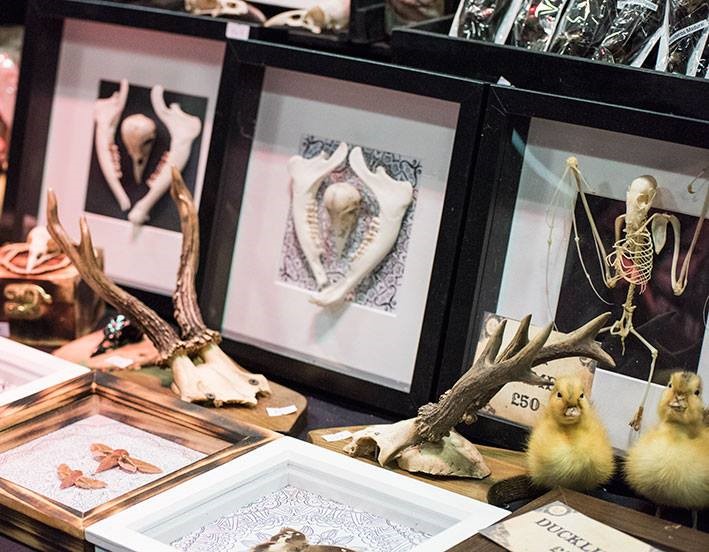 [Images by JMT Pictures @ Edinburgh Horror Con]
What wouldn't you allow from traders/vendors?
We don't want people who are selling things not horror related, we just wouldn't be interested in them as a trader. Let's say you were selling wines and spirits. We have a vendor called "Transylvania Wines" which are Dracula themed wines. There's that association, but if someone was to come to us with regular wines and spirits then it's just not something out audience is interested in, they are looking for something different. We don't want Funko Pops (unless it was purely horror related). The horror and comic audiences are two very distinct and different. Comic tends to be photos with film stars etc. it's more about the kids walking around and having a family fun experience. Horror con is more of an adult orientated audience. We do get a few kids but we don't get many. It tends to be horror hobbyist, where is part of who they are and not just general interest. When they come to horror con people tend to be more focused on what they want to buy and look for, so if we had a lot of stalls not horror related, our target audience would be just walking past.
What advice can you give to first timers? Are people encouraged to dress up?
Yeah absolutely! Lots of people turn up dressed as different characters, some people spend tremendous amounts of money on developing amazing costumes so we defiantly encourage dressing up. You'll also get people with just face paint on or a something simpler on like a horror t-shirt so it goes all across the spectrum. What we do say is to come and have fun! You don't have to do, watch or see anything you don't want to (like the scare attractions, panels etc.) Just enjoy yourselves! Every single day a new horror fan is born so we are looking forward to seeing all the new and old attendees. Just enjoy yourselves!
[Images by JMT Pictures @ Edinburgh Horror Con]
Figure of 8 – Quick fire questions
In your home you will always find…
Books! Lots and lots of books.
Your best quality is…
Attention to detail
As a child, you wanted to be…
The army and be a solider!
The last thing to make you laugh was….
Scaring my daughter; the light was off in her room and I was standing under her bunk bed/desk and shouted boo when she came in. She didn't realise it was me so she jumped out of her skin.
Your pet peeves are…
I must have dozens, when someone is tapping, whining dogs etc.
Something that may surprise us about you…
When I was younger the flat next to mine was burgled and set fire to and mine went with it. I remember standing outside watching it all and the fireman said to me that when you run from a fire you tend to pick up something of value to yourself. I looked down and I had grabbed a bottle of aftershave.
Your favourite movies are…
Loved Saving Private Ryan and Band of brothers. I won't say which horror films though!
Dinner with the dead! Who is invited?
George A. Romero, Shakespeare… there are just so many greats out there to choose from.
http://www.londonhorrorcon.com/ 
https://www.facebook.com/LondonHorrorCon/
[Images by JMT Pictures @ Edinburgh Horror Con]
By Alice Bizarre
https://www.facebook.com/alicebizarremakeup/
Alice Bizarre is an SFX make-up artist and film writer, a prop maker and prosthetic sculptor based north of London.Wife of a wolfman and mummy of a baby bat.