It has long been the MAMMOTHFEST stance that customers do not need to spend a lot of money to attend a great festival, see incredible bands and complete the weekend feeling utterly fulfilled.
2018 is no exception with this stunning line up as Mammothfest continues to bring the biggest bands in the world to Brighton while maintaining the vital platforms necessary to give our worldwide emerging talent the opportunities they need to keep the life blood of our metal scene thriving!
The MAMMOTHFEST team are honoured to present 18 of our 50 bands confirmed for MAMMOTHFEST 2018: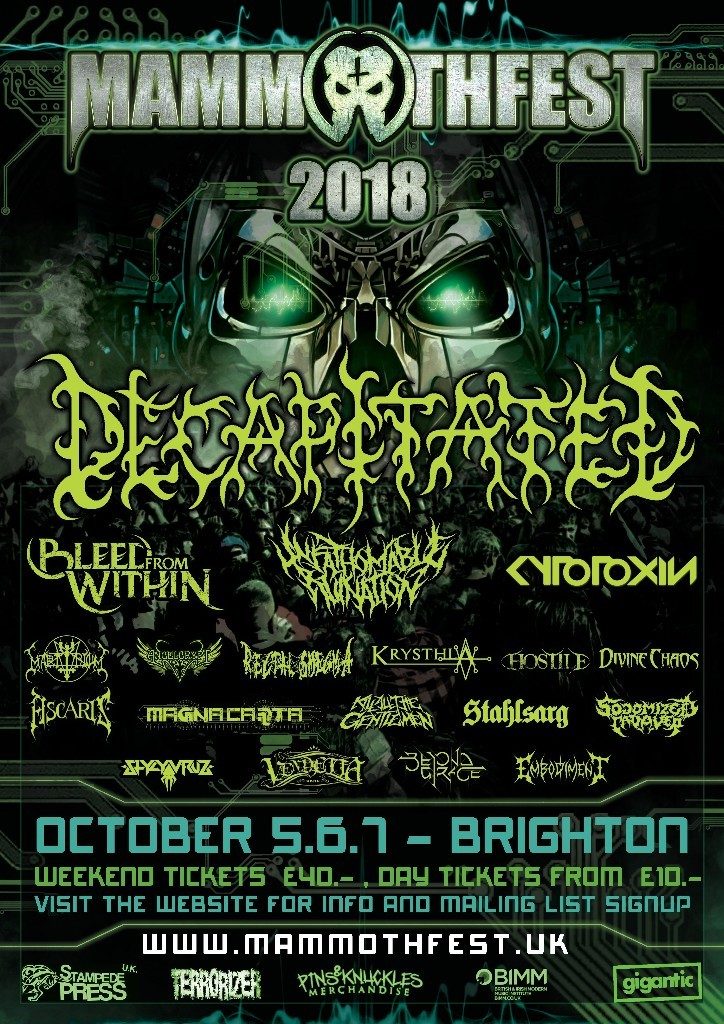 BLEED FROM WITHIN
Perseverance. A powerful word with an equally powerful meaning. Says the dictionary: "steadfastness in doing something despite difficulty or delay in achieving success." Their new album, Era, is that story, a no-compromise tale of the price of victory. Drummer Ali Richardson says. "We are here now for a love of music; a desire to create and share the songs that we would want to listen to. There is literally nothing that can take that away from us."  Director Steve Dickson comments: It is an honour to welcome BLEED FROM WITHIN to our 6th MAMMOTHFEST; they are already legends with a career spanning 2 decades, 4 albums and videos reaching their millions such as Bleed From Within Servants Of Divinity Music Video 2009. Brighton is simply not ready for this weekend!"
CYTOTOXIN
During the night of April 26th in 1986 a world-changing accident occurred at the Chernobyl nuclear power plant in Ukraine. Inspired by this catastrophe and its consequences a highly radiated german band called CYTOTOXIN have been pulverizing the Death Metal world since 2010 with devastating results. Director Steve comments: "Anyone that has seen this band will know they are death metal masters with a technical brilliance up there with the best. Add to that pure evil, toxic nauseating tones with guttural pig squeals and you get a devastating band that will infect Brighton for life".
UNFATHOMABLE RUINATION
Unfathomable Ruination plays an intense and brutal style of Death Metal. The band, based in and around London, draws on influences such as: Suffocation, Origin, Death, Internal Suffering and Disgorge (US). Extreme death metal at it's very finest with insane drumming, hold on to your tits before you shits a bits!
RECTAL SMEGMA
Rectal Smegma was initially formed in 2003 by four guys from the west of The Netherlands, who set out to create brutal gore grind with lots of groove, blastbeats and a humoristic party vibe all over. There are now five full length records released plus three split albums. A new 3-way split will be recorded at the famous Kohlekeller stuio and released in early 2018 through Rotten Roll Rex.
MARTYRIUM
MartYriuM is an Extreme metal band from Malta, formed by Count Mortem in 1999 with the spawn of the second wave of black metal. This band is a unique blend of Black and Death Metal with a specific sound design introducing Sinister Orchestrations and Industrial Elements to the style. MartYriuM's performances are both aggressive and theatrical, full of dark acts and occult imagery that will unleash infernal chaos from within your wretched soul. Director Steve commented: "I had the pleasure of watching this band at a festival in MALTA, shocking, stunning and overall amazing performance, a MUST see!"
DIVINE CHAOS
These guys continue to spread their, well Divine chaos across the world and are somewhat regulars to MAMMOTHFEST because their music is incredible and there is always some form of antics they get up to that always brightens Mammothfest events. 2018 will be no exception but be careful what you drink when around them, it may not be beer as the Mammothfest director learned first hand once!
KRYSTHLA
Krysthla are one of the most impressive unsigned bands in the world. Don't let the "unsigned" bit put you off either, they used to go under the band name GUTWORM, they were signed and things didn't go so well so they self release everything and work that extra hard to get out there which we absolutely respect and admire. They have recently toured with Obituary and Vader across Europe and with their stunningly tight live shows they are a very welcomed further addition to the Mamothfest line up.
A special mention must go to all the other bands on the bill who are working tirelessly to bring the world some of the most intense, brutal and impressive metal around.
WEEKEND Tickets remain very low at £50 for this high calibre event across 4 venues and 3 days in Brighton.
There will be over 50 bands perform across the weekend and tickets will increase again so the sooner you buy the more you save.

https://www.gigantic.com/mammothfest-2018-tickets
https://www.facebook.com/MammothfestUK/