Children Of Bodom – working on a new studio album!
Finnish metal superstars Children Of Bodom are currently working on the follow up to their highly acclaimed 2015 record I Worship Chaos. The guys have just entered Danger Johnny Studios with producer Mikko Karmila, kicking off the recording process for their brand new studio album.
The band states:
"Attention Hate Crew! We're excited to inform you that the recording of COB album no. 10 has started with Mikko Karmila at our very own Danger Johnny Studios. Frequent updates will be coming through Instagram www.instagram.com/cobhc/ and Facebook so make sure to follow both channels!"
Expect more info coming soon.
Alexi Laiho posted a video message online for fans late last week, you can watch that here: https://bit.ly/2GTdZ5K
Children Of Bodom have several European show dates planned for the summer – as follows:
07.06.  FIN – Hyvinkää – Rockfest
23.06.  FR – Clisson – Hellfest
06.07.  ROM – Bucharest – Metalhead Meeting
14.07.  SW – Gävle – Gefle Metal Festival
22.07.  FIN – Oopperajuhlat  Savonlinna – Savonlinna Opera Festival
27.07.  SLO – Tolmin – MetalDays
02.-04.08. DE – Wacken – Wacken-Open-Air
08.-11.08.  ES – Villena -Leyendas Del Rock
11.08.  NL  – Leeuwarden – Into The Grave Festival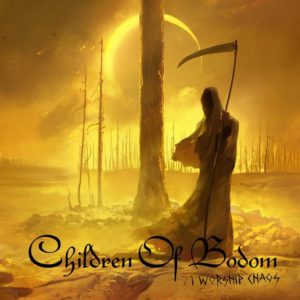 You can order COB's latest record I Worship Chaos physically here: https://amzn.to/2pNMjI6
Get the digital version here: https://apple.co/2GFMVcs
More on I Worship Chaos:
'Horns' Official Lyric Video:
www.youtube.com/watch?v=Xddc3AjyAp0
'Morrigan' Official Video:
https://www.youtube.com/watch?v=jm3kDrBTlt8
'I Hurt' Official Track & Lyrics:
https://www.youtube.com/watch?v=RKquDyJYQWg
'I Worship Chaos' Official Track & Lyrics:
https://www.youtube.com/watch?v=Bhhqmk6Koj4
'Morrigan' Official Track:
https://www.youtube.com/watch?v=7Ha8adzWPP4
More info:
www.cobhc.com
www.facebook.com/childrenofbodom
www.nuclearblast.de/childrenofbodom