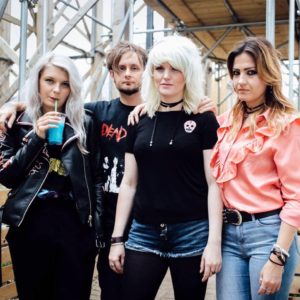 Salvation Jayne are a female led alt rock band that are gaining real momentum with their blend of rock, new wave and blues.  They have the hooks and the originality to please a great many people.  Their music has dark overtones too, something that will appeal to Devolution readers in particular. Want to know more?  Then read on….
 Introduce Salvation Jayne in your own words…
Band:"We are a 4 piece alt-rock band from Kent, UK – with fuzzy, dark and hooky tunes! "
 Tell our readers about your current EP
Band:'Moves That Make The Record Skip' is a collection of mad and macabre tales that skip between the dirty, down-tuned tones of the desert and glossy dream pop! "
Who would you say you sound most like?
Tor: "Imagine if Interpol, Royal Blood and Wolf Alice got together, got rather intimate with each other and had a baby. We'd like to think we'd be that baby and named ourselves Salvation Jayne. "
 Who or what are your biggest influences?
Dan: "We're influenced by a broad spectrum of stuff. From TV shows such as American Horror Story and Dexter, through to literature and bands we like. For me personally, The Cure, Killing Joke, New York Dolls and The National have certainly influenced a few ideas."
 Describe your band members and what each person brings to the table.
Holly: "Well everyone in the band has their own style in terms of appearance and we all have strong and varying personalities too. Because we are all passionate, coming to decisions can be difficult but at the end of the day we are all on the same page with the music and are going on this journey together. We have to compromise sometimes but when it comes to music we never release something that we are not all happy with. We all come from different musical backgrounds and this influences the band's sound too, so the varied mix of characters makes the band what it is!"
Do you have a band joker?  If so who and what's the dumbest prank they've pulled?
Holly: "We don't have a band joker, but the band joke is usually our bass player Dan (poor Dan!). It's not easy for him to be in a band with three women. Some male musicians we know have voiced their envy at his position and compared it to their own male-only bands; where a group of males can evoke various uncouth habits (especially on tour and when it comes to unsavoury pranks and personal hygiene etc.). But believe me Dan doesn't get it easy either. You can usually see him rolling his eyes or planting his head in his hands when we talk about girly stuff in front of him ha-ha! But in all seriousness we love him. He's a very talented individual who we are grateful to work with. In terms of pranks no one really has done anything that mean, instead a lot of funny impressions get passed around, or the odd voice manipulation in the studio when he records vocals! The old jokes are the best!"
 Do you argue over what music gets played on the way to a gig?  Who wins and what's the most popular choice?
Holly: "We don't argue over what music gets played on the way to a gig as Dan is generally the DJ. You can guarantee Dan has his heart set on playing the latest playlist he's compiled, including anything from Gangsta rap to haunting folk music! Quite often we have to travel to our gigs in two cars. Usually I go with Tor and Chess goes with Dan. If I go with Tor you can guarantee I will fall asleep as a passenger so Tor can listen to anything she fancies really!"
Pick your dream band line up.  Each band member selecting a corresponding musician who may be dead or still very much living.
Dan: "Simon Gallup (The Cure)"
Holly: "David Gilmour"
Chess: "Alanis Morissette"
Tor: "Travis Barker"
If you were marooned on a desert island which band member would be eaten first and why?
Dan:" Seeing as everything is split equally in SJ it's only fair that we'd eat each other a piece at a time. After that someone's bound to die first from massive blood loss, so I guess at that point we'd all tuck in."
What's the funniest thing that's ever happened to you while you were on stage?
Chess: "I've fallen off the stage by walking one step too far forward, not realising the stage had ended. I twisted my ankle as I went down but carried on like nothing happened. "
 You're asked to select a band to tour with you as support.  Who would you choose and why?
Dan: "There's an amazing band called The Nyx who totally blew our minds when we played with them at the Black Heart. We worth checking out by the way."
 If you could bring back one music personality who would it be and why?  You get one choice so this is a group decision.
Band: Michael Jackson. "The man's a genius and I'm sure we could all learn from his ideas!"
 If you could name any one item that would be delivered no questions on the band rider what would you choose and why?
Chess: "Local honey to the venue because it's the best!"
 You're stuck on a night off mid tour with just a games console and a handful of games for company.  Do you choose Call Of Duty, Zelda, Need For Speed or do you just raid the mini bar?
Tor: "None of the above! Grand Theft Auto all day!"
Chess: "Raid the mini bar! Get the JD's rolling!"
 If the band got offered an amazing major label deal but it meant a change of image to something you are uncomfortable with and censorship of lyrics would you take the deal or walk?
Tor: "Absolutely walk. Why would anyone sign a deal if they were stripping away key components of what makes that band, THEIR BAND. If the label want you, then they want that product. A band should naturally evolve in terms of music, fashion, lyrics and if a label was trying to push that away, it simply won't work."
Chess:" I think it's important to stay true to ourselves. If it's constructive criticism we would take it on board but if it's something against what the band stands for it would not be considered. "
 In the event of the end of the world what's the first song on your post-apocalypse playlist?
Chess: "Paper Route's 'Dance on our graves'. Just a little bit of awesome to my ears."
Dan: "Plainsong by The Cure."
Who has the worst habits on tour?
Band: "Everyone in this band is perfect, thank you very much."
 Describe the local music scene of your hometown and how you fit into that as a band?
Holly: "We will have to state the term 'home town' loosely as we are all from Kent, but different towns. The towns we have gigged the most in locally as a band are Ashford and Folkestone. We played a show in Folkestone just before Christmas, it was packed out and was great to see so many friends and familiar faces! In the areas where we live the options for music venues can be a bit limited as places like London seems to be where a lot more shows are going on. The majority of our gigs are now in London and we are happy to play with bands from a range of different genres. We are also enjoying discovering new bands ourselves on this journey."
 When writing new music is it a collaborative effort or is there a main song writer?
Tor: "Collaborative. One of us will have an idea, or start playing around with a riff or drum beat at practice and if we like the sound that's coming out there and then, we'll roll with it and try make something of it. We've got a lot of ideas, and draft ideas just sat in Dan's studio that may never see the light of day."
 Some bands have goals for albums, the UK Subs for example recorded an album for every letter of the alphabet. Do you have any goals for future albums?
Dan: "To sell more of them."
 In the modern on-demand music scene is the concept album dead or do you feel there's still room for them?
Band: "There's always room for a concept record, there are as many storytellers and visionaries now as there ever were!"
 The hardest step for any band today is going full time, is this something you envisage being able to do in the future?
Chess: "Dan does music full time running his own recording studio and producing bands. Very Lucky! I'd love to do music full time! Maybe…. one day."
How important is the local music scene to you as a band?
Chess: "The local music scene is so important to us! The local people are the start of the gigging journey! Local support means the world to us!"
 With everything being so digital and run predominantly through social media what is your view on the importance of regional and print press?
Dan: "It will always be an important tool for bands and music fans. I personally always buy magazines if I want to read in depth about music, or the scene. Plus you don't get the adverts popping up!"
What are the band goals for 2018? Anything important or any milestones to be reached?
Band: "Definitely a new EP, now that we have shaped our sound over the past year. Plenty of shows, and hopefully cementing ourselves firmly into the UK rock scene!"
If you could choose to play any UK festival – which one would it be and why?
Chess: "Glastonbury!!!! Has to be done."
 If you could be endorsed by any companies who would they be and why?
Chess: "I absolutely love 'Alice Takes A Trip' clothing. It's so hard to find a style and something you feel comfortable in on stage. ATAT is awesome!"
Tor: Meinl, "Pro Mark, Adidas, Nike, Fred Perry, Drop Dead, Red Bull."
Dan: "Gotta be All Saints clothing for me. I like old amps, and unfortunately most of the amps I like aren't made anymore so no such endorsement there."
 If you could play God for a day – who would you make an angel and who would you send to hell? And why?
Tor: "I would send Trump into hell and do everyone a favour and if I really was a God I'd bring back some amazing people to make the world a better place again like David Bowie, Tom Petty and Alan Rickman."
 Do you have a message for fans of your music?
Band: "Thanks so much for your support!"
Here is your opportunity to end the interview with some final words on a subject of your choice….
Band: "We played a great show in May last year at The George Tavern, who are currently fighting to stay open. They have a 'Save The George' campaign which we'd encourage people to support as it's a great place with great staff."