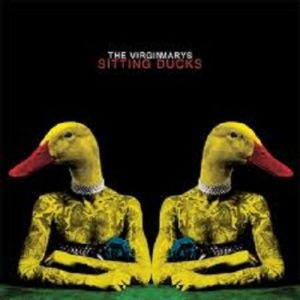 The Virginmarys
Sitting Ducks EP – Self Released
Not quite indie, more than a stones throw from punk and way too noisy for pop, The Viginmarys are one of those cracks in the pavement of music that only seem to crop up in the UK.  Now without a record deal the trio have hauled themselves into contention as one of the best young independent bands around through sheer self belief and a ability to write great songs.
This little four track soiree into the lions den of DIY music production shows just what can be achieved with a bit of knowledge and a lot of talent.  It's helped The Virginmarys no end that they've managed to get on some great support slots which has allowed them to grow an impressive fan base.  Mixing with other quality musicians seems to have rubbed off on the guys too.
Sitting Ducks is the kind of post Brit rock record that has all the ingredients to really fly.  The first three songs are catchy but edgy too.  They are cleverly written but don't lose the listener so it's easy to enjoy them.  The final song Sleep is a ballad paced vehicle for the most meaningful of lyrics.  Stripped down to bare bones this won't suit everyone, though given time it's a song that grows on you.
In four songs The Virginmarys have demonstrated that they have what it takes to not only survive but thrive in the music bear pit.  They write exquisite contemporary songs that have broad appeal.  There are no gimmicks, there is nothing to shock, nor do they feel the need to be the bad boys of anything to get noticed.  Hopefully Sitting Ducks is just a taster of much more to follow.