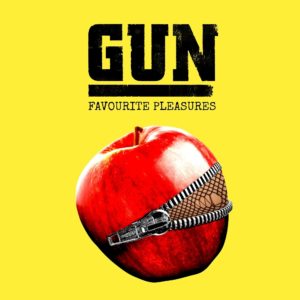 Gun
Favourite Pleasures
(Universal)
Scottish rock band GUN who are celebrating 30yrs in the industry. They first crashed on to the music scene in 1987 then releasing their debut album "Taking on the World " in 1989, followed by classic albums such as firm fan favourite " Gallus"(1992) then Swagger in 1994 many more albums were released over the years as well as many band member changes, let's fast forward to the present 2017.
Due to be released on September 15th the long awaited studio album "Favourite Pleasures" a ten track album (see above for track listing) and in my personal opinion this is the tightest the lads have ever sounded. The line-up consisting of Dante Gizzi (vocals)  Giuliano 'Jools' Gizzi (guitar and back vocals) Paul McManus (drums) Andy Carr ( bass and backing vocals) and Tommy Gentry (guitar ) all exceptionally talented musicians in their own right. This makes the artistic mix phenomenal.
They have totally nailed this album from all avenues, hits in all the good spots. GUN for me have always been that diamond in the rough (and that's not because I'm Scottish and biased) I have always felt that too much focus on the bands member changes of the past have always overshadowed the band. All I have to say now is Dante (vocalist) fella you can forget all about that now, this album is outstanding and you have proved time and time again the diversity in your vocal ability proves you were born to be front man of GUN.
My favourite track on the album has to be without a doubt track 2 "Here's where I Am " it's not often I am lost for words but I was rendered speechless, sexy dark and vocally enticing a very glam rock feel about it, the opening Intro has a sound all of its own, it gets under the skin and gets you hooked from the get go. Pulsing with energy with blistering guitars and a strong bass line and Paul McManus the loudest drummer in Scotland has a bigger hit than Thor's hammer. This is everything I want in a song. Did I want more????? Hell Yeah!
My second pick from the album is the title track "Favourite Pleasures" the writing talents of both Dante and Giuliano is a writing match made in musical heaven. This song is definitely going to be the crowd pleaser. (Check out the video which can be seen here with GUN updates http://gunofficial.co.uk/fp/#hXuX39IjhgkT1xMx.97 ) lyrically genius, it's raw and edgy. It's going to open the lads up to a whole new generation of fans. This ladies and gentlemen is Rock n Roll at its finest.
Overall: I'd give this a ten out of ten; I have dissected this album and can't find a single fault. This for me is how an album should be written. 100% perfection and leaves you wanting more.
GUN are definitely one of my "Favourite Pleasures"
Will they be yours????
Review By Hels Hosie Källström